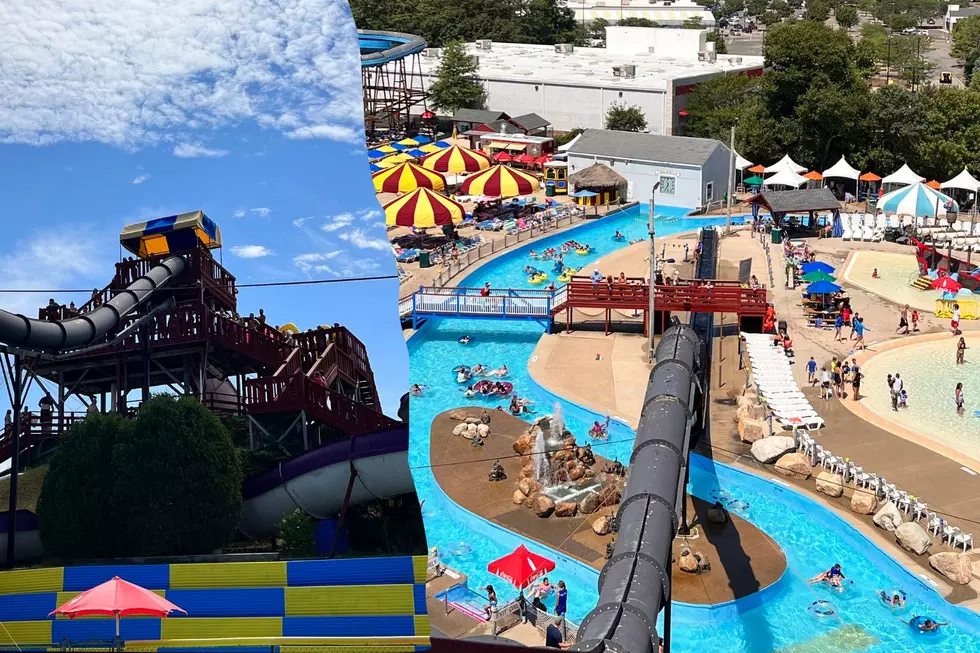 After 25 Years, Gazelle Finally Conquers the 'Pirates Plunge' at Water Wizz in Wareham [VIDEO]
Gazelle/Townsquare Media
It's been 25 years, but I finally found the courage to do something I've been waiting a while for.
On Friday, I arrived at a packed Water Wizz parking lot. The line to enter was already long. Busfuls of campers and youth groups piled out of their shuttles in matching colorful T-shirts with smiles for miles. By 10 a.m., the sun was brutally beating down on the queue of parkgoers. It was truly the perfect place to be to cool off on a hot summer day.
I parked the Fun 107 van and prepared for a live broadcast when my eyes went straight toward the gigantic black slide in the heart of the Wareham water park.
They call it Pirates Plunge. Ever since I was a little kid, I've been too afraid to slide down it.
This was the day I would face my fears and take the plunge I'd been yearning for.
Once my broadcast was finished, I was escorted to the top of the slide, where the stairs just kept going. I felt like I was climbing for eternity. Once I reached the top and noticed a bunch of fearless 5- and 6-year-olds, I knew I couldn't chicken out.
My thoughts still gave me pause, though. I thought of Newton's laws of motion, the idea that an object in motion tends to stay in motion.
When the lifeguard/ride attendant gave me the green light, I took my position and prepared to launch. My heart was beating through my chest, but I knew I couldn't back out. From the moment I pushed off, I was cruising down the dark, enclosed pipe at speeds that quickly cooked up the adrenaline.
Faster and faster I plummeted with my eyes shut. Before I knew it, I hit the bottom of the slide with great force, splashing everyone in proximity.
"I did it," I told myself, still shaking from the thrill. I quickly realized that I'm not that courageous kid anymore and my heart had quite enough excitement for the day.
The moral of the story is simple:
Face your fears and leave behind your regrets. For 25 years I avoided a water slide that likely gets thousands of sliders weekly. Call it a measly accomplishment. For me, it was a bucket list item I can proudly cross off with a 10 out of 10 recommendation for anyone too scared to attempt.
It was a good day.
Make a Splash at These 7 New Hampshire and Maine Water Parks
Life Saving Tips To Fend Off Sharks This Summer in New England Waters
We do not encounter many sharks in the Northeast waters, but it does happen.
More From WFHN-FM/FUN 107