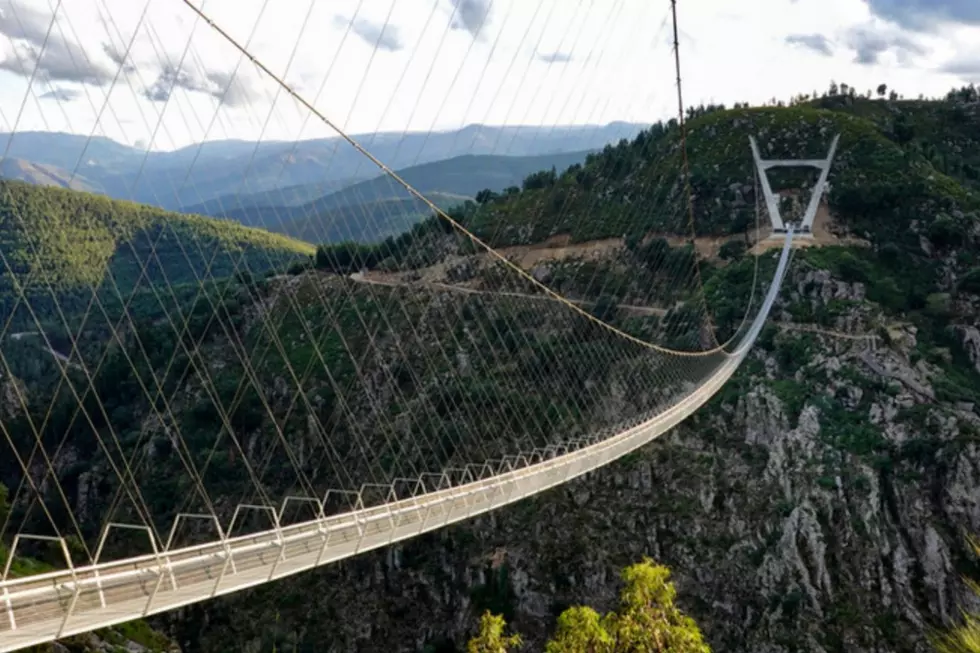 The World's Longest Foot Bridge Is Worth the Flight to Portugal
Photo Credit: FiveStarPortugal.com
Going on vacation isn't always about relaxing. Sometimes, it's finding that perfect adventure that puts adrenaline in your veins while having a little fun.
According to CNN, in Portugal, the town of Arouca's Geopark which is well-known for its extreme sports and soccer, is also home to the world's longest pedestrian suspension bridge called the Ponte 516 Arouca.
The bridge totals 516 meters (about 1,693 feet) long – hence the name – and hangs about 176 meters (577 feet) above the River Paiva. This bridge connects from the Aguieiras Waterfall on one end and the Paiva Gorge on the other.
Afraid of heights? Well, this might not solve your phobia, but the railings have rigid netting to help keep you safe and a deck made up of 127 four-meter planks. In other words, it's sturdy and safe, while still delivering that rush of being almost 600 feet above the ground below.
Overall the construction of the bridge took three years and was designed by Portuguese studio Itecons. In June 2020, the construction was finally finished, making it officially the longest pedestrian bridge in the world, beating out the Charles Kuonen Suspension Bridge in Switzerland by about 21 feet.
The bridge is officially open, and travelers around the world are fleeing to the Tibetan-style bridge for a stroll they'll never forget. So consider this eye-popping tourist attraction on your next getaway to Portugal. Tickets for the Ponte 516 Arouca are 12 Euros (about $15) for adults and 10 Euros (about $12) for kids and seniors.
With the world opening back up again, slowly yet surely, this might be the perfect excuse to visit the Portuguese mainland for an excursion like no other. Just make sure to grab some cacoila, porto wine and fresh cheese while you're there – you won't regret it.
LET'S GO: The most popular historic sites in America
More From WFHN-FM/FUN 107