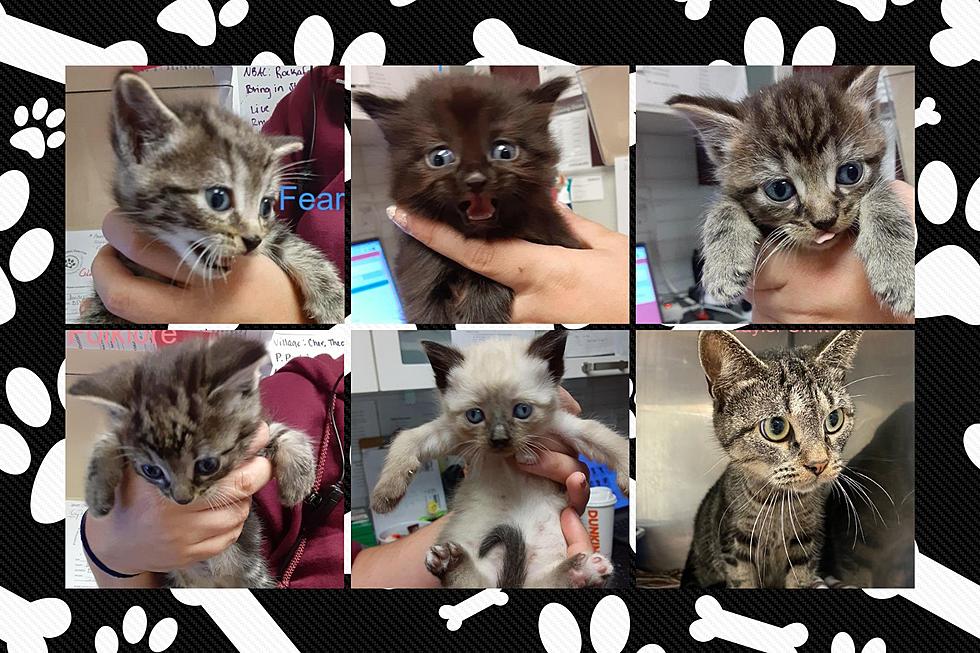 Adorable Fall River Kittens Hope to Grow Up with Forever Families [WET NOSE WEDNESDAY]
Forever Paws Animal Shelter
Happy Wet Nose Wednesday!
Every Wednesday, we give the spotlight to the hundreds of animals living in shelters on the SouthCoast. So many beautiful animals are waiting to find a forever family, and it is our mission to unite these animals with the perfect family.
This week, we head to Fall River where a litter of kittens can't "calm down" about finding a home.
Meet the "Taylor's Version" litter. These little ones are under the care of Forever Paws Animal Shelter, and the director and her assistant are hardcore Swifties.
When the mother came to the shelter in August, she was very pregnant, and the shelter saw an opportunity to express their love for Taylor.
Mama gave birth to five "Innocent, Delicate" little kittens, each named after some of the shelter's favorite T-Swift albums: Evermore, Fearless, Folklore, Lover, and Reputation.
"Momma and babies are 'Safe and Sound' with a foster right now because they're still so little," said the shelter. "As much as we would love them to 'Never Grow Up', they'll be old enough to find their own homes soon."
The "End Game" is to find these kittens a perfect home. Are you ready for it?
Does a kitten (or two) sound like a good fit for you and your family? Visit Forever Paws online and click 'adopt' to download the application.
These little one cannot wait to meet you.
Forever Paws Animal Shelter
300 Lynwood St, Fall River, MA 02721
(508) 677-9154
25 SouthCoast Cats Living Their Best Life at Their Forever Homes
Any cat owner will tell you that cats own you and not the other way around. But when they are this cute, we're not even mad about it. These furry felines may have started in shelters, but now they have a place to call home. Which kitty is your favorite?
Gallery Credit: Maddie Levine
Fall River's Most Popular Dog Names for 2023
From Rover to Bingo, some names just make you think of dogs. But what names are folks in Fall River naming their new pets? We've got the official list of most popular dog names in all of Spindle City.
Gallery Credit: Nancy Hall
More From WFHN-FM/FUN 107