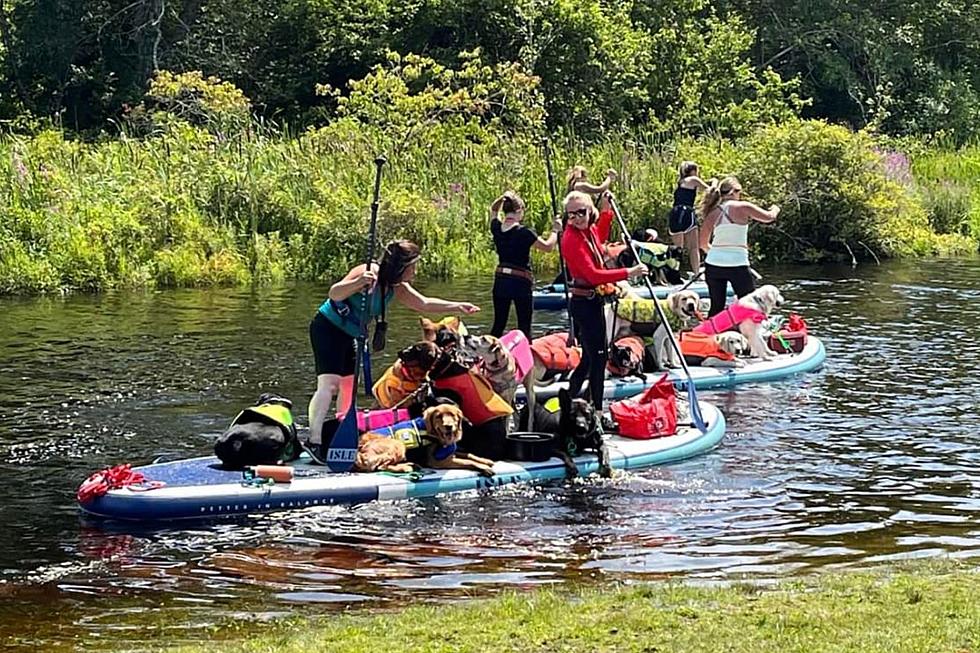 A Fluffy Group of 22 Dogs Enjoy "Pawddle Boarding" on the Westport River
Westport Historical Society via Facebook
The next time you're near the Head of Westport, keep an eye on the Westport River. You just might catch a giant group of floating dogs.
Yes, you read that right- a giant group of floating dogs. These are not ordinary canines, these "puppers" were trained to paddle board.
Just when you thought you had seen it all.
Meet Kaitlyn Correia, the owner of Paws on the Path, LLC out of Westport who decided to take her training to the next level by teaching dogs the obedience of paddle boarding. Thanks to these massive 15 and 12-foot Isle inflatable paddle boards that are best for dogs, Correia and her team can go out with multiple dogs per board, all at once.
Just last Thursday, August 2nd, the Paws on the Path crew was spotted by the Westport Historical Society paddling southbound down the Westport River with 22 dogs on board. Now that is impressive, to say the least.
However, not just any dog can be a part of the floating party, one of the requirements is the dogs have to be a part of the Paws on a Path hiking pack. These hikes are important as they teach the dogs proper impulse controls, sitting, staying, and on and off the leash. This will help ensure that they're prepared to be on a mobile floating board comfortably and responsibly. Correia always triple-checks to make sure each dog is tethered at all times to protect themselves as well as others on the river.
"We use treats and training so they get used to sitting and standing on the board," Correia explained, "As they become more experienced, they become models for the newer dogs."
What I found interesting, is how Correia and her team arrange the dogs in a specific order on the boards.
"We put the dogs on the paddleboards by personality, and also who they like to play with or be around," Correia said, "Some of the cuddle bugs are set closer to humans to feel more comfortable. This is the very first year we went out with three paddle boards with the most dogs we've done at once- 22 dogs."
Paws on the Path LLC opened in 2019 and has been building popularity over the last five years. Correia grew up in Acushnet but recently moved to Westport where she decided to pull the trigger, listen to her heart and open up the dog business.
"I've grown up around dogs my whole life," Correia said, "I started as a groomer, then became a dog hiker .After lots of research, training seminars / courses  and continuously bettering myself in the field, we've grown a lot, and five years later we now have 180 clients and have an amazing team with 3 trainers and 3 trained dog hikers ."
Correia says paddle boarding with the dogs is something they want to do more often in the summertime, so stay tuned for updates on their Facebook Page coming soon.
These SouthCoast Dogs Really Know How to Beat the Heat
Temperatures soared across the SouthCoast but these dogs found plenty of ways to stay cool.
35 SouthCoast Dogs: Can You Guess the Gender Just by Looking at Their Faces?
Scroll through this list and try your best to guess if the dog is a boy or a girl based on just its face. Good luck!
52 Sleepy SouthCoast Dogs That Will Make You Smile
SouthCoast "pet parents" share their slumbering fur babies for all to see.
More From WFHN-FM/FUN 107