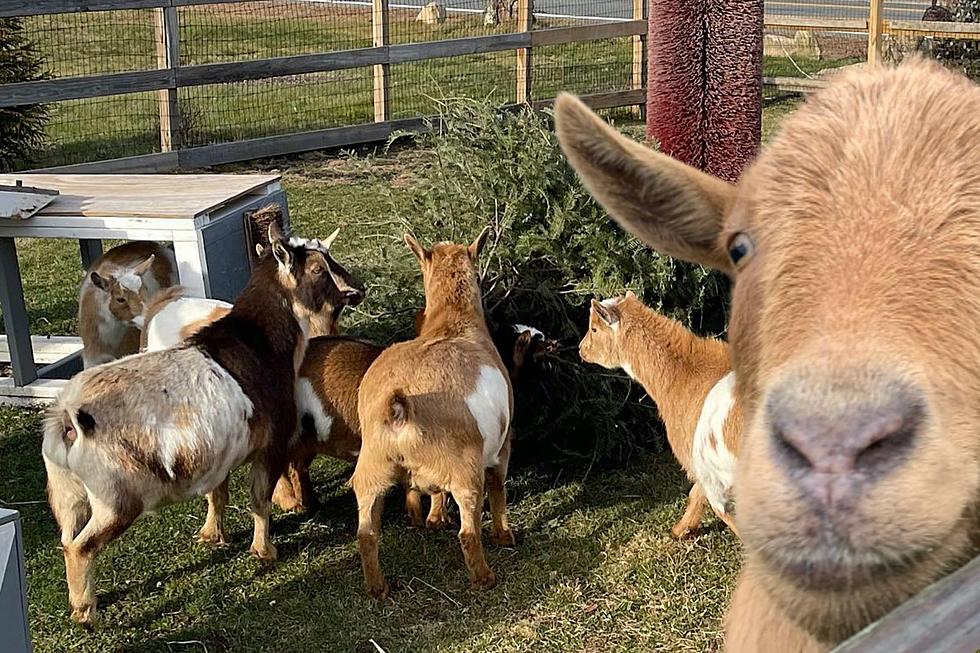 Tiverton Farm Wants Your Christmas Trees to Feed Their Goats
Courtesy B Free Farm
Now that the holidays are over, are you trying to figure out how to get rid of that Christmas tree? Well, stress no more, my friends. A Tiverton, Rhode Island farm wants it, and for a good reason.
Every year at this time, my newsfeed gets blown up with people asking what to do with their trees from the holidays or when the next trash pickup is happening. I'm glad to know that there's an alternate way of disposing that old dried-up tree while also giving back to the community.
Over in Tiverton, there's an animal sanctuary called B Free Farm Inc. that is requesting Christmas trees to help feed the goats that have been rescued. Owners Amy and Scott MacDonald began taking in animals back in 2010 when the sanctuary opened. It wasn't until 2014 when the MacDonalds brought in Nubian goats who have no issue munching on old Christmas trees.
Back on December 28, the farm took to its social media asking that if anyone would like to donate their tree after the holidays, the goats would be more than happy to take it off your hands. After all, it's a free meal (for the goats) and in my book, that's a win-win situation.
Trees from all over, including as far as Connecticut, have already made their way to the goat pen, but there's always room for more.
Anyone who would like to donate to the Tiverton Farm, please reach out to them via Facebook or send them an email at bfreefarm8500@gmail.com and let the MacDonalds take your tree off your hands.
Wareham Remembrance Trees
The 73 decorated remembrance trees adorning Wareham's Besse Park are more than a sign of Christmas. They symbolize the individual beauty of lost loved ones.
Meet the Animals at Pine Meadow Alpacas in Mattapoisett
At any given time, Pine Meadow is home to right around 100 animals, from alpacas and goats to yaks and sheep. The animals have personalities that range anywhere from spunky to shy, but we can assure you they're all just as cute as the next. Take a trip to Pine Meadow and meet just a few of their fuzzy friends through the following photos.
More From WFHN-FM/FUN 107