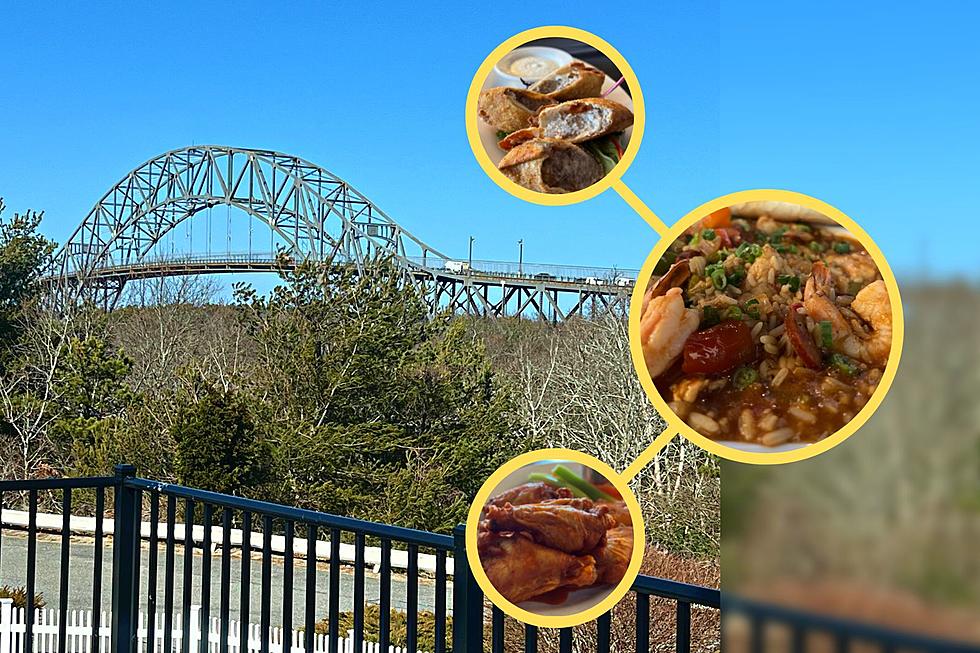 This Hidden Cape Cod Restaurant Has the Most Picturesque Dining View of the Bourne Bridge
Gazelle/Townsquare Media
The size of Cape Cod will always remain unfathomable to me.
Depending on where you're going, it could take 25 minutes to get to from New Bedford or well over an hour and that's not accounting for traffic. Especially Bourne, which stretches for almost 53 square miles. The closer to the bridge you travel to, the closer to home (New Bedford) you'll find yourself.
That's where I came across a restaurant with quite a unique view in its backyard.
Bridge View Grill is a quaint restaurant with the vibes of a country club. Tucked quietly off to the side of the Bourne rotary, it's only a stone's throw away from the bridge and about 25 minutes away from New Bedford- equivalent if you were to travel to Swansea/Seekonk.
Best known for its impressive scratch-cooked menu, Chef James Hildreth enjoys cooking up exquisite pub comfort food. His crispy bacon-wrapped scallops and Philly cheesesteak egg rolls with an addicting horseradish dipping sauce are just the tips of the iceberg and the house-made chili is all about that chunky, cheesy, meaty base that'll warm your soul on a brisk day on the Cape.
There's a function room that comfortably fits 250 guests, but the most impressive part of the restaurant can be found outside on the balcony. Perfect on a warm Summer day to relax with an ice-cold beer or cocktail and an award-winning stuffie from Cape Cod Seafood Company as you look upon the massive structure of the Bourne Bridge.
It's known to the locals as "the first beer on the Cape" destination with a view like no other. So the next time you cross over to Bourne, and you have a craving for some "soul food", you just might want to take that first right at the rotary.
You'll thank me later.
See Inside a 300-Year-Old Cape Cod Home
The Baker Sutton House has been in Ipswich for nearly 300 years and now it could be yours. Take a peak inside this historic home with the largest fireplace we've ever seen.
Stunning Views and Stately Gardens at this Cape Cod Mega-Mansion For Sale
For the first time since the 1940's, a stunning Cape Cod mansion boasting seven bedrooms and six bathrooms throughout its 7,200 square-feet of waterfront luxury has hit the market.
See the boathouse, tennis courts, private arboretum and seaside rose garden that $16.5 million buys you on this 2.05 acre property dubbed 'High Scatteree'.
The 15 Coolest Lighthouses Along the SouthCoast and Cape Cod
There is no shortage of beauty along the SouthCoast and Cape Cod and adding to the natural beauty of the shoreline are historic lighthouses, each with its own unique story. Let's take a trip down the coast and shine a beacon on 15 of the coolest lighthouses in the area.
More From WFHN-FM/FUN 107