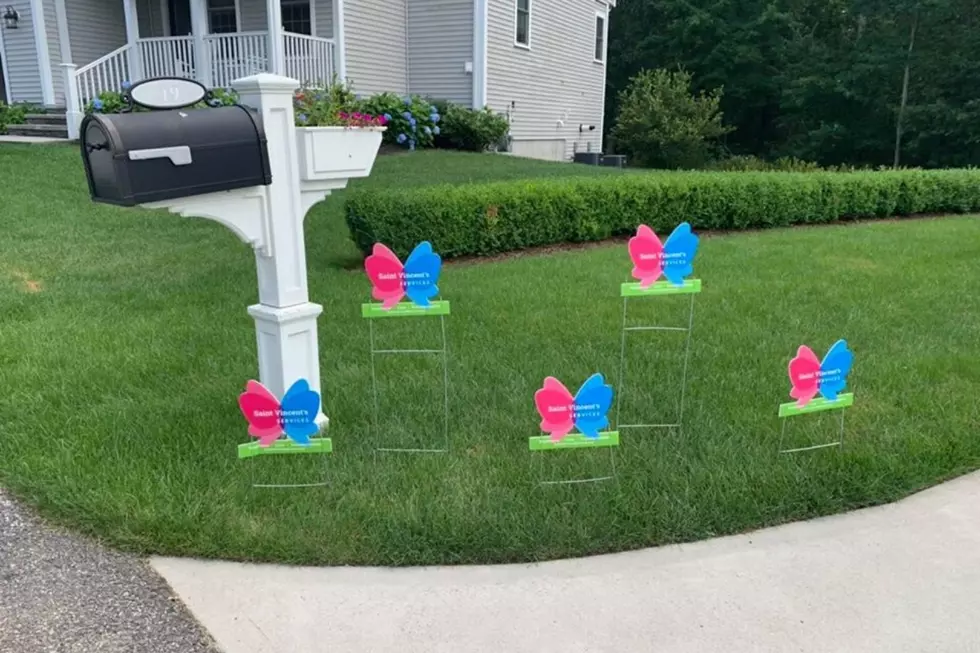 There's Lots of 'Fluttering' Across the SouthCoast
Courtesy Jenny Reis
You may have seen some of your neighbors with butterfly signs in their yard. That means they just got fluttered.
It's a creative idea that Saint Vincent's Services in Fall River came up with to raise money. It's their vision to be a place of positive change and give the youth in our area the insight and tools they need to build healthy relationships, which as we know is extremely important, and even more so now.
Saint Vincent's usually has a big Easter egg hunt that helps them raise money for the resources they need to help hundred of youth, but had to cancel that event – all while their resources have been needed now even more so than ever before.
They came together and hatched a creative way to raise money while also raising awareness. Using the hashtag #FlutteredForSaintVincents, people have been placing donations and nominating people to flutter the front lawns of their neighbors. It's a cute and fun way to help a local organization that is still doing all it can to help youth in our area.
Here are some examples of what it looks like to get "fluttered:"
Fluttered For Saint Vincents
So how do you flutter? It's actually really easy. Go to the Saint Vincent's website and fill in all the information on who you want to flutter. Then a member of the Saint Vincent's staff takes care of the rest.
I hope to see homes across the SouthCoast with butterflies in their front yards. By the way, businesses can take part too.
#FlutteredForSaintVincents
What These Fancy SouthCoast Face Masks Say About Those Who Wear Them
Enter your number to get our free mobile app
More From WFHN-FM/FUN 107