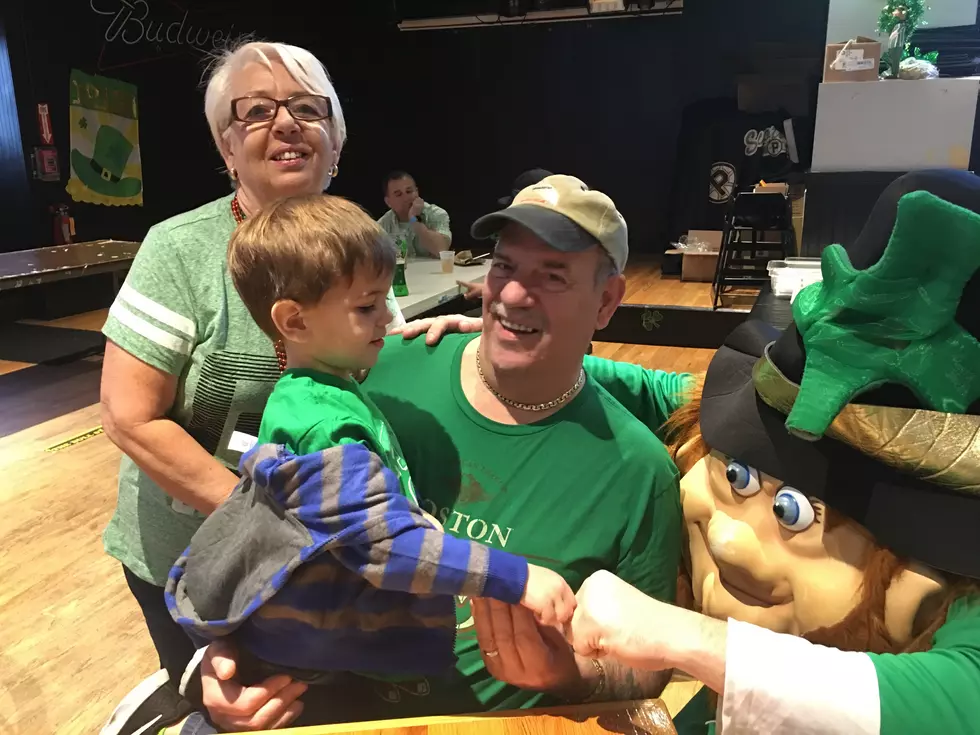 St. Patrick's Day Leprechaun Sightings In Fall River [GALLERY]
TSM/Gazelle
Picture this: It's St. Patty's Day.... You're bar-hopping in Fall River and run into an over-sized Leprechaun. What do you do? Snap a selfie!
I had an absolute blast going around Fall River for 2016 St. Patrick's Day! From one Irish bar to the next, many photos were taken and fun memories were made (at least the ones remembered...).
My first stop was over at St. James Irish Pub where there was a live band and a packed house! Luckily for "Shamus" the Leprechaun, VIP access was granted! The delicious aroma of corned beef and hash along side St. James award winning wings was enticing and an authentic Irish band filled the room with vibrant sounds of the Irish Isle.
Next stop was over at Scottie's Pub where I was early to the festivities. Eventually the place filled up and the spirit of St. Patty's Day commenced. Good ol' Scotties offered up their $20 all you can drink draft special (along with a free glass to keep) and many took advantage of the sweet deal.
After leaving Scotties, I headed over to Corky Row. A place I've never heard of before but was very glad I visited. I was instantly greeted by a room full of generous and extremely polite and friendly Irish men and women. Although I'm pretty sure I crashed a St. Patty's Day banquet, I was still greeted with open arms.
A quick pitstop to my barbershop over at Flawless Cutz to see my fellow barbers and it was a surprise to say the least!
FInally, the last stop brought me over to Mickey Doyle's where I danced and celebrated the rest of the night until it was time to say my goodbyes. A surprise was brought to my attention when an actually "Leprechaun" met up for a great photo-op!
All in all, it was a hell of a night and a grand ol' St. Patty's Day for the books. Take a look through the photo gallery below..... you never know if you made the album!
More From WFHN-FM/FUN 107