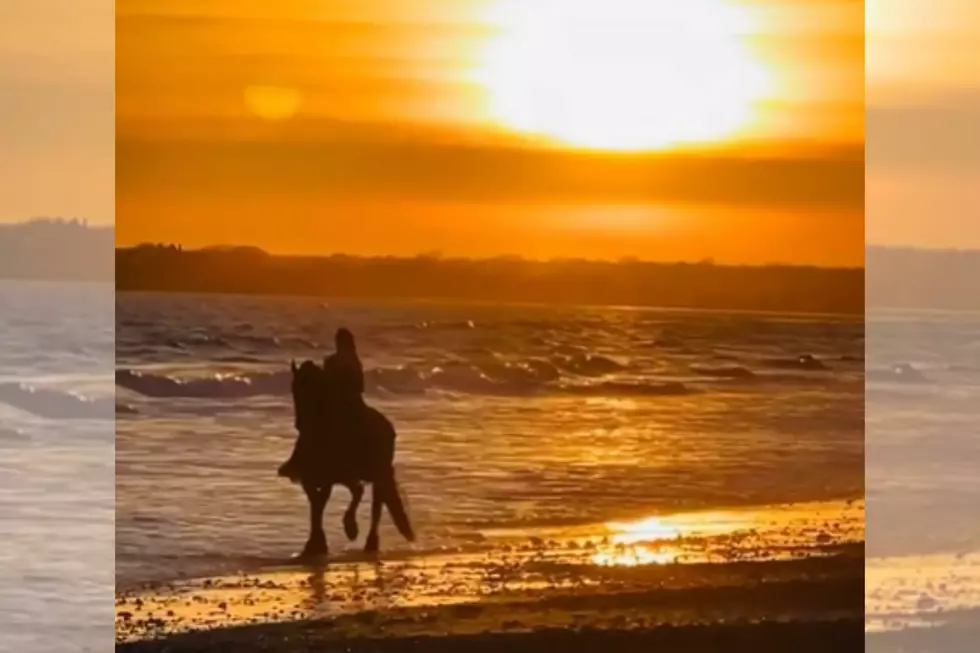 SouthCoast Photographer Captures Fiery Horseneck Beach Sunset
@petermello via Instagram
Do you ever have those moments where you experience something in nature - the view at the top of a really treacherous hike, a waterfall towering stories over you with water barreling down, the silence of being alone in a boat in the middle of a lake - and you're just taken aback? You know, that moment when your whole body gets thousands of tiny goosebumps and you're just in awe of your surroundings?
That's when happened when I first watched this video captured by a local, SouthCoast photographer earlier this week. Peter Mello from Fall River was at Horseneck Beach in Westport on Wednesday for one of the most fiery, blazing sunsets I've ever seen. I wish I had been at Horseneck in person that night to see the view with my own eyes!
As if things couldn't get any more picturesque, Mello was able to capture a woman riding her horse along the water as the waves came in. Mello wrote that Wednesday was the second to last day for dogs and horses at Horseneck Beach until September 15, so certainly the woman and the horse in the video were enjoying their last moments of the season in Westport.
Mello has taken to both Instagram and TikTok to share stunning footage from across the SouthCoast, with other videos at Ned's Point Lighthouse in Mattapoisett and Gooseberry Island in Westport.
Ultimate SouthCoast Playground Guide 2021
The Ultimate SouthCoast Playground Guide for 2021 features 48 public playgrounds throughout Southeastern Massachusetts and Rhode Island.
11 of the SouthCoast's Most Colorful Homes
The history on the SouthCoast is rich, and so many homes stand tall and proud, vibrant with nearly all the colors of the rainbow. From Mattapoisett to Fall River and everywhere in between, here are a few of our favorite colorful houses on the SouthCoast.
LOOK: TOWNSQUARE NEW BEDFORD-FALL RIVER TOWNIE AWARDS 2021
Townsquare New Bedford-Fall River 2021 Townie Awards highlight the most unique local businesses, people, places and things around the SouthCoast. From koi pond experts to Bill Murray portraits to skateboarding dogs, this is the SouthCoast you may not know.
More From WFHN-FM/FUN 107