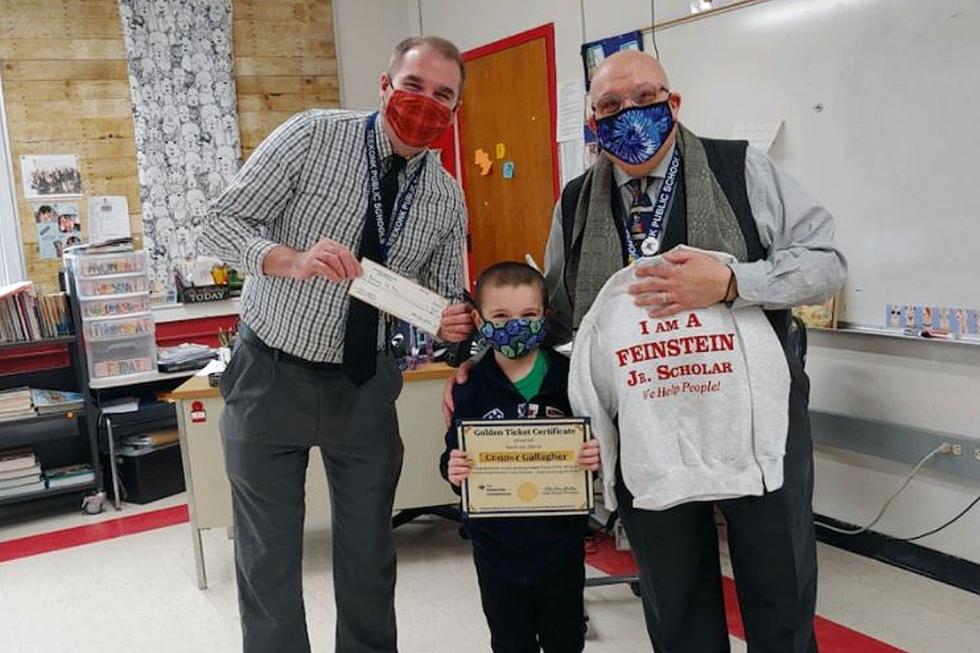 Seekonk Kid Wins Feinstein Foundation Jr. Scholar Golden Ticket
Photo courtesy Seekonk Public Schools
Charlie got to see inside of Willy Wonka's Chocolate Factory, but Connor Gallagher got a gift that keeps on giving.
Connor is a second-grader at Aitken Elementary School. Superintendent Rich Drolet and Aitken Elementary School Principal John Haidemenos just announced him as the Feinstein Foundation Jr. Scholar Golden Ticket winner for the week of Monday, March 1.
"As a Jr. Scholar, Connor is encouraged by the Feinstein Foundation to help those in need," Principal Haidemenos said. "As a Golden Ticket winner, Connor has the opportunity to donate funds from the foundation to a charity of his choice. It's great to see the foundation foster the philanthropic efforts of our students and recognize our Jr. Scholars' dedication to helping others."
Connor will receive a $500 grant as an award for being the Golden Ticket winner. He can decide to donate it to either his school or a non-profit of his choice. He chose to donate his grant to the Doorways Food Pantry, a local food pantry that supports Seekonk residents.
According to the press release, Principal Haidemenos and Assistant Principal Dave Graf presented Connor with a Feinstein Foundation winning package on Thursday, March 11.
"The winning package included a Feinstein Foundation sweatshirt, a commemorative coin from an Apollo Mission, an autograph from Feinstein Foundation founder Alan Shawn Feinstein and a Golden Ticket winner certificate."
Connor's school also received a grant in the sum of $5,000 from the Feinstein Foundation and the School Committee voted to accept the grant at its meeting on Monday, March 22.
"We are pleased to share that Connor was the first Golden Ticket winner within the Aitken Elementary School," Superintendent Drolet said. "We are thankful to the Feinstein Foundation for recognizing Connor and also for its generous donations to him and our district. We recognized Connor at our last School Committee Meeting and it was great to acknowledge him along with his family in person. We celebrated his benevolent act of donating to our local food pantry, which should be commended."
According to the release, the district has received $15,000 from the Feinstein Foundation to date. All funds from the foundation support school activities.
KEEP READING: Here are the most popular baby names in every state
Using March 2019 data from the
Social Security Administration
,
Stacker
compiled a list of the most popular names in each of the 50 states and Washington D.C., according to their 2018 SSA rankings. The top five boy names and top five girl names are listed for each state, as well as the number of babies born in 2018 with that name. Historically common names like Michael only made the top five in three states, while the less common name Harper ranks in the top five for 22 states.
Curious what names are trending in your home state? Keep reading to see if your name made the top five -- or to find inspiration for naming your baby.
More From WFHN-FM/FUN 107