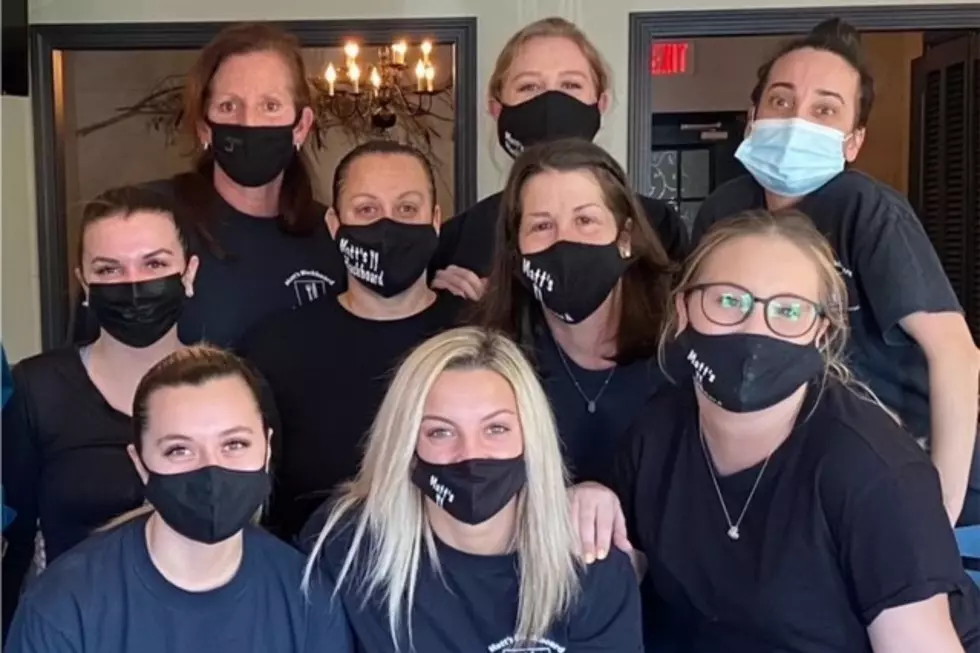 Rochester Crew Is the SouthCoast's Best Waitstaff
Courtesy of Matt's Blackboard
Over the month of March, we have been holding an open poll competition for the SouthCoast's Best Waitstaff. We asked you to nominate your favorite restaurants, then picked the top 35 from your suggestions.
With each round lasting one week, we narrowed it down to five semi-finalists, and then to two finalists. Over the course of the past week, we've asked the SouthCoast to place their votes for the SouthCoast's Best Waitstaff.
Both finalists are extremely worthy. I can tell you firsthand that the staff at Top Shelf Bar and Grill on Acushnet Avenue in New Bedford is absolutely incredible. They have a great mix of restaurant veterans and bartenders there, along with some new, fresh faces.
At Matt's Blackboard at Plumb Corner in Rochester, they put together a super fun video that was a spoof on the Full House TV open. The grand finale of the video was one of the waitresses doing a backflip in the restaurant. We're thinking the message of the backflip – our servers will do backflips to make you happy – was what put the voting over the top. Make sure you take a look at the video below.
It appears that the backflip was the tipping point because we are happy to announce Matt's Blackboard in Rochester as the SouthCoast's Best Waitstaff. The selection was made by your votes.
Congratulations to Matt's Blackboard and keep up the great work!
Check out the video from Matt's Blackboard on why they have the best waitstaff on the SouthCoast:
LOOK: TOWNSQUARE NEW BEDFORD-FALL RIVER TOWNIE AWARDS 2021
Townsquare New Bedford-Fall River 2021 Townie Awards highlight the most unique local businesses, people, places and things around the SouthCoast. From koi pond experts to Bill Murray portraits to skateboarding dogs, this is the SouthCoast you may not know.
More From WFHN-FM/FUN 107