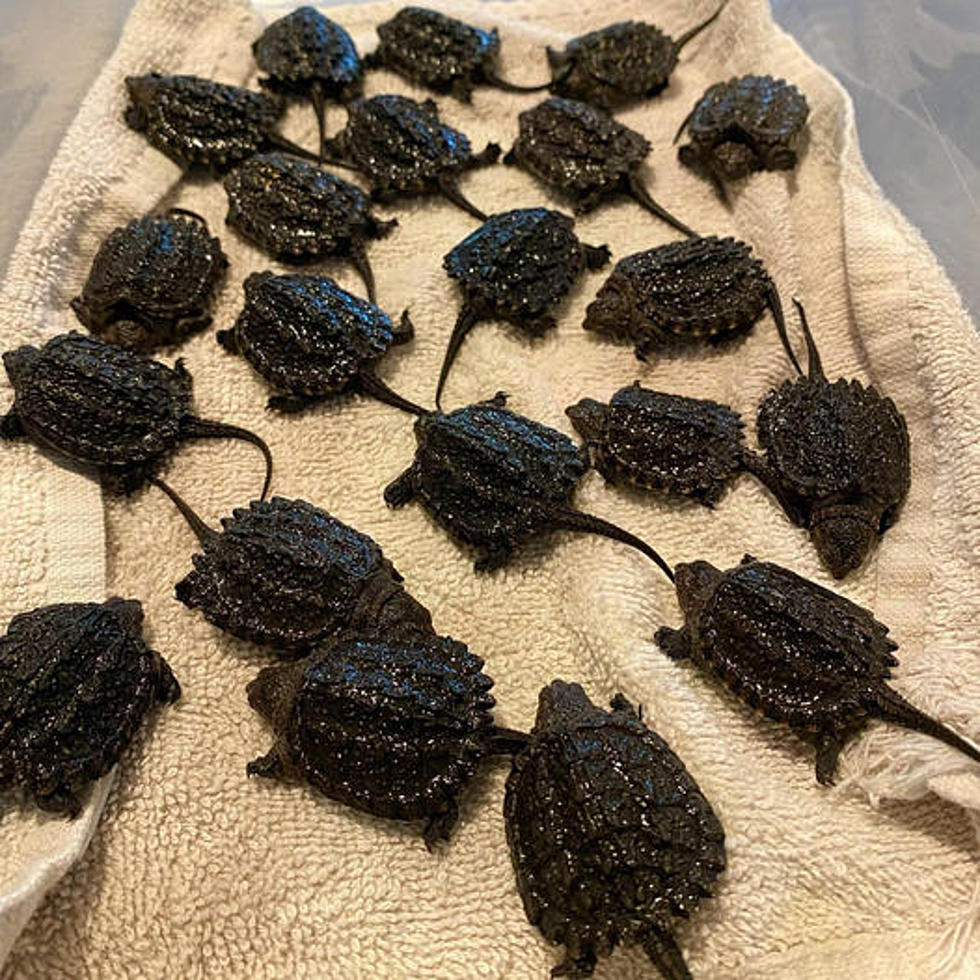 Rhode Island Orphaned Baby Turtles Almost Ready to Return Home
Wildlife Clinic of Rhode Island via Facebook
They lost their mother before they were even born, and now this family of tiny orphaned turtles is returning to the pond she once swam in thanks to the staff from the Wildlife Clinic of Rhode Island.
It actually happens more than you might think, where a mother turtle crossing the road to lay her eggs is tragically struck and killed by a motorist and her eggs have to be taken out by wildlife experts. We spoke with Arianna Mouradjian from the Wildlife Clinic of Rhode Island, who said "over 200 babies" are born this way every season. And this week, these little snapping turtles hatched at the clinic.
As many people on the SouthCoast know, the roads can be dangerous for turtles in the spring and summer as those crossing roadways to ponds or potential mates are often struck by passing vehicles. Mouradjian told us these "impacts can be quite devastating" but they don't have to end a life before it begins.
The Wildlife Clinic of Rhode Island is the largest in New England for all species animal rehabilitation and are one of the very few that are allowed to extract eggs from gravid (turtle term for pregnant) turtles. As Mouradjian tolf us, extractions are "not super hard, but are involved like a surgery" and can be essential for species survival. She told us that the clinic deals with turtles whose "species are of concern" in terms of extinction threat and not helping these eggs to hatch would "put pressure on turtle populations."
Though being born months after your mother has passed on might seem strange, it is really a necessary miracle for much of our local wildlife. As Mouradjian reminded us, turtle babies are also "a food source for many species" so other animals would suffer if they weren't born too. The trickle-down effect would be terrible.
Luckily, these small snappers made it through and almost all their mother's eggs hatched last week. According to Mouradjian, they will stay at the clinic for "another week or two [to] make sure everyone is healthy and are eating fairly well" before being taken back to the pond their mom was trying to get them to. It's truly amazing that this mother turtle's wish for her little ones can still be fulfilled by the awesome staff at the Wildlife Clinic of Rhode Island.
Like your animals a little fuzzier? Check out the adorable comfort puppy now in Somerset
At just nine weeks old, black lab puppy Raider is already making quite the grand debut as a comfort dog in Somerset schools. Whether he's greeting new friends or snoozing the day away, Raider is quickly getting socialized and growing into his new role – and his harness.
More From WFHN-FM/FUN 107