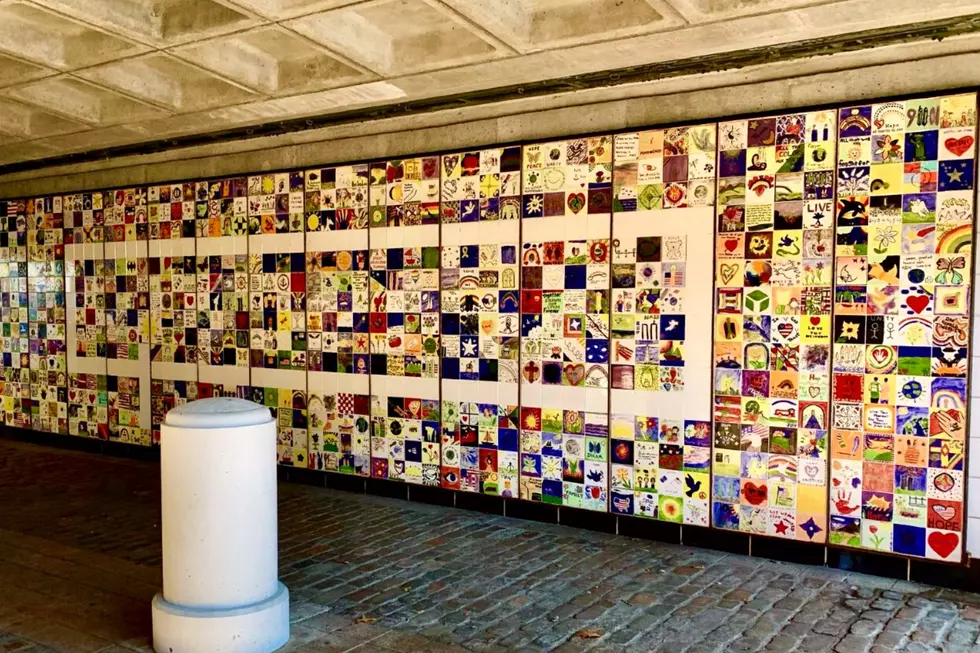 Rhode Island 9/11 Wall of Hope to Get New Home in Downtown Providence
Courtesy of Jennifer Robinson
The 9/11 Wall of Hope was created 16 years ago in response to the tragic events that took place in 2001.
With the help of 12,000 Rhode Island citizens and over 350 volunteers, the Wall of Hope came alive and currently stands in three parts: the Waterplace Park tunnel, The Providence Journal building and the Rhode Island Convention Center.
A huge restoration project is underway for a brand-new site coming to downtown Providence later this year, and volunteers will gather this weekend as the final stages begin for a new and improved Wall of Hope.
The Rhode Island 9/11 Wall of Hope
For the past 16 years, handmade tiles stood proudly in Providence, Rhode Island, as a "testament to the American spirit." Families from all over the state painted tiles, volunteered their time and donated money to bring this heartfelt project to life.
The tiles were a communal project. Some were painted by children in preschools while others were painted by inmates at the Department of Corrections. Thousands of people picked up paintbrushes and expressed their emotions that followed the 9/11 attacks, resulting in a project that reflected the hearts of the Rhode Island residents.
The Restoration Project for the Wall of Hope
In 2019, Jennifer Robinson was hired by the City of Providence to direct the "reimagining and restoration" of the Wall of Hope.
Thanks to congregants from Grace Church, Providence, 43 steel frames were to be painted Friday evening and Saturday morning in preparation for the new installation.
"This restoration project is special because every single aspect of the restoration and relocation of this extraordinary monument has been donated," said the Wall of Hope Monument organization.
Later this year, friends and families will be able to take in this emotional piece of art at its new home on Sabin Street.
"Just as the original 9/11 Wall of Hope brought people together to commemorate the power of love over hate, the unveiling of this newly-restored Wall of Hope can rekindle a sense of community and common ground among those who gather in remembrance and honor," said the organization.
We will never forget 9/11, and thanks to the tireless works of hundreds of Rhode Island citizens, we can choose to remember unity and love over hate.
Providence Performing Arts Center 2022-2023 Season Lineup
Providence Performing Arts Center has announced its lineup for the 2022-2023 season. Here are all the wonderful shows coming to the Ocean State.
More From WFHN-FM/FUN 107