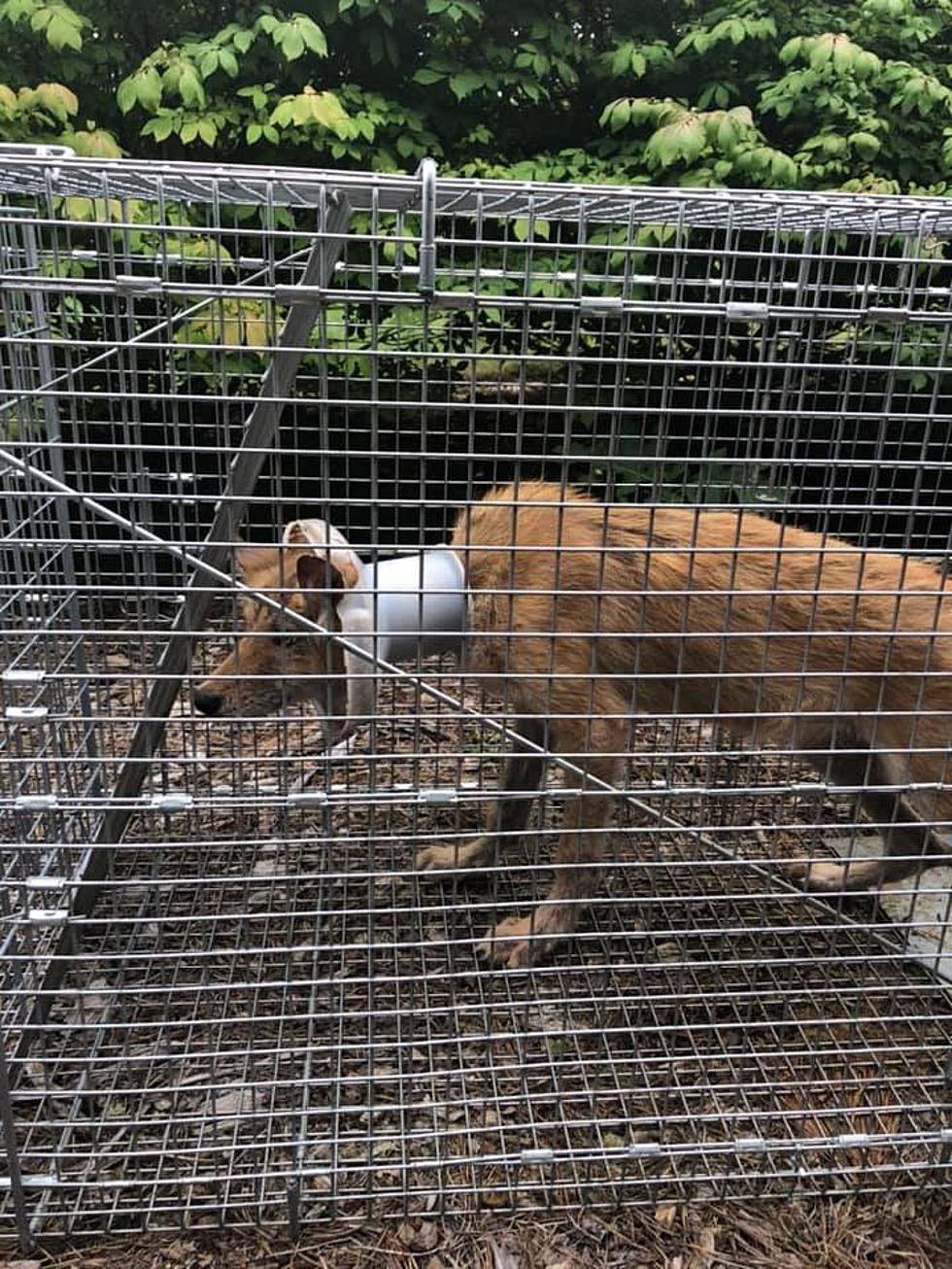 Juvenile Coyote Rescued in Plymouth From Mysterious Plastic Container
Town of Plymouth MA Animal Shelter via Facebook
You've heard about the dangers of plastic bags and plastic straws to wildlife, but what about plastic containers? A poor young coyote became trapped in trash recently, but luckily animal lovers in Plymouth came to his rescue. The Plymouth Animal Shelter posted photos of the coyote rescue recently, sharing how this trapped coyote came to be found.
People were clearly thrilled at the combined efforts of the Plymouth Animal Shelter, Massachusetts Environmental Police, Cape Wildlife, and Massachusetts Division of Fisheries & Wildlife, but there were still a lot of questions about this little guy. We spoke with Cassandra Thayer from the Plymouth Animal Shelter about the rescue.
According to Thayer, the animal was "a juvenile coyote, born within the last year" and the plastic found on his neck is a bit of a mystery. She told us that though they "searched high and low on Google" there were "no image matches for the type of plastic" they found. So what the animal got stuck in and how he found it remain unknown.
Thayer does believe it was stuck on the coyote's neck for about a week, however, based on "interior dirt and oils from the coyote's fur" and that he became stuck because his ears went through the tube shaped plastic and simply "became an issue." Just a case of a curious young coyote learning a tough lesson.
Luckily it was not a lesson with a tragic ending. As you can see from the photos, this plastic could have choked and killed the coyote as he grew if it was not removed. Instead he was spotted, tracked and rescued with a lot of local help. As Thayer let us know, his "neck looked really good" which was "great and a little surprising" and meant "he was released right at the scene" with no further need for wildlife care.
Hopefully, this curious coyote learned a lesson about literally sticking his nose where it doesn't belong and can stay safe out there.
Meet Somerset's Adorable New Comfort Pup, Raider
At just nine weeks old, black lab puppy Raider is already making quite the grand debut as a comfort dog in Somerset schools. Whether he's greeting new friends or snoozing the day away, Raider is quickly getting socialized and growing into his new role – and his harness.
More From WFHN-FM/FUN 107