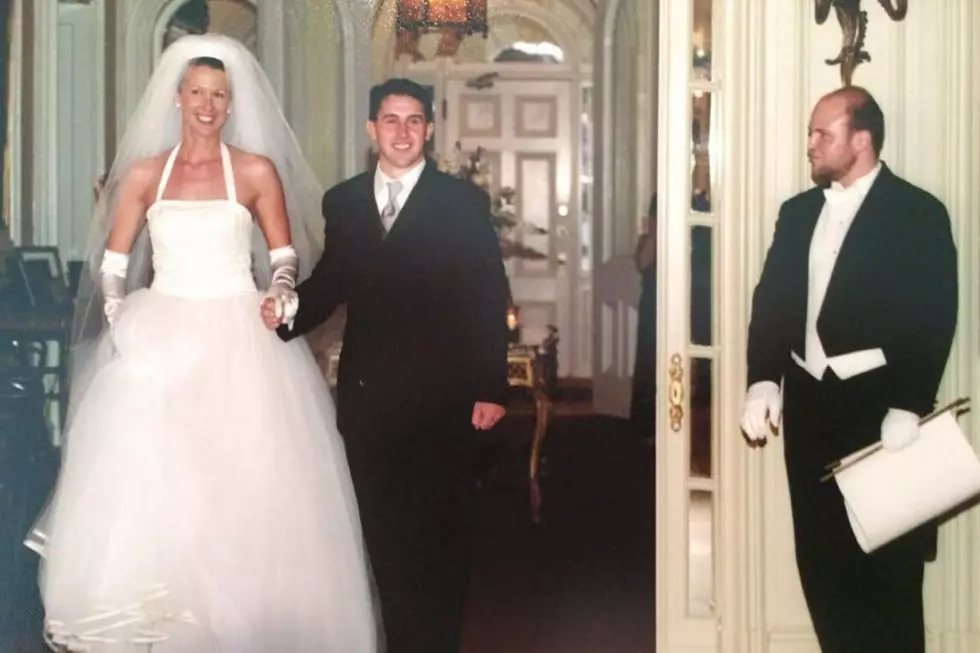 On His 18th Wedding Anniversary, Michael Rock Offers Advice
Michael Rock/Townsquare Media
In a small church in Mattapoisett, 18 years ago today, my wife and I made a promise in front of God, our family, and our friends to love each other for the rest of our lives.
As I was getting ready for work today, it dawned on me that I have lived with my wife longer than I lived with my parents. Longer than I've lived with my sister or any friend or roommate. It's safe to say that my wife knows me better than any other human being on this planet.
Maddie and Gazelle were asking me for advice today about how to maintain such a strong relationship over the long haul. I could only offer advice drawing upon my own experiences. There are many ways to navigate relationships, but this is how it worked for me (us).
My advice is to recognize that life is all about stages and that none of them are permanent. As with everything else in life, the stages of your relationship are very temporary.
Your relationship begins with the dating phase. It will never ever be easier than this phase. Truly, this phase should be pure bliss. Most of the time, there are few outside distractions or tensions in this stage. If you are in a relationship that is struggling while you are in the dating phase, my advice to you is to run, and run fast.
The next stage is the newlywed stage. We'll throw in the planning of the wedding, the wedding itself, and the post-wedding year or two. These are also some pretty great times. Maybe you save up to buy a house. Maybe you renovate the house. You are dedicated to one another. Again, for the most part, your relationship is able to exist in a sacred vacuum without outside forces applying any tension to your love for one another.
Then, the babies come. Again, these aren't always the sequence of events, I'm just drawing upon my life experiences. When those babies come, it is going to rock you to the core. This is the first big test in your relationship. For the first time, there are legitimate things that will come before your partnership with one another. Those babies rely on the two of you for everything. Everything. There's nothing like the first time that realization really sinks in. It makes you work a little harder at your job and it makes you care for those babies in any way that you can.
Sleep becomes a commodity. Lack of sleep becomes a very real problem for many. Tension sets in. Your love may be tested, but if you remember how much you loved the person in the first two stages, your love can and will grow even deeper as the two of you embark on the most important job of your lives — raising your family.
I was not a great baby dad. I didn't know what to do with them, and I always felt like I was doing it wrong. As the babies grew to become kids, I felt like I settled into the idea of being a parent. As life progresses, though, so do the stresses and curveballs. Kids will get sick with everything from stomach bugs to broken bones to more serious health problems. Your parents begin to grow old and develop health problems of their own. Issues at school pop up. Kids get cut from sports teams. The external tension piles on.
And this is why it's so important to be picky and choose the right person to be your spouse. The foundation of your relationship gets you through each stage of life. It's hard to imagine while you're going through it, but each stage is stunningly short. If I had only known how temporary the baby stage was, I would have tried my best to relax and enjoy it more.
Now, however, I'm really starting to learn just how quickly these stages turn over. I honestly try to savor each day with my wife and kids. Don't get me wrong, it's not with grand gestures. There's not usually any time for that. It's the unplanned moments that you have with your kids or your wife. It's important to recognize them as they are happening and to truly dial into them.
Try not to let the phone or Facebook ever tear you away from those moments. You won't always be able to block out those external distractions, but even if you do it most of the time, you'll be thankful in the next stage.
KEEP READING: What were the most popular baby names from the past 100 years?
Enter your number to get our free mobile app
More From WFHN-FM/FUN 107