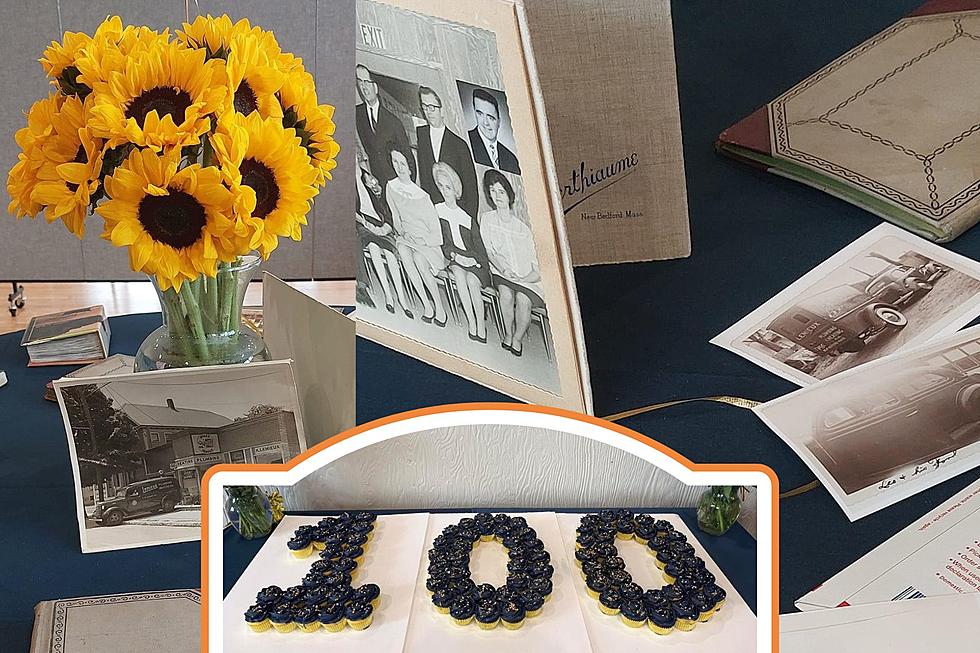 New Bedford's Lemieux Heating Company Celebrates 100 Year Milestone
Courtesy Sheila Lemieux & Ana Lemieux
One of New Bedford's finest heating companies is celebrating an impressive milestone.
Lemieux Heating in the North End recently reached 100 years, calling for a celebration of generations. The commercial heating company is currently owned by Gerard Lemieux who took the company over from his father, who learned everything from his father, making him the third generation to keep the family business alive.
"I'm proud of that and a lot of effort went into it with my grandfather, my father, and my uncles who owned it before me," Gerard said.
The history behind the business is extensive, but here's a quick rundown.
Gerard's grandfather, Antonio Lemieux, was born in 1897 and came to this country from Canada around the age of 17 or 18 years old as a tin knocker (duct fabricator). From there he became a plumber and was the youngest in the entire Commonwealth of Massachusetts to have a master's plumbing license. Thus spawning Lemieux Plumbing & Heating back in 1923. It wasn't until Antonio passed away that the family dropped the plumbing from the name, leaving it as just Lemieux Heating.
Fast-forward to 1957, Antonio passed the torch to his sons, Roland Lemieux, Alfred Lemieux, and Henry Lemieux. They were three brothers with three different personalities, but they still made it work. It wasn't until 1990 that the business was handed over to Roland's son Gerard who still runs it to this day.
"I'm the third generation, my son is the fourth generation, and his son, who works for me, is the fifth generation," Gerard explained, "We also have three other employees in the family- one is my first cousin (once removed), another is my second cousin (twice removed) and my daughter-in-law runs the office."
Although the company mainly does heating, they have two people on board who have their master's license in plumbing which makes up a good 10% of the jobs Lemieux Heating receives.
When asked if he was ready for retirement after 51 years at Lemieux Heating, Gerard's answer was admirable. Especially since he began working the day after his high school graduation.
"I take Fridays off now, especially during the Summer, but I love what I do and I need to stay busy," he said, "It's great to come into the office and see my family every day, just like I did with my father who I  spent a lot of time with. At 70 years old, I'm still in charge, but I'm in the process of delegating my work to my son.
There was recently a celebration at Allendale Country Club with the Lemieux family and a lot of their customers where they reminisced, celebrated over a glass of wine or beer, and laughed over the memories.
Among the successes Lemieux Heating has achieved over the century, one of them credits the year 1967 when the company converted four local coal-burning schools here in New Bedford to oil. This is simply the tip of the iceberg and one of many stories Gerard can tell you, but most importantly, he's forever grateful for his customers.
"I still have customers since before I started, over 50 years, and I want to thank every single one of them," he concluded, "Also to my son and his wife, and the guys who work for me. It's been a wonderful life. I've been blessed with great parents, uncles, and my grandfather, who taught me a thing here and there. I've had some good people that I've worked with, even as times have changed- the technology is unbelievable, and to think that the person who taught me what I know started before today's technology even existed. I'm blessed."
Downtown New Bedford Then and Now
The development of Downtown New Bedford has happened slowly and steadily. It's not something that happened overnight, but New Bedford has changed quite a bit over the past 10 or so years. Here's a look at then and now.
New Bedford's Five Tallest Buildings
New Bedford isn't known for tall buildings, but there are a few that tower over some others (pun intended).
More From WFHN-FM/FUN 107