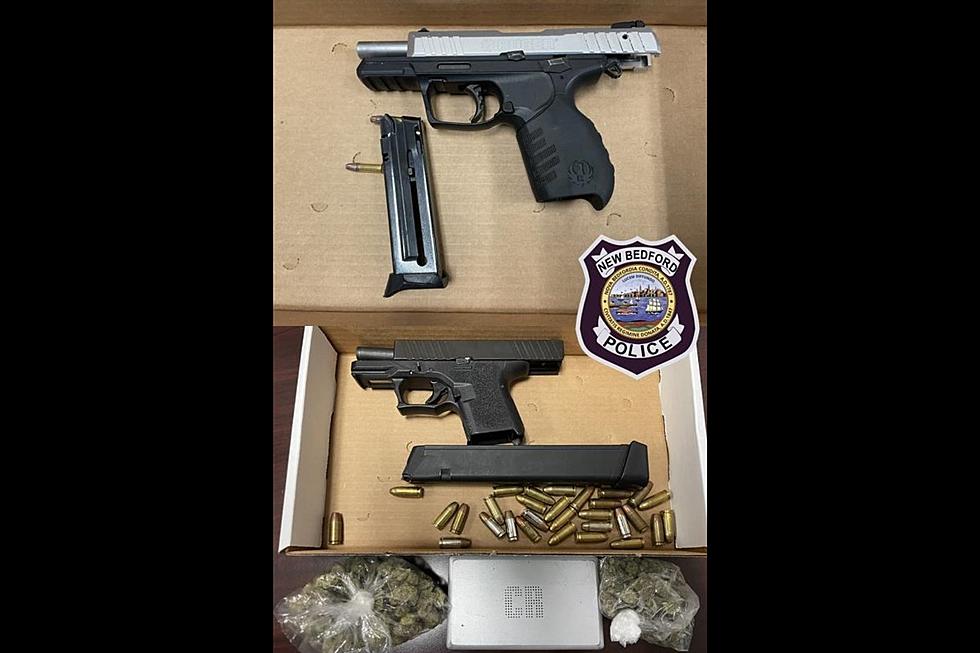 New Bedford Police Seize Two Firearms in Separate Incidents
Courtesy New Bedford Police
NEW BEDFORD (WBSM) — New Bedford Police detectives seized two firearms in separate incidents on Wednesday.
According to New Bedford Police, Detective Sergeants Jonathan Lagoa and Jarrod Gracia responded to a call at around 3 p.m. on September 27 of two males with guns in the area of Chestnut Street and Willis Street.
Lagoa and Gracia observed two males matching their descriptions in the area. They attempted to stop them, with assistance from Detective Samuel Algarin-Mojica, and one of the suspects immediately fled on foot.
Police said he was seen tossing a firearm into a nearby yard before they captured him and placed him in custody. He was identified as Daziere Colton, 18, of New Bedford, and police said it was later learned that Colton had discarded a loaded .22-caliber Ruger pistol.
Police said the second male "had nothing of interest in his possession" and was allowed to leave the scene.
Colton also has two open cases in New Bedford District Court for assault and battery, and assault by means of a dangerous weapon stemming from an incident in June. He is now charged with carrying a loaded firearm without a license.
At around 9 p.m. that same day, detectives in the South End observed a suspected drug transaction in the area of Purchase Street and Russell Street. They stopped William Santiago, 22, and said he was found in possession of a black Polymer handgun with a high-capacity magazine loaded with 30 rounds of ammunition.
Santiago was arrested and charged with carrying a firearm loaded with a high-capacity magazine without a license, distribution of marijuana, and possession of marijuana with intent to distribute.
States Ranked by Gun Death Rates
Gun death rates per 100,000 are high in the U.S., and getting higher. Here's a list of states ranked by firearm safety, from lowest death rates to highest. Data for 2021 is from the CDC via
Violence Policy Center
.
More From WFHN-FM/FUN 107