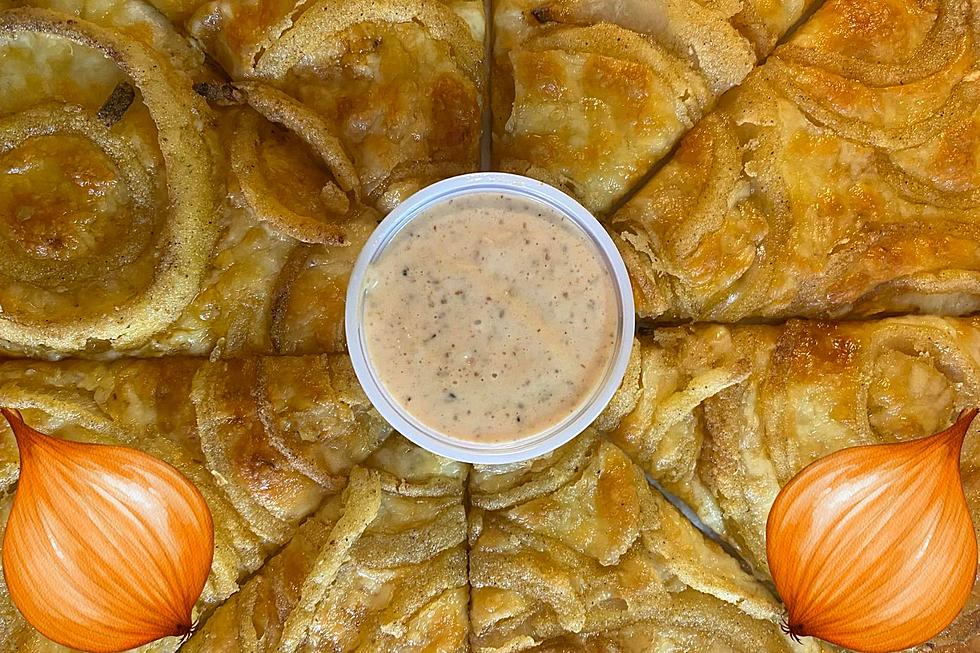 New Bedford's New Pizza Pop-up Shop Is Blooming With Creative Pies
Juniors Pizza via Facebook
Just when I thought I'd seen it all, I'm smacked in the face with a pizza combination that's as unique as it comes.
Pizza is one of the most universal foods. It's hard to not like pizza. Some like plain cheese and I can respect that, but others prefer toppings such as buffalo chicken, meat lovers or, hey, even Big Mac. 
Have you ever heard of a blooming onion pizza? Well, it's real and it's right here on the SouthCoast.
A fairly new business called Juniors Pizza has garnered quite the local following for being a pop-up pizza shop. When it comes to switching up the pizza game, New Bedford native Timothy Borges is fully licensed and stepping it up a notch.
"I'm doing unique pizzas, pizza as you've never seen before," Borges said. "I love blooming onions, so anything that I love I try to turn it into a pizza."
Just like that, the blooming onion pizza was born, complete with blooming onion sauce on the side for dipping. It's not as crazy as it might sound. Restaurants put onions on pizza all the time, especially when chourico or linguica are involved. The fried batter on the onion is just an added bonus of zesty tastiness.
With graduation season in full swing, Borges is busy with his catering orders but plans to organize the next pop-up pizza shop (that means no single walk-in location just yet) somewhere on the SouthCoast within the month.
"I'm only a pop-up shop and catering company right now, but I'm saving up as much as I can for the next step. Hopefully, by next year, I'll have my own brick-and-mortar business that I can call my own," Borges said.
You can follow the Juniors Facebook page to see when the next pop-up will be to try this unorthodox yet tasty creation.
25 of the Best Pizza Spots on the SouthCoast
Not all pizza is created equal, but the SouthCoast has plenty of options for a high-quality slice. Choose from any of these 25 spots to fully take advantage of National Pizza Day.
The Best of South Shore Bar Pizza
There's pizza, and then there's South Shore Bar Pizza. Birthed in Brockton (and to this writer, perfected in Randolph – Lynwood Café is the true G.O.A.T.), it must meet certain qualifications to be considered "SSBP," which include: it's a 10-inch pie; it has a thin, cracker-like crust with minimal "flop;" the cheese is a blend that features more cheddar than mozzarella; and bonus points if you take it home between two carboard-type plates wrapped in flat brown paper bag. They also usually come with "laced" or "burnt" edges (terminology depends on where you are ordering), which is when the sauce and cheese are extended all the way to the edge of the pan, creating a crispy, flavorful coating to the crust. We reached out to the hugely popular
South Shore Bar Pizza Social Club Facebook group
to ask the experts to share the best of the best (in no particular order).
More From WFHN-FM/FUN 107