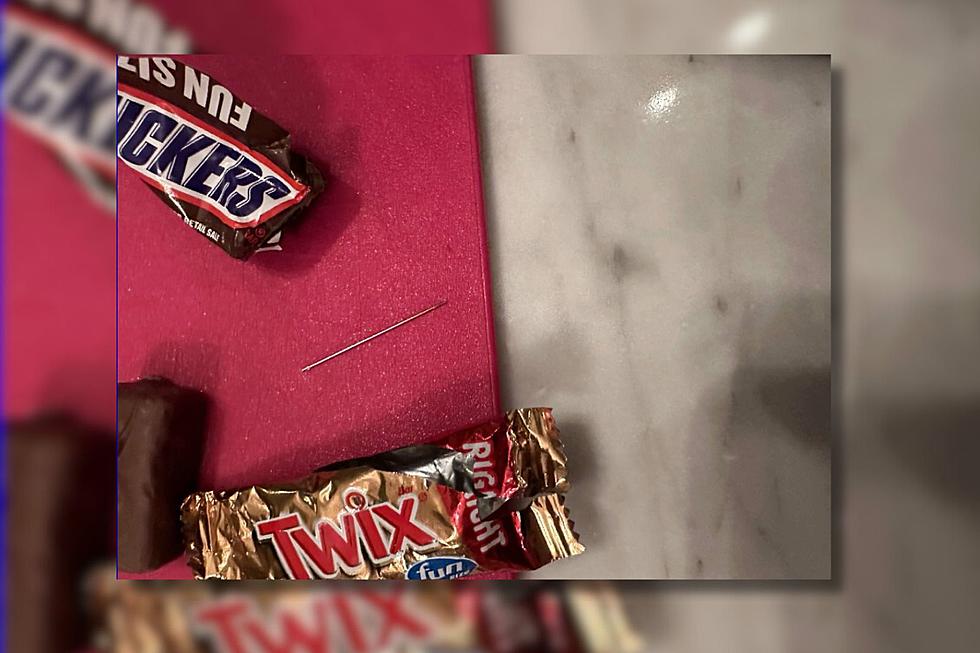 Cape Cod Mom Says Needles Were Found In Child's Halloween Candy
Sandwich Police Department/Facebook
A nightmare became reality on Halloween night for one Cape Cod family when the mother said she found a sewing needle in a piece of her child's candy. The Sandwich Police Department shared an update on Thursday as it investigated the claim.
"Late in the evening on November 1st, the Sandwich Police Department was called to a Sandwich residence for a sewing needle found in a piece of Halloween candy," the department said. "The mother of an 8-year-old child advised police that her son was checking his candy and noticed something poking out of it."
The wrapper of a small Snickers bar had a puncture hole, and a sewing needle was found inside the piece of candy. As the mother continued to check the rest of the candy, she came across a Twix candy bar that apparently had a sewing needle stuck in it.
"This is so upsetting," one online commenter said. "When the neighborhood is trying to keep the tradition of trick-or-treating alive, one person had to ruin it for everyone! I hope they catch who did this!"
The department said: "It was reported that the family went trick-or-treating on the Main Street area of Sandwich."
The department is recommending that all candy collected on Halloween night should be inspected, and if your child was trick-or-treating in the downtown area of Sandwich, be extra vigilant in checking each piece.
As of Thursday morning, the department has not received any other similar complaints.
Anyone who believes their family's candy has been tampered with can contact the Sandwich Police Department at 508-888-1212.
SouthCoast Did Halloween In Style: Some of the Best Costumes
We asked you to send in your Halloween costumes and you didn't disappoint.
Gallery Credit: Michael Rock
Halloween Costumes on Our Favorite SouthCoast Pets
Some of our favorite dogs from the Fun 107 Howl-O-Ween contest!
Gallery Credit: Michael Rock
Favorite Halloween Candy by State
No tricks, all treats. Here is a roundup of the top Halloween candy loved in each state.
Gallery Credit: Lauryn Snapp
More From WFHN-FM/FUN 107