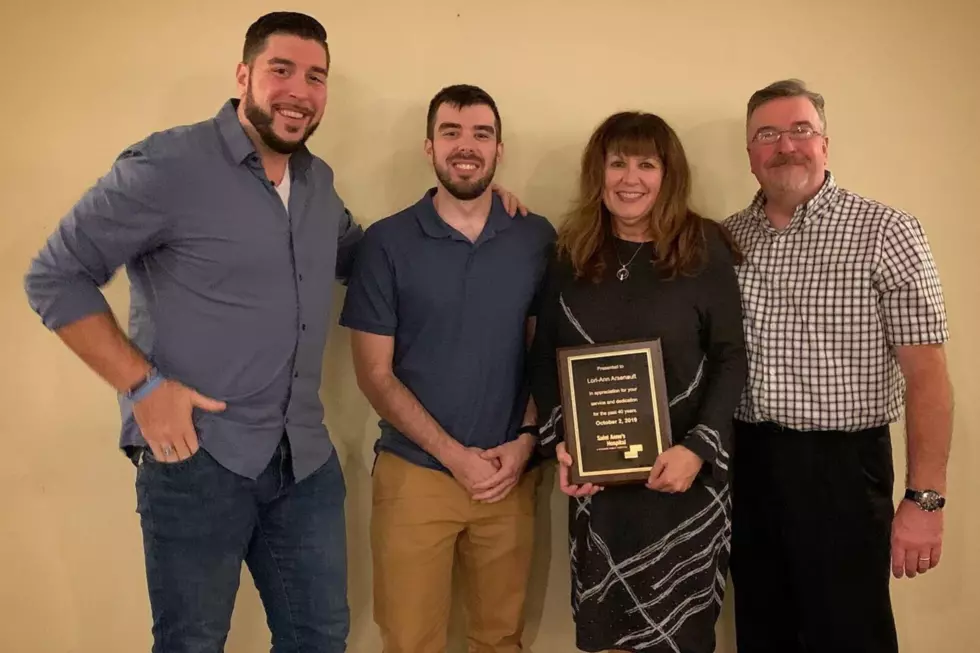 Mom, I'm Beyond Proud of Your 40 Years at Saint Anne's Hospital
Gazelle/ Townsquare Media
Tonight we celebrated you and I couldn't be prouder. You have reached and accomplished a milestone in life that some dream about reaching. Forty years of hard work, loyalty, perseverance and dedication at Saint Anne's Hospital is quite the achievement and you should be proud of yourself.
As your family (Dad, my brother and myself) sat by your side at Rachel's Lakeside, patiently awaiting your recognition from some of the high-ranking hospital board members, we were sitting silent, uneducated to what we were about to learn about you. Your boss sat to your right, ready to deliver one the most powerful speeches I will ever hear: the story of my mother's career.
"Lori began her career at Saint Anne's Hospital in 1979 in her senior year of High School through a student co-op program. The hospital was undergoing a computer conversion and needed students to pull patient accounts. This was a 6-week program that turned into an 8-month process. She must have done a great job, because after grafuation Lori was offered a job with the Director of Finance in the Fiscal Services Department. A position she held for 22 years.
When a position became available for a Prep Tech in the Pain Management Department Lori interviewed and was hired by Kris Walker, she was ready for a change. Lori's training as an EMT for The Fall River Fire Department prepared her well to work in a clinical department.
In her 17 years at Pain Management, Lori has been a tireless team player and a "go to" for all of our staff. Her attention to detail is meticulous and her constant efforts to institute cost saving measures led to her adding the title "Purchasing Coordinator" to her title. Lori is the department representative for the safety committee, the hospital emergency management team, and EOC rounding. She acts as a liaison to both off sites. She reports on safety at the monthly staff meeting and participates on the hospital emergency management team. Lori helps to identify areas that could use improvement in the department and makes every effort to participate in the process. Lori was part of the hospital PIP of "The Big Idea". She was one of the first to win the award for the "Big Idea" and cost saving measure was applied system wide.
I can honestly say I do not know what we would do without her! We are lucky to have Lori as a part of our team! She is an excellent colleague and friend!" –  Maryellen Simmons, Clinical Operations Manager- Saint Anne's Hospital
Those last few words truly sum up my mom: "I do not know what we would do without her".
Words that couldn't be wiser.
The Steward Health Care System Mission Statement reads as follows:
"Steward Health Care is committed to providing the highest quality of care with compassion and respect."
That statement alone defines your character perfectly and I will leave you with these final words.
Thank you, Mom, for raising the hell out of two boys and making sure we had everything we needed to succeed in this world. Forty years is quite a long time when put into perspective, and seeing how I've been by your side for the past 31, I consider myself (and Taylor, too) the lucky ones to be brought up by such a caring, selfless and loving mother.
Know that you are trusted and know that you are loved. Know that you have made a huge impact on this world, even when you have a tough day. Know that your impact on the people around you is powerful and that your wisdom is contagious.
You have always been there for everyone else, even if it means putting them before you, and for that, you are selfless. You have traveled to third world countries to feed and heal the poor and for that you are courageous.
At the end of a long shift, when you walk into the house and set your bags down, remember the impact that you had on the world that day. Whether it was an entire hospital ward or one single patient – you make a difference in this world.
"Stay humble and stay kind," you would always tell us. After tonight, hearing what everyone has said about you and where you've come from and what you've done, I finally realize what you mean by it and for that I can only say: thank you.
I love you, Mama, from the bottom of my heart. Great job.
More From WFHN-FM/FUN 107