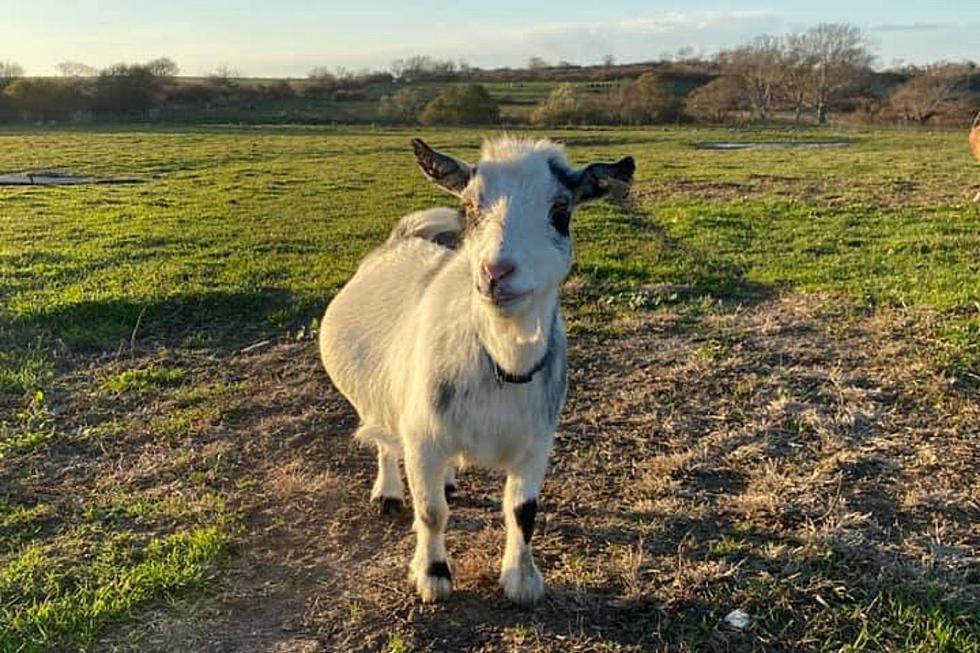 Middletown Farm Hosting Goat Hikes This Spring
Simmons Organic Farm via Facebook
If you're just not that into yoga, but you want to spend some time with goats, Simmons Organic Farm in Middletown has got you covered. Every weekend they are hosting goat hikes through their scenic farm and it's fun for the whole family.
Goat yoga has been incredibly popular for the past few years, but the trendy exercise wasn't exactly a family activity. So Simmons Organic Farm decided to make their fun-loving goats more accessible to everyone with weekend goat hikes around the 130-acre property.
Now anyone in the family, regardless of fitness level, can get outside to enjoy the fresh air with an adorable goat. As the weather starts to slowly get warmer, weekends throughout March and April are full of goat hike events at the farm.
But this isn't just walking the farm while the goats are around. At Simmons Organic Farm you are literally walking the goats around as they graze on grass in the pastures. As in when you buy your ticket you get a goat, on a leash, to take for a walk like a pet. How cute is that?
Those willing to pay a little extra can even take a baby goat for a walk for some seriously adorable photo ops along the way. Though the farm does warn those interested in the baby goats that these little ones can't walk as far as the adult goats, so you should expect to end up carrying a baby goat around the farm for a bit.
The whole event sounds like a perfect way to get the kids out exploring nature this spring and Simmons Organic Farm in Middletown is a beautiful place to take a walk. With views of Narragansett Bay, a brook that runs through the farm and lots of other animals calling this farm home, there is plenty to see and do as you take your goat out hiking.
Though if you still want to try out goat yoga, it looks like that will be coming back to the farm later this spring as well.
Meet the Animals of Dartmouth's Don't Forget Us, Pet Us Sanctuary
Just off Faunce Corner Road in Dartmouth is an animal sanctuary for livestock that has become home to over 50 animals is just five short years. Whether they arrived because their owners could no longer care for them or they were removed from an abusive situation, Deborah Devlin and Jill Tagino, who run Don't Forget Us, Pet Us sanctuary, take in animals with no where else to go. Clearly, the livestock they care for are very happy to have found a home for the rest of their natural lives.
The Dishes to Try Most at Over 100 SouthCoast Restaurants
From the freshest seafood you can find to some of the best dang Portuguese dishes outside of Portugal itself, there are so many dishes to enjoy and love here on the SouthCoast, and we put 'em all into one spot. Check out more than 100 of the SouthCoast's favorite restaurants, and let us know if your favorites made the list.
More From WFHN-FM/FUN 107