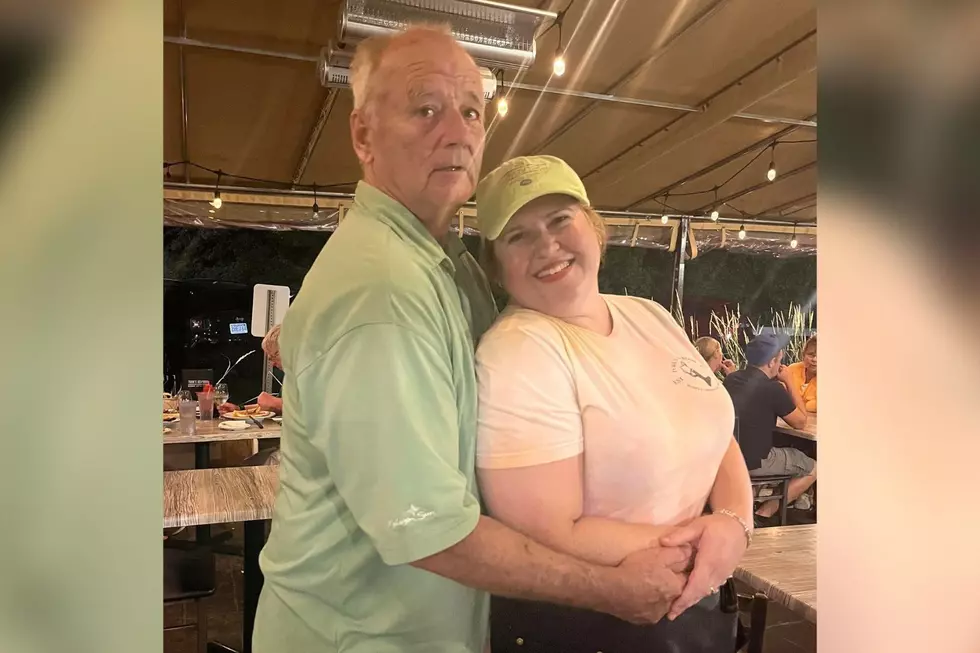 Mattapoisett Restaurant Gets Surprise Visit from Movie Star Bill Murray
Courtesy of Stella Brogioli
Comedy legend Bill Murray is turning into quite the fanboy of the SouthCoast.  He has been spotted at local restaurants a number of times over the past several years.
Over the summer of 2019, Murray was seen at Patti's Pierogis in Fall River.  He stopped into the popular South Main Street spot with movie maker and Rhode Island native Peter Farrelly.
Two years ago, during the pandemic, Murray donned his mask and ordered up some burritos at Mi Antojo Mexican Restaurant on Route 18 in New Bedford.
On Sunday night, Murray returned to the SouthCoast. After a round of golf at the Kittansett Club in Marion, Murray took a ride up Route 6 to Mattapoisett. Perhaps it was to see the town's boat parade fundraiser to benefit the Mattapoisett Boat Yard. Who wouldn't want a plate of fried scallops after watching such a unique event?
Murray's friends suggested they go to Turk's Seafood.
Stella Brogioli was the hostess on duty Sunday when she got the call that Murray was stopping by for some dinner.
"I was totally excited because I've loved him since my college days and we'd constantly quote his lines from Caddyshack. I had set aside an intimate table of four in the back corner for his party. His reservations were for 7:30."
At about 7:20, a man went into Turk's asking about his table for 14. Brogioli told him that they didn't have any reservations for 14.  The man started dropping local names, then finally said, "How about Bill Murray?"
Brogioli's intimate table for 4 turned into a section for 14.
Kimberly McCarthy, Murray's server for the night, told us that he was everything you'd expect him to be.
"He was just like the way he is in the movies," she said.  "It's funny, every 15 minutes he made everyone stand up and rotate three seats so that everyone got a chance to talk with one another."
Murray and his crew feasted on sushi specials before he decided on the swordfish au poivre. The movie star even took the time to take pictures with other guests at Turk's and posed for a prom-style picture with McCarthy.
Before he left, Murray signed a golf ball for McCarthy's fiancé, Trevor, a huge Caddyshack fan.
It read, 'Trev, Make a putt! -- Bill Murray.'
21 Famous People You Didn't Know Were From the SouthCoast
Move over Hollywood, you're not the only town that breeds stars. We've compiled a list of some famous people that either are native to the SouthCoast, or eventually called it home.
20 Stars Who Hail From Rhode Island
Rhode Island may be the smallest state in the nation, but it has been home to many celebrities. Though some have moved here, filmed here or attended school here, only a handful were actually born here. These are those celebrities.
More From WFHN-FM/FUN 107