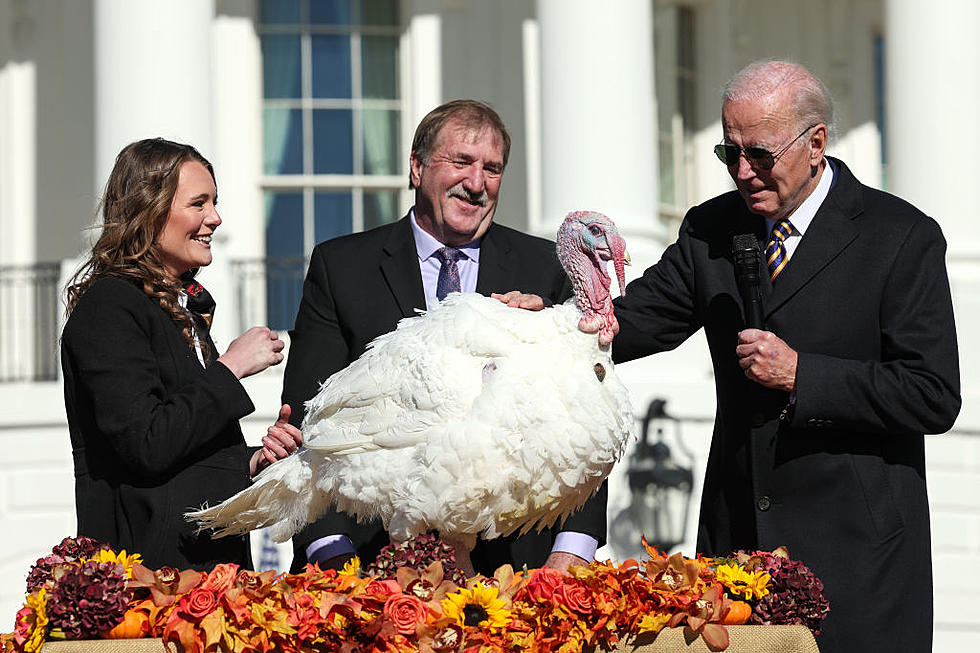 Massachusetts, Rhode Island and White House Thanksgiving Turkeys
Getty Images
Debate persists over which United States President was first to pardon or spare the life of the First Family's Thanksgiving turkey.
Was it Abraham Lincoln, the nation's 16th President, Harry Truman, the 33rd Chief Executive, or John F. Kennedy, the 35th President of the United States?
Well, I suppose it depends upon who you talk to.
According to the George W. Bush White House Archives, "Harry Truman pardoned the first National Thanksgiving Turkey." The archives say it happened in 1947.
However, the National Constitution Center says the Trumans actually ate the donated bird for Thanksgiving dinner.
The Center says, "Photos from Truman's administration show the President happily receiving a turkey as a gift from the Poultry and Egg National Board at a public event." The site says President Eisenhower, who followed Truman in office, did the same thing.
The Center cites a Washington Post article that later revealed that Truman and Eisenhower served their gifted turkeys for Thanksgiving dinner.
The Center says, "John F. Kennedy then started a trend by publicly sparing a turkey given to the White House." According to the National Constitution Center, "The turkey was wearing a sign that said 'Good Eatin' Mr. President.'"
Kennedy pardoned the bird on November 19, 1963, three days before being assassinated in Dallas.
It was George H.W. Bush who made the turkey pardon official in 1989.
Abraham Lincoln spared the life of a Thanksgiving turkey in 1863 at the request of his son Tad, who had adopted the bird. There was no official pardon issued by Lincoln, though. On October 3, 1863, Lincoln proclaimed the fourth Thursday in November as a day of Thanksgiving.
Here is some turkey trivia for you: Horace "The Poultry King" Vose of Westerly, Rhode Island, provided Thanksgiving turkeys to presidents from U.S. Grant to Woodrow Wilson.
Macy's Thanksgiving Day Parade Balloon Fails
A compilation of Before and After shots of the most notable balloon disasters in Macy's Thanksgiving Day Parade History.
Gallery Credit: Maria Danise
Kingston Turkeys Adopt Plymouth White Peacock As One of Their Own
What's brown and white and feathered all over? A Kingston turkey family, after adopting a white peacock from Plymouth and accepting him as one of their own.
Gallery Credit: Tim Weisberg
More From WFHN-FM/FUN 107