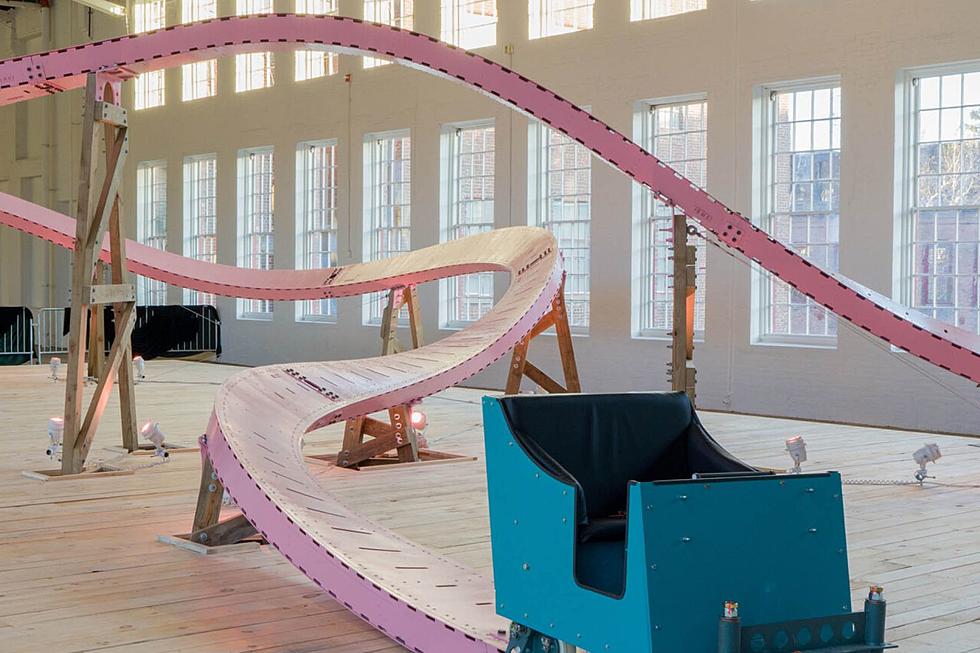 Massachusetts Art Museum Has an Awesome Indoor Rollercoaster You Can Ride
Photo by Kaelan Burkett
A Massachusetts museum in North Adams is hosting a large art exhibit that includes a rideable roller-coaster.
You read that right.
The artist, 38-year-old EJ Hill of Los Angeles, has history with the Bay State, having studied at Harvard University.
The exhibit is open at the Massachusetts Museum of Contemporary Art, lovingly known as MASS MoCA, one of the world's most active art venues, especially when it comes to showcasing profound art.
In the case of Hill's exhibit, he really focuses on a relevant topic in our world today: human equity. Hill's big focus when it comes to his art is experiences that intermingle with public struggle including trauma, joy and, yes, even the shared experiences of amusement parks.
The exhibit fills the Building 5 gallery at the museum, which is the size of a football field. It is Hill's first solo museum exhibit and his largest to date.
"When I was little, I had these notebooks and they'd all be covered with roller coaster drawings," he said.
The artist had always dreamed of building a roller coaster.
He goes on to say, "This image has always shown up, time and time again: this idea of the up and down and the 'round and 'round of a closed circuit."
That's an experience many of us can relate to.
You can visit this exhibit now through January 2024 but if you want to ride the rollercoaster, spaces are filling up fast and only one person can ride at a time. An interactive calendar on the website can help you schedule and pay.
Keep scrolling for photos of this awesome exhibit, then get ready to go.
Brake Run Helix Art Exhibit
Ej Hill brings this immersive art exhibit to Massachusetts this fall where you can experience a roller coaster.
Check Out This Michigan Airbnb Made From a Retired Rollercoaster
When life gives you an old rollercoaster, break it down and use it to build a house.
25 Not-So-Magical Incidents at Disney Theme Parks
From ride malfunctions to guest outbursts and Animatronic fails, these incidents at Disney theme parks were so not Mickey Mouse-approved.
More From WFHN-FM/FUN 107