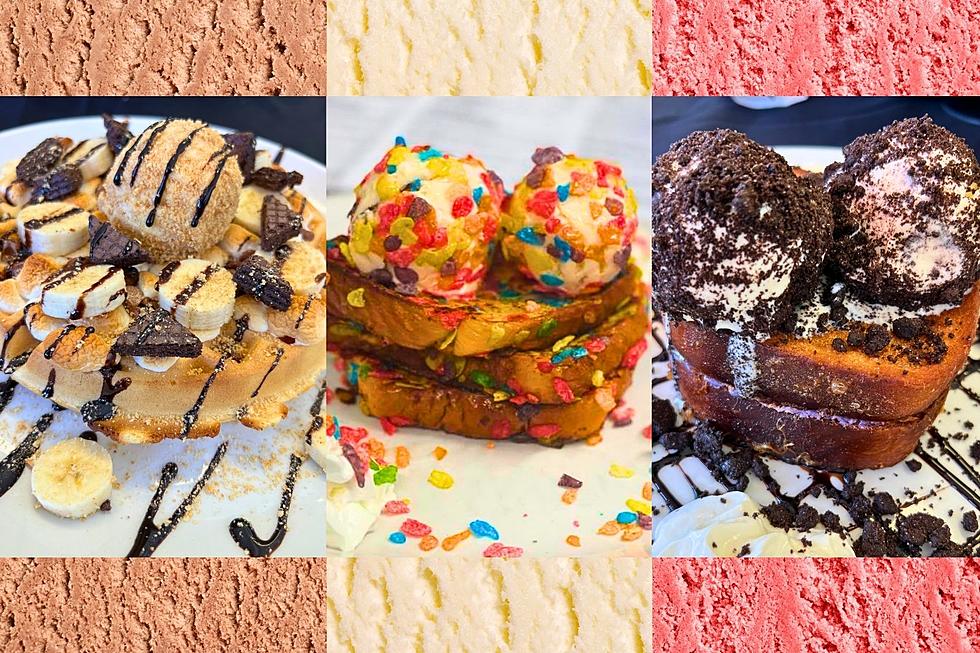 Ice Cream Breaks Breakfast Boundaries at This Seekonk Restaurant
Gazelle/Townsquare Media
Where in the Handbook of Life does it say you can't eat ice cream for breakfast?
I just discovered a breakfast joint that rejects that very notion and takes its food to the next level.
Payton's, 193 Central Ave. in Seekonk, is reinventing our perception of breakfast. It's true. You can have ice cream here as early as 6 a.m. Once the doors open, owner Curtis Medeiros has his scooper ready and his grill fired up. Both can go together. If you've never had flash-fried ice cream on top of your waffles and french toast, you're missing out.
Here's just the tip of the ice cream cone of what you can expect:
Banana S'mores Waffles
Every crevice of this waffle is jam-packed with marshmallows and chocolate banana wafers before it gets melted down and then layered with freshly sliced bananas, flash-fried ice cream rolled in graham cracker crumbles and drizzled in warm chocolate sauce.
Blueberry Oreo Flash-Fried French Toast
When you bite into this decadent flash-fried French toast with a semi-sweet blueberry cream cheese in the middle and two scoops of fried ice cream on top that's been covered in Oreo cookie crumbles, something magical happens.
Fruity Pebbles French Toast
Old-fashioned French toast with a couple of scoops of vanilla ice cream sprinkled with Fruity Pebbles cereal. What more is there to say?
Word Spreading About Ice Cream for Breakfast
The restaurant has only been open for a month-and-a-half and the sign has only been up for a week but that hasn't stopped locals from stopping by to see what Medeiros has in store for the specials.
"Honestly, the inspiration behind the ice cream is my Aunty Patricia," Medeiros said. "She was like my Paula Dean, except she threw ice cream on everything instead of butter. She made me love food from the inside. I call that 'good mood food.' Also, my kids are everything, my world, and are so involved, so ice cream is a must. After all, kids love ice cream, so you can't go wrong."
Flash-fried ice cream is also offered on specific specials to bring out different flavors.
Medeiros has been close friends with a man named Jason Brooks, who co-owns What's Cookin' in the Sassaquin area of New Bedford.
"Jay is one of my biggest inspirations to do better and be better," Medeiros said. "We've been working together for the last 15 years and after losing touch for a while, we reunited and life just got better after that. He holds many roles in my life, both as a friend and a brother. Although I look up to Jay, I wanted to be different than him. So, when he introduced me to fried French toast, I wanted to make it better, so I added a scoop of ice cream."
Medeiros named Payton's after his daughter. He's also sure to include all his children in the business, naming breakfast items after them.
"This restaurant is more for my daughter and my kids than for myself," Medeiros said. "It's my legacy to pass on to them someday. It's only going to get better, and my ideas are just getting started."
Now, I know what you might be thinking: "Ice cream for breakfast sounds too heavy."
I'll be the first to tell you, don't know it until you've tried it.
No regrets here, just frozen scoops of deliciousness.
20 SouthCoast Massachusetts and Rhode Island Dishes That Deserve to Be Featured on the Food Network
Take a dive into the freshest seafood dishes, Italian specialties, Portuguese favorites and much more for these signature SouthCoast dishes that are so good, they deserve to be featured on the Food Network.
More From WFHN-FM/FUN 107