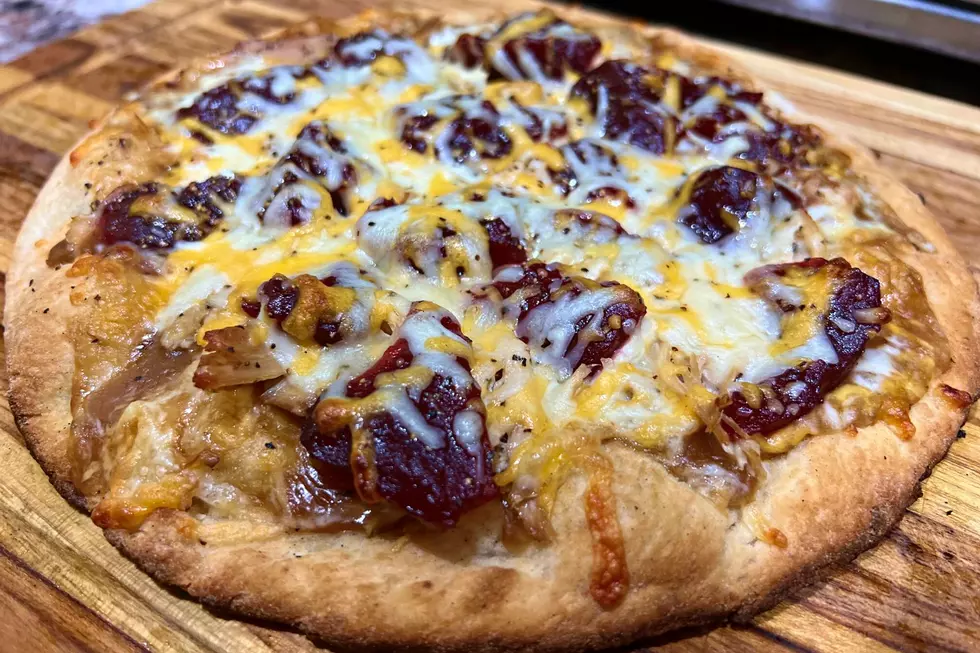 I Made a Pizza From My Thanksgiving Leftovers and It Knocked My Socks Off
Gazelle/Townsquare Media
Thanksgiving kept on giving this year as I somehow managed to create a culinary masterpiece from leftover scraps. Who knew?
Over the years, I've stepped up my game in the kitchen, on the grill and even over an open fire. From juicy, thick ribeyes to savory sauces made from scratch, the more I indulge, the more I'm fascinated by the art of cooking. Just this year alone, I've mastered farm-to-table with a garden patch that would impress any farmer. I've fished, filleted and fried all in the same day. When it comes to my homemade spicy chicken and broccoli Alfredo, I'm confident it's world-famous.
From the first bite to the last, I've outdone myself more than I can count on two hands.
However, the dinner I recently made out of Thanksgiving leftovers is not only simple, but also life-changing, and it requires little to no skill. I'm just here to humble-brag and share my ingenuity with you.
First I took a pre-made gluten-free cauliflower crust I purchased from the frozen aisle of Market Basket. There was just enough homemade gravy (whipped together from fresh drippings) to spread along the base of the crust. A handful of shredded turkey (both white and dark meat) was scattered across the gravy bed, followed by a few dollops of canned Ocean Spray cranberry sauce (just as good as homemade in my opinion).
Pizza is a universal delicacy. Everyone has their favorite cheeses. For me, I preferred a Mexican blend that blanketed the leftovers ever so lightly. Not too little, not too much, just enough to cover everything.
Sprinkle with a dash or two of black pepper and assembly is complete.
While the crust defrosted (I dressed it with the toppings while it was still frozen, otherwise it would be too soft to handle), I cleaned the grill, turned the heat up and closed the lid. This allowed the internal temperature to cook the top of the pizza while flames kissed the bottom of the crust.
Once the temperature needle tanked out, it was time to flash-cook the pizza. I placed my creation on the grill grates, quickly closed the lid to keep the internal heat trapped inside, and lowered the flame to about 30%.
When my three-minute timer buzzed, I took a metal spatula and rotated the pizza 45 degrees to switch up the char marks beneath. I looked to make sure the bottom wasn't burning and that there was instead a nice brown singe.
I set the timer for 90 more seconds, then got ready to cut it.
If you decide to try, your pizza should look like this:
Notice the light-brown crust along the edges, the cheese perfectly melted and not overcooked, and the cranberry sauce still juicy and not dried out. The gravy beneath is scorching hot and will continue to cook the toppings, so let it sit for a few minutes before cutting into it. This will allow the gravy to coagulate and for little to no mess while cutting.
Easy on the first bite. It's not only hot but if prepared and cooked precisely, it'll knock your socks off.
Bon appétit and Happy Thanksgiving (again).
The Best of South Shore Bar Pizza
There's pizza, and then there's South Shore Bar Pizza. Birthed in Brockton (and to this writer, perfected in Randolph – Lynwood Café is the true G.O.A.T.), it must meet certain qualifications to be considered "SSBP," which include: it's a 10-inch pie; it has a thin, cracker-like crust with minimal "flop;" the cheese is a blend that features more cheddar than mozzarella; and bonus points if you take it home between two carboard-type plates wrapped in flat brown paper bag. They also usually come with "laced" or "burnt" edges (terminology depends on where you are ordering), which is when the sauce and cheese are extended all the way to the edge of the pan, creating a crispy, flavorful coating to the crust. We reached out to the hugely popular
South Shore Bar Pizza Social Club Facebook group
to ask the experts to share the best of the best (in no particular order).
7 Rules You Should Follow if You Plan On Grilling in Massachusetts
Firing up the grill is a welcome sign of warm weather. But if you live in Massachusetts, you should read these rules before you get cooking.
7 'How to Cook a Turkey" Recipes From Preschoolers
Fairhaven Pre-K Students share their recipes on how they think a turkey should properly be cooked.
More From WFHN-FM/FUN 107