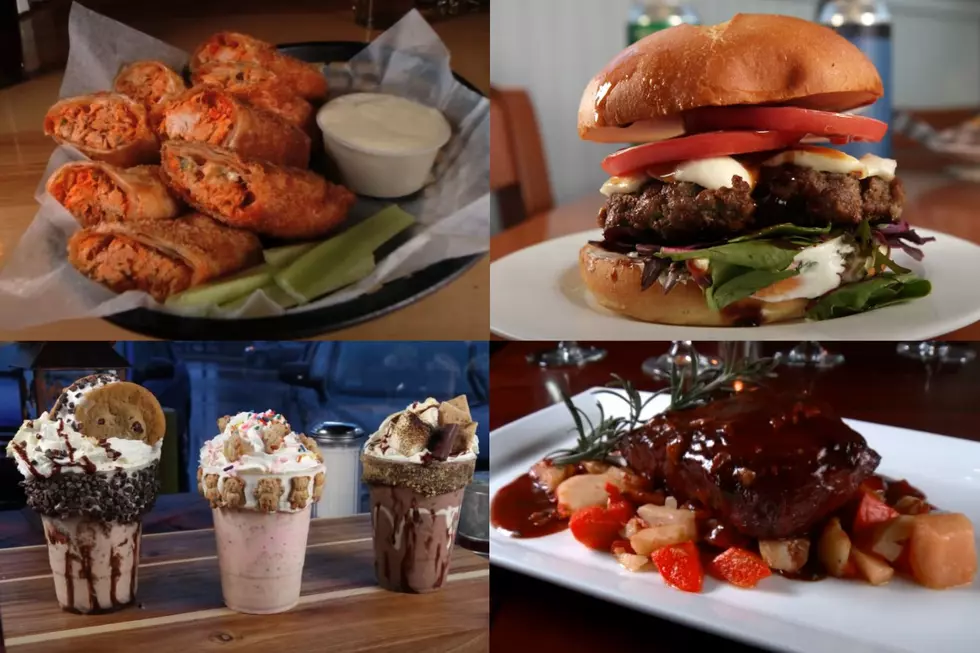 Here Are Nine New Bedford Restaurants 'Phantom Gourmet' Celebrated
Phantom Gourmet/YouTube
Here on the SouthCoast, we are blessed with a plethora of dining options. There are tons in New Bedford alone with everything from Portuguese cuisine to pub fare.
The Whaling City has been put on the map thanks, in part, to the food critics over at Phantom Gourmet who have reviewed nine of the finest establishments New Bedford has to offer. They've done the same in Fall River. 
From gourmet donuts to gourmet burgers, here are the establishments Phantom has highlighted in New Bedford (with one thrown in from Fairhaven because, hey, who can resist donuts?).
Try not to drool on your keyboard or phone.
1.) Back Door Burgers & More [36 Homer's Wharf, New Bedford]
"Sometimes the best places are the hardest to find. And you'll know you've arrived at this delicious destination when you smell the mouth-watering aromas coming out of the Back Door."
2.) Tia Maria's European Café [42 N Water St, New Bedford]
"Tia Maria's serves breakfast and lunch every day, and dinner on Friday and Saturday nights. There are freshly baked pastries, freshly brewed coffees, and plenty of flavor-packed Portuguese fare."
3.) Freestone's City Grill [41 William St, New Bedford]
"Located in a former bank, Freestone's is known for cheese fondue, French onion steak sandwiches and big lobster rolls."
4.) Cafe Mimo Restaurant [1528 Acushnet Ave, New Bedford]
"For more than four decades, this unassuming spot on Acushnet Avenue in New Bedford has been home to what many believe to be the best Portuguese food outside of Portugal."
5.) The Donut Factory [
7 Howland Rd, Fairhaven]
"Located in the SouthCoast (town) of Fairhaven, The Donut Factory takes the idea of a basic donut, and frosts, fills, dunks, dips and drizzles it into a gloriously gluttonous treat."
6.) KnuckleHeads Bar & Grill [85 MacArthur Dr, New Bedford]
"With a monstrous menu and live entertainment, this laid-back but fun eatery caters to just about everyone. And while the restaurant may be full of self-proclaimed goofballs, there's no joking when it comes to the food."
7.) Rose Alley Ale House [94 Front St, New Bedford]
"Don't let the outside fool you, because at the Rose Alley Ale House, in historic New Bedford, this little stone building is home to some serious pub grub."
8.) Cork Wine and Tapas [90 Front St, New Bedford]
"You don't find a lot of restaurants that look like this, or taste like this. Cork Wine & Tapas in downtown New Bedford sits in a beautifully refurbished three-story building that dates back to 1838, with exposed stone walls and wooden beams. But back in the kitchen, they're not putting anything old-school on the plate."
9.) dNB Craft Kitchen [768 Purchase St, New Bedford]
"It was about a year ago when dNB Burgers opened up shop in this old wood and window factory across the street from the Port of New Bedford. But it didn't take long for this blue-collar community to embrace these upscale burgers."
20 SouthCoast Massachusetts and Rhode Island Dishes That Deserve to Be Featured on the Food Network
Take a dive into the freshest seafood dishes, Italian specialties, Portuguese favorites and much more for these signature SouthCoast dishes that are so good, they deserve to be featured on the Food Network.
More From WFHN-FM/FUN 107