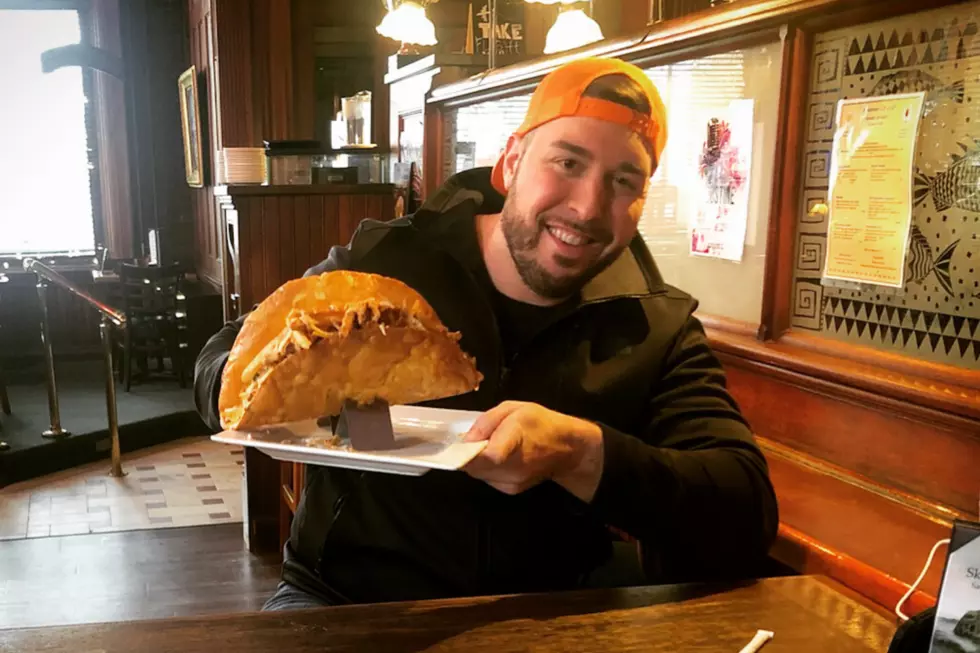 Gazelle Completes Giant Taco Challenge, Sets Record Time [VIDEO]
Courtesy of Freestones City Grill
I'll never deny my undying love for tacos and I've just proven that confession in an unorthodox way.
Once I got word that Freestones City Grill was cooking up giant tacos, I was 100 percent ready for anything. Yes, you read that right, a giant taco.
It's like they know me all too well.
There's a new food challenge in town and it's called the Giant Taco Challenge, and you're currently reading the words of the reigning champion with the fastest eating time.
The chefs have found a way to create a giant 12-inch shell that is both crunchy and soft and filled to the brim with delicious toppings, including:
French Fries

Boneless Fried Chicken

Lettuce

Tomato

Cheddar Jack Cheese
All this drizzled and finished off with a zesty and very tasty chipotle ranch dressing that explodes with flavor and compliments the taco fixings perfectly.
So, there's good news and here's the bad news.
The good news is that anybody can try our this challenge for only $12 (trust me when I say that this is a great deal for the amount of food you get). If you complete it, you will receive a free dessert to polish off your taco.
The bad news, the taco is only available on Tuesdays. Oh, and you also have to finish the taco within 10 minutes in order to complete the challenge. As of right now, I hold the current record of six minutes, 14 seconds, crushing the previous record of seven minutes, 48 seconds.
Now, that's how to make Mom proud.
Think you have what it takes to take on the Giant Taco? I challenge you to beat my time and when you do, send me a photo of your empty plate and clocked time via the Fun 107 app and I'll be more than happy to give you the bragging rights you deserve.
Buckle up for this one, or un-buckle, whatever makes it easier and more comfortable to accomplish.
Enter your number to get our free mobile app
More From WFHN-FM/FUN 107