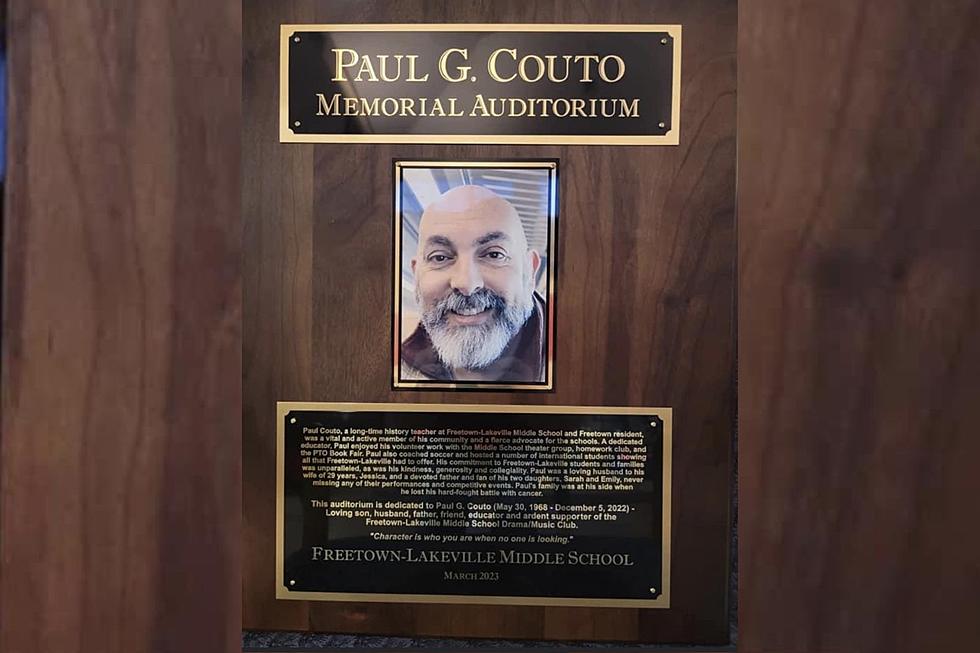 Freetown-Lakeville Middle School Auditorium Named After Beloved History Teacher
Courtesy of Will Sienkewicz
A 6th grade history teacher has been memorialized at the Freetown-Lakeville Middle School.  Paul Couto passed away in December after a short bout with cancer.  On Friday night, the school's auditorium was named in his memory.
Just before he passed away, Mr. Couto asked his wife, Jessica, to make sure people never forgot him, according to Freetown-Lakeville School Committee member, Will Sienkewicz.  That's one of the reasons the school committee voted to name auditorium after him.
The other reasons were that Paul Couto's daughter's, Sarah and Emily, were both involved in the theater program at the school, and Mr. Couto was tremendously dedicated to the program, as well.  Paul also coached soccer and hosted a number of international exchange students.
"He consistently volunteered his time during that time of the year to the theater production, so it just made a lot of sense for the school committee to dedicated that auditorium to him," said Sienkewicz.  "Senator Roderigues was there, Rep Schmid, Rep Orrall, and, of course his family."
Sienkewicz says that Couto would consistently be an advocate for the students and the schools at town meeting when an issue would arise.  "That's just the kind of guy he was," said Sienkewicz.
The plaque was presented to Couto's family, and will be hung at the auditorium this week.
Paul Couto's daughter, Sarah, worked at Bristol Aggie and is part of the theater production there.
Couto's family is running a scholarship in his name.
More From WFHN-FM/FUN 107