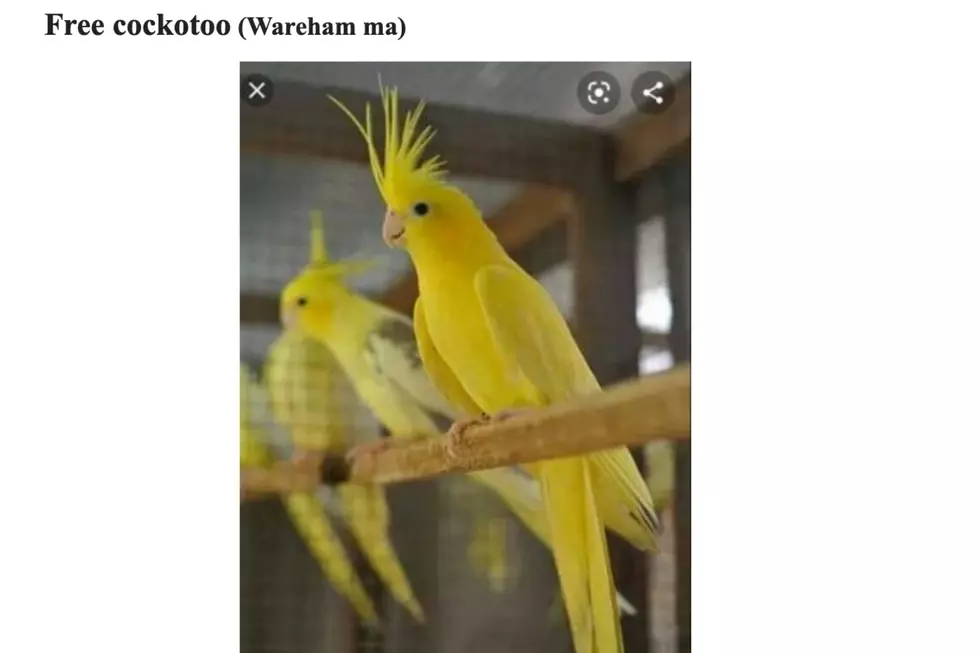 Free Wareham Cockatoo Is Just a Cockamamie Prank
southcoast.craigslist.org
You can find virtually anything for sale online these days, from groceries to clothes and everything in between. These days, I wouldn't bat an eyelash at much of anything with a price tag online, which makes it the perfect scenario for a prankster and a plan.
I came across an ad on the SouthCoast Craigslist entitled, "Free Cockatoo (Wareham)" that read "Free cockatoo. Moving soon and can't take her, paid $3500. Just want her to a good home. Call anytime. Marcus."
Cockatoos are mainly found in Australia, so this type of ad piqued my interest. I decided to give the gentleman a call. I am an animal fan, after all, and since my fiancé won't let me get another cat, maybe he'll allow a new bird. After a few moments of chatting with Marcus, it turns out that the cockatoo was just poppycock.
"It was a prank," he explained. According to Marcus, his friend Jeff had put up the fake ad with Marcus' number so his phone would blow up with phone calls from people looking for a free bird. Marcus had no idea that his friend did this, and when he started getting dozens of calls about it, he put the pieces together.
"First, someone did it with cats, and I got a lot of calls for that one, too. I knew it had to be Jeff," said Marcus.
When I asked him if he will be continuing this prank war, Marcus said he is already plotting but knows that revenge is a dish best served cold.
"I'm a vindictive person, so I'm going to let it die down and then I'll get him back. I can't tell you the plan, though," he said.
When I was younger, our idea of pranking someone involved ding-dong-ditching. Nowadays, the internet opens up an entirely new can of worms for pranksters on the SouthCoast.
I'm impressed at the level of effort that went into the innocent (but probably annoying) prank, and now I'm not even certain that the bird found in the ad is even a cockatoo. I found myself in the middle of a prank war between friends, which goes to show I need to be a little more cautious about what I attempt to buy online; otherwise, the prank would have been on me.
Ever wonder what a cockatoo sounds like? Enjoy:
OH NO WE DIDN'T: 12 Photos That Prove That Alpacas Are Cuter Than Llamas
Enter your number to get our free mobile app
More From WFHN-FM/FUN 107