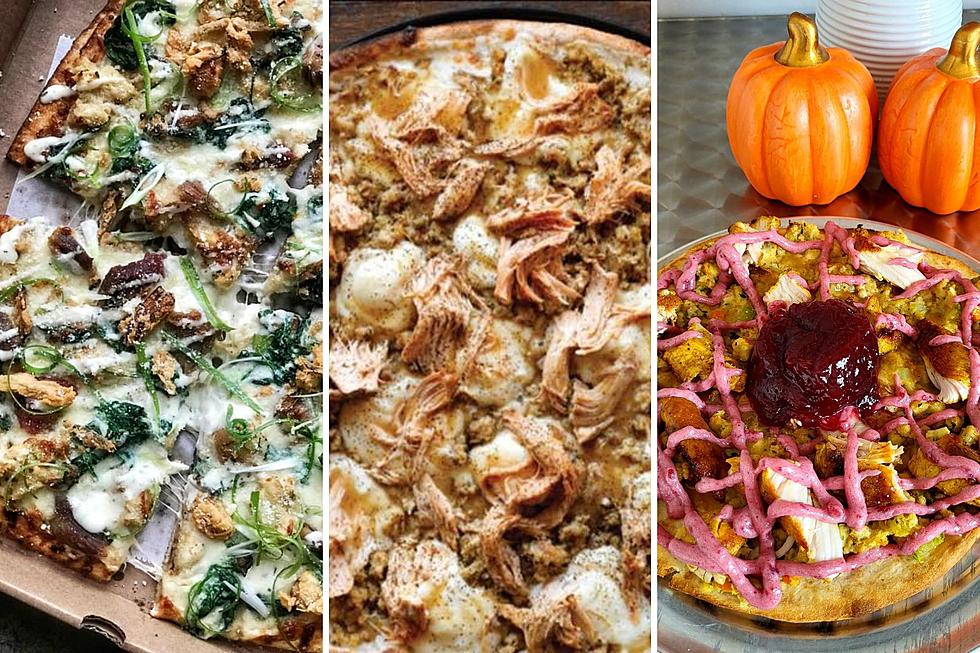 Find Popular Thanksgiving Pizzas on the SouthCoast and Beyond
Avenue N Restaurant Group Facebook/Fellini's Pizzeria, Providence RI Facebook/Pita Plus Mediterrean Grill RI Facebook
Craving cranberry sauce on your pizza? Turns out there are plenty of places to get a slice of Thanksgiving pizza all around our area, including your local supermarket.
Thanksgiving pizza is a seasonal favorite for many on the SouthCoast. Though the idea of mashed potatoes and gravy on pizza may seem gross to some, lots of locals love the turkey topped slices they typically only find in fall.
In fact, Thanksgiving pizza has become so popular these days, even frozen pizza makers are getting in on it.
DiGiorno recently announced their new frozen Thanksgiving pizzas that are hitting supermarkets nationwide this holiday. Their version takes a Detroit-style crust and tops it with turkey, gravy, diced sweet potatoes, green beans, cranberries, two kinds of cheese, and a crispy onion topping.
The square pie will set you back $11.23, if you can even find them. Reports are the company is only distributing a limited amount to markets each week, so they are most likely selling out before you even see them.
Luckily, they are not the only game in town in our corner of the country.
In fact, some of the most famous Thanksgiving pizza of all might be right in Rhode Island at Fellini's in Cranston and Providence. Their beloved holiday pie has been around since 2006 and needs to be pre-ordered because they sell so fast.
You don't have to hit up the Ocean State for turkey on your pizza however, Monte Christo in Plymouth and Cape Cod Cafe Pizza in Brockton have pretty popular Thanksgiving pizzas of their own.
Sadly two much more local spots are out of the Thanksgiving pizza game this season, One Horse Pizzeria and Saloon in Swansea closed their doors for good this past summer and Barrett's Alehouse in Bridgewater have chosen not to offer Thanksgiving pizza again this season.
We still managed to find plenty of turkey topped pizzas to try in and around the SouthCoast, so if you are determined to have a Thanksgiving pizza this season, here's where you can find them.
Thanksgiving Pizza on the SouthCoast and Beyond
Looking for your entire Thanksgiving dinner to be hand held? These Massachusetts and Rhode Island pizza shops can help you out with that. See how many Thanksgiving favorites you can fit in one slice.
Gallery Credit: Nancy Hall
25 of the Best Pizza Spots on the SouthCoast
Not all pizza is created equal, but the SouthCoast has plenty of options for a high-quality slice. Choose from any of these 25 spots to fully take advantage of National Pizza Day.
Gallery Credit: Maddie Levine
More From WFHN-FM/FUN 107