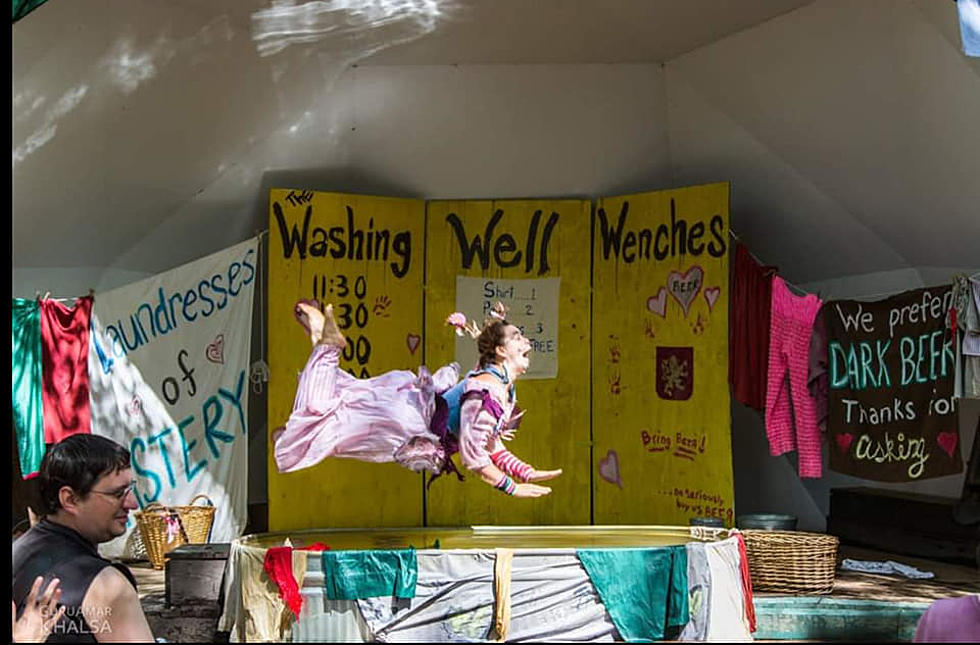 Festival Favorites Return to King Richard's Faire For New Season
Washing Well Wenches via Facebook
A new season of King Richard's Faire is less than a month away and as the 85-acres of Carver woodland gets ready to become 'Carvershire' once again, fans can expect to see some familiar faces.
Along with the return of King Richard XI and his lovely bride, Queen Anne III, festival goers can look forward to a wide variety of performers throughout the festival grounds, including the beloved Washing Well Wenches.
Last season the wenches were nowhere to be found on the faire grounds, having announced their departure in a post on the Washing Well Wenches Facebook page that read,
"To all you wicked awesome Massachusetts Biscuits, Sprout and Gerty will not be washing your laundry this season at King Richard's Fair [sic]. After many years and beers, they're ready to move on and sample from the other kegs that life has to offer. This was not an easy decision, but please know that it was OUR decision. Thank you for your years of sassiness, insanely good times, and general "no holds barred" personalities. You've inspired us many times over. And along those lines ... you're welcome for all the beer money we're saving you. We'll see you down the laundry chute."
At the time it was unclear if they were gone for good, or simply taking a season off.
Now that question seems to be answered since King Richard's Faire has officially announced the 2023 season's lineup of performers and entertainers and the Washing Well Wenches are among them.
Still no word on if Sprout and Gerty will be the returning wenches or if their traveling troupe of performers will send new wenches to King Richard's Faire this fall.
The season starts September 2 and wraps up on October 22, so we'll know soon enough which ladies will be entertaining the crowds with their brand of "Good Clean Fun, Wet Dirty Women."
Ridiculous One-Star Reviews of the SouthCoast's Favorite Fall Tradition, King Richard's Faire
The SouthCoast loves King Richard's Faire and most of us go each year, which is how the faire has been able to successfully operate out of 80 acres of Carver forest for four decades. Yet not everyone was enchanted by the 16th-century themed festival. Here's what people have found fault with over the past 10 years after a trip to the renaissance faire.
Hilarious One-Star Reviews of Massachusetts' Plymouth Rock
Have you ever visited Plymouth Rock and said, "That's it?" These reviews are for you. So many people have rated this favorite school field trip spot as one star on Google it's hard to keep count. While most people simply rated it or added, "It's just a rock," some really had fun with their comments about this local historical landmark. These are some of our favorites.
One Star Reviews of Westport's Horseneck Beach
Not everyone was having a good time when they stopped to visit one of Massachusett's most popular beaches.
Here's what some reviewers had to say about Horseneck Beach in Westport.
More From WFHN-FM/FUN 107