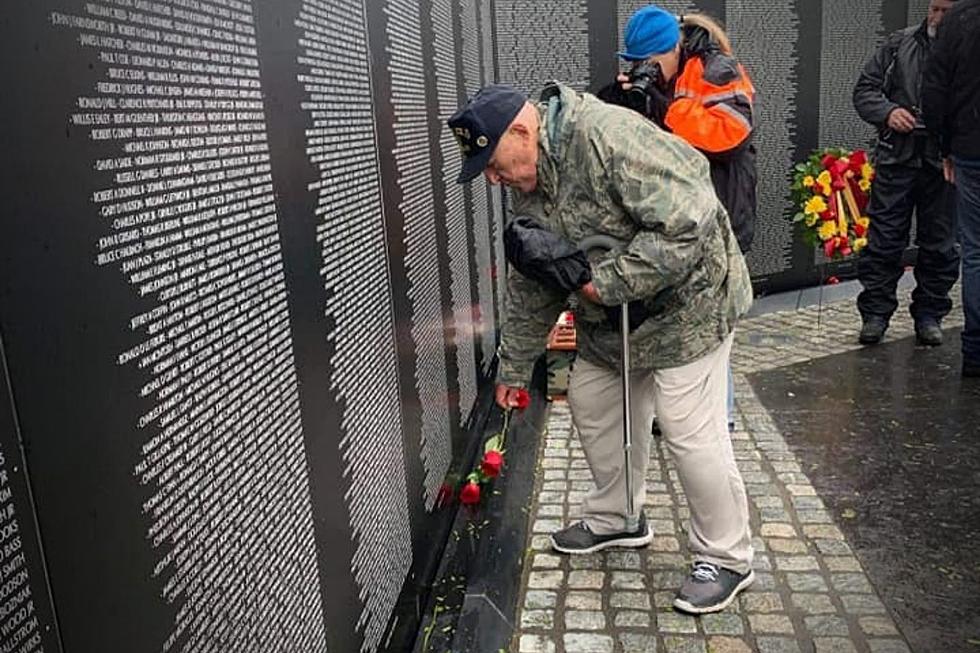 96-Year-Old Fall River Veteran Gets Opportunity to Fly Again
Courtesy Dawn Trahan
Imagine being 96 years old and getting the chance to fly in a WWII-era plane once more? For Manuel "Manny" Carvalho, a company called Dream Flights is making this a dream come true.
Carvalho is a WWII Bronze Star veteran from Fall River who not only survived the bombing aboard the HMT Rohna, he once flew aviation gas for the Flying Tigers when he served in the the U.S. Army alongside General Patton in North Africa.
When the HMT Rohna was bombed by Nazi Germany, Carvalho spent four hours in open waters off the northern coast of Africa, clinging to a life preserver. He was surrounded by gasoline and horrific images of the rest of his platoon. More than 500 soldiers, along with Carvalho, were eventually rescued and it wasn't long after when Carvalho was deployed once again to the China-Burma-India Theater, where he spent the remainder of his service.
Flash forward to today, and Carvalho is ready to rock the skies in just a couple of weeks.
"It feels good, I'm looking forward to it," Carvalho said. "The last time I flew in the Army was over the Himalaya Mountains in India back in 1941."
To put that into perspective, it's been exactly 80 years since Carvalho took to the skies and on August 12 at 2:30 p.m., Dream Flights is giving Carvalho one more opportunity.
Dream Flights offers veterans and seniors across the country an honorary flight in a Boeing Stearman biplane as a "thank you" for their service. Their mission statement is "to honor the greatest generation, for preserving our freedom, our democracy and the soul of our country."
Ryan Flynn, a friend of Carvalho, reached out to the non-profit and with a little persistence, he was able to land Carvalho a ticket aboard a WWII-era plane. Flynn is affiliated with the Disabled American Veterans (DAV Chapter 3 Boston) as a volunteer veteran service officer, under Commander Dennis Devine. In other words, he looks out for our senior veterans at all costs.
"This all started between Manny and I as two veterans, both serving in combat zones and having veteran talk, along with me noticing his hat he was wearing," Flynn explained. "So me being me, I did a little research on the hat he had on that read 'HMT Ronha' and found out it was bombed in 1943 and over time, he talked more and more with me about it."
Carvalho shared how he survived that horrific yet historic catastrophe.
"From that day forward, I made a bond and promise with this 96-year-old WWII veteran, who resides alone, and told him anything he needs or any issues he ever has to contact me directly and added my number to speed dial on his flip phone," Flynn said. "What I'm doing is what anyone should be doing. I'm a veteran helping a fellow veteran, and a veteran honoring a fellow veteran along with making sure his story is heard."
Once Flynn knew for sure about the flight, he immediately told Carvalho, whose reply to finding out the news was "Hell ya, I'd love to do that!"
The Boeing Stearman biplane will be departing the New Bedford Airport on the 12th and flying over to Cape Cod, Carvalho's destination of choice. Carvalho is just one of a thousand WWII veterans who will be honored with free Dream Flights this year alone.
These days, you can catch Carvalho hanging out down at his favorite place, the Liberal Club in Fall River, where he's the oldest living member with over 50 years of membership. If he's not there, you can catch him hanging with his friends over at the Veteran's Kitchen at Corky Row in Fall River.
I asked him what his secret was to a long and prosperous life. "I'm 96 years-old, I'm an old Portuguese guy and I eat a lot of chourico and Miller Lite," he said.
Wise words to live by, wise words to cherish. Thank you for your service, Manny, from the bottom of my heart. Take to the skies and enjoy the ride, you most certainly earned it.
LOOK: 100 years of American military history
More From WFHN-FM/FUN 107