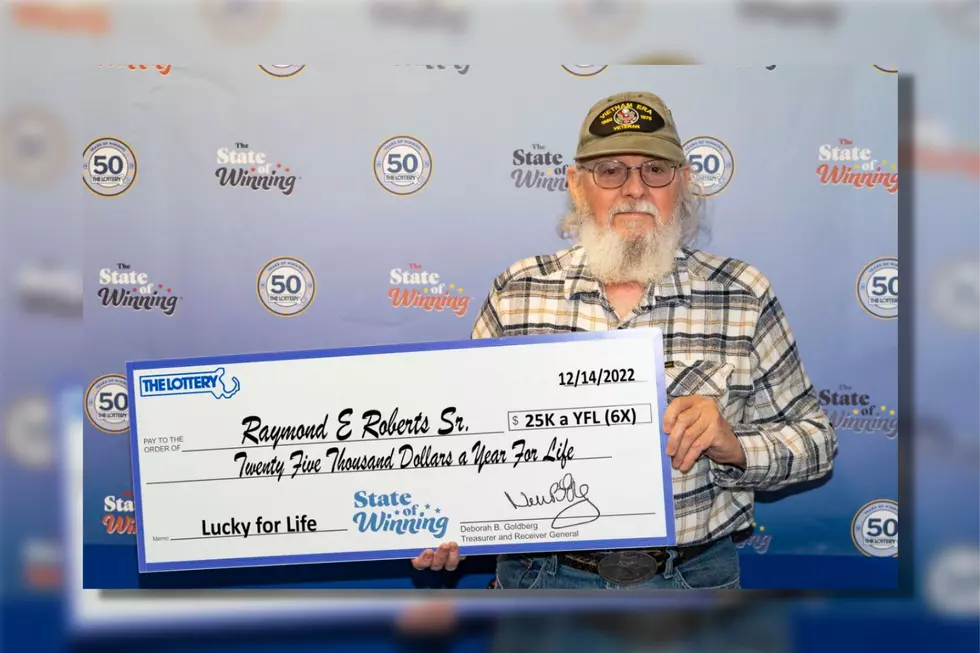 Fall River Veteran Has a Million Reasons to Smile After Winning 6 Lucky for Life Prizes
Courtesy of Massachusetts State Lottery
A Fall River man decided to play the long game with the Massachusetts State Lottery and it definitely paid off.
After playing the same set of numbers for over twenty years, Raymond Roberts Sr. of Fall River came out victorious last week as the winner of six $25,000 a year for life prizes in the multi-state Lucky for Life game.
Roberts matched the first five numbers on six tickets he purchased for the drawing on December 14th and claimed his winnings the following day at the Massachusetts State Lottery Headquarters in Dorchester.
For five of the six prizes, Roberts chose the $390,000 cash option for a grand total of $1,950,000 before taxes. For the sixth prize, he chose the annuity option where he received the first of a minimum of 20 annual payments of $25,000 before taxes.
When it comes to choosing lottery numbers, some people take the luck of the draw, but Roberts has had a system in place for over twenty years.
For over two decades, Roberts has been using a combination of anniversary dates and birthdays for his lottery numbers, and thanks to his strategy, he is now a millionaire.
"Roberts cited 'intuition' as his reason for purchasing multiple tickets with the same numbers," said Mass State Lottery.
So, what does a retired Vietnam veteran do with over a million dollars?
"He plans on using a portion of his winnings to buy a motorcycle," said the Lottery.
After years of playing the lottery, Roberts can ride off into the sunset on his new motorcycle, with a hefty bank account and a story to tell.
How to Speak Fall River
We asked you on Facebook for your best example of a Fall River accent, and you did not disappoint.
More From WFHN-FM/FUN 107