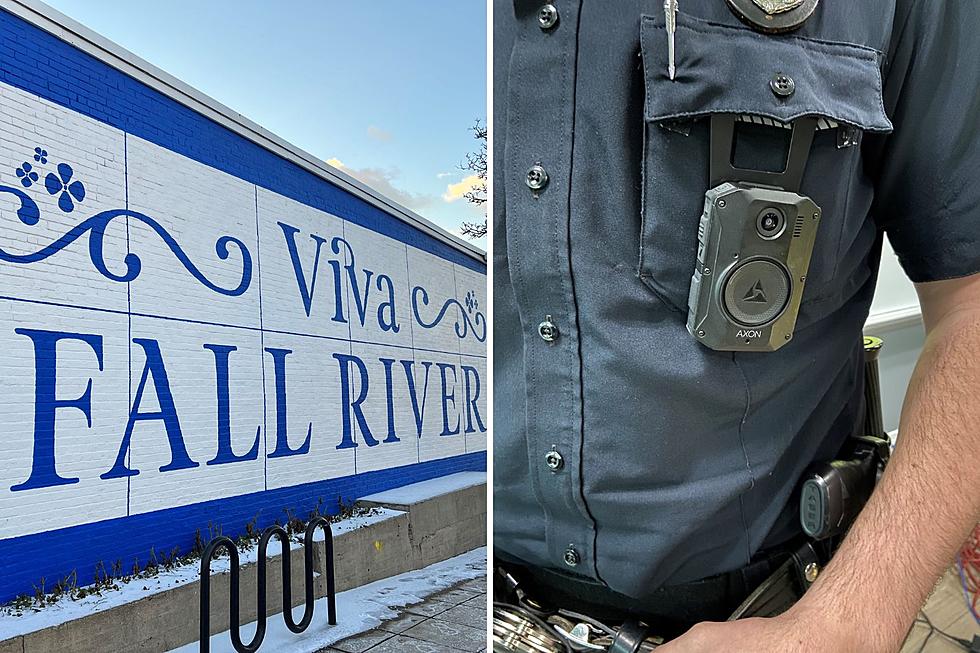 Fall River Police Body Cameras Hit the Streets
Michael Rock/FRPD via Facebook
A new era of police work began last weekend in Fall River.  The first wave of pairing police officers with body cameras launched when one-third of the force was outfitted with the new technology.
The new body cameras are meant to protect both police and the public.
"I think it gives everyone peace of mind that the full story is being captured," Fall River Police Sgt. Moses Pereira said. "With body camera footage, we'll have a view of the entire interaction with the officer and the member of the public. It's all documented and there for everyone to see."
Officers wearing body cameras will have the benefit of what amounts to an impartial party recording their interactions with the public. While this holds the officers accountable, it also can protect officers from false accusations by displaying an actual record of what exactly transpired in an event.
Cliff Ponte is a Fall River resident, business owner, and former city councilor.
"Personally and professionally, I have no issue with FRPD having body cameras," he said. "It allows full transparency and it protects the community and the department. I'm happy to see this get launched."
While body cameras are expensive, they are likely to pay for themselves rather quickly.  The city has been the subject of a number of civil rights lawsuits involving police over the past several years, including a taser death of a 48-year-old man in May 2016.  While many of these lawsuits are settled before trial, they have cost the city hundreds of thousands of dollars.
Fall River Police say that the body cameras and the necessary training for them will be rolled out to the entire department in the coming weeks.  All officers will be required to wear them.  They are activated manually by the officers when they have an encounter with a member of the public. Pereira said video of a felony will be stored for 10 years and a misdemeanor for six years.  All other encounters will be stored for one year.
According to state Sen. Michael Rodrigues, $20 million in state grants will be distributed over the next four years to outfit 9,000 police officers with body cameras. SouthCoast communities included in that award are Fall River, Swansea, Westport and Rochester.
Go Inside Fall River's Lizzie Borden Bed & Breakfast
This infamous Fall River home is open for tours and overnight stays through U.S. Ghost Adventures. Here are all the rooms you can stay in and the haunted happenings that have taken place in them.
More From WFHN-FM/FUN 107