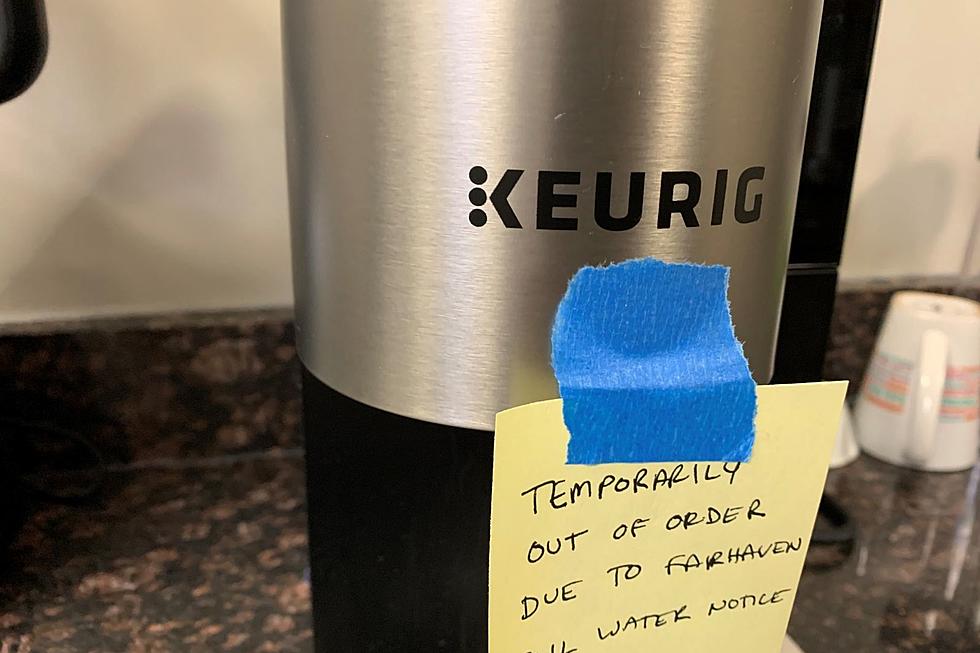 Fairhaven and Tri-Town Water Contamination Causing Problems for Some Coffee Drinkers
Michael Rock/Townsquare Media
Gazelle stumbled into work this morning without his coffee. Usually, he stops on the way in, but decided to just use the studio's Keurig machine today. He hadn't yet heard about the boil water order. He wasn't alone with the coffee struggles this morning.
As commuters from Fairhaven, Marion, Mattapoisett and Rochester hit the road this morning, one of the pressing questions was whether or not coffee was going to be available at their favorite spots.
The four SouthCoast towns have been dealing with an E.coli positive test that has sent restaurants scrambling to keep their customers safe while continuing to do business.
We spoke with the newly-renovated Dunkin' in Marion this morning. They told us that they were, in fact, serving coffee because their coffee system gets filtered and the temperature is hot enough to satisfy the water boil order.
"But what about the iced coffee?" Maddie chirped in. Dunkin' told us that they went out and bought outside ice that would allow them to continue to make iced coffees.
Later in the morning, however, there was a change. The decision was made to continue with the grand opening celebration in Marion, but the store would only be serving bottled drinks and food.
Interestingly enough, the Dunkin' on Bridge Street in Fairhaven was serving coffee as usual. In Mattapoisett, Dunkin' was serving only hot coffee; no iced coffee was available.
Both Uncle John's in Marion and Mattapoisett were serving coffee, but Mattapoisett told us that they were not able to serve iced coffee.
Cumberland Farms in both Fairhaven and Marion, though, were not able to serve coffee this morning.
The Honey Dew in Fairhaven told us that they have both hot and iced coffee available because they were also able to get outside ice.
It's our first full day of the boil water order in Fairhaven, Mattapoisett, Marion and Rochester. So far, we're hanging in there. Calmness has prevailed because the public still has access to its much-needed java.
For the record, Gazelle was able to get a cup of coffee this morning at Scrambler's in Fairhaven.
The Ultimate A-Z Apple Picking Guide for Massachusetts and Rhode Island
Apple picking is classic fall family fun and there are lots of farms to visit across Massachusetts and Rhode Island. So whether you want a road trip or to just stay close to home, here are all the apple orchards you can pick from this season. Just click on each one to find out more.
More From WFHN-FM/FUN 107