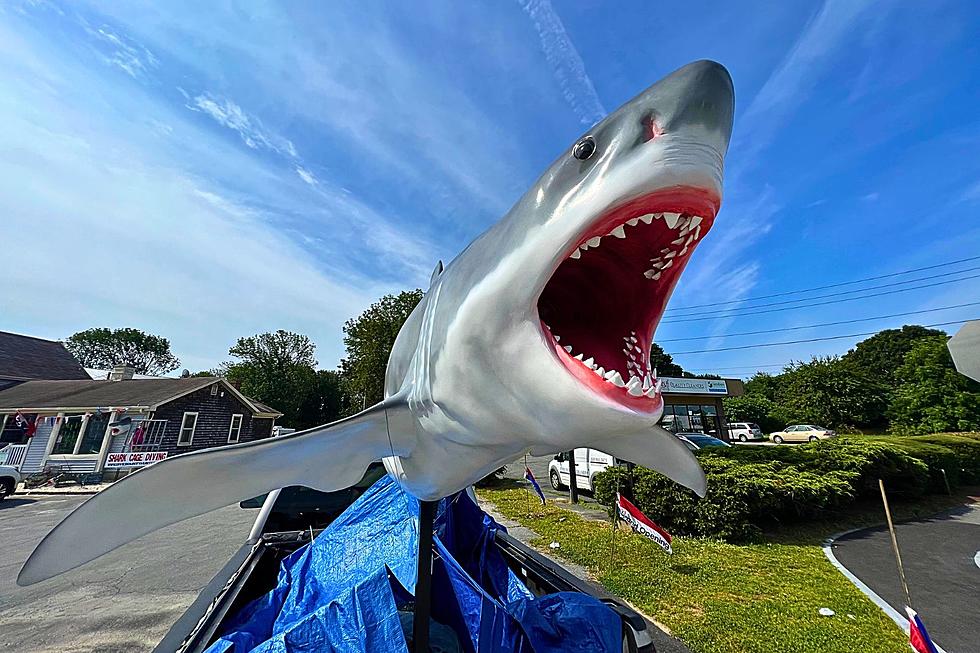 The Story Behind the Giant Shark Sculpture on Route 6 in Fairhaven
Gazelle/Townsquare Media
If your daily commute takes you through Fairhaven, then chances are you've already noticed the giant fake shark on the side of route six.
Right next door to Bush Quality Cleaners is a new business in town that is ready to take a bite out of an adventure. Two weeks ago, the old Mike and Wayne's Uniforms & Accessories shop closed up for good. In its place is one stop fishing gear shop called Bounty Hunter Charters.
Whether you're in the mood to go fishing or cage diving with sharks, they do it all. That is if you're courageous enough to go swimming with hammerheads and blue sharks.
Every morning, I pass the giant shark and always wondered where it came from and what its story is so I decided to visit them. I was first greeted by an older gentleman named Vinny, but it was Josh who came in swinging with the answer I was looking for.
"I couldn't help but notice the giant shark out front," I told them.
"Oh, that's 'Fluffy'," Josh replied.
Of course, the shark is named "Fluffy". Sounds like something out of the movie Shark Tale or Finding Nemo.
Captain Eric Morrow and his crew found "Fluffy" right up the road. There's a hidden facility in Fairhaven, right behind Bask, that sells antiques, fixtures, and giant shark sculptures to businesses to spruce up storefronts. It's unsure how long Fluffy has been collecting dust, but it has a new home and is doing exactly what any business hopes- luring people in (fish pun intended).
Next time you're in the area, Fluffy is chilling in the back of a truck waiting to show off his teeth in a selfie.
Life Saving Tips To Fend Off Sharks This Summer in New England Waters
We do not encounter many sharks in the Northeast waters, but it does happen.
15 SouthCoast Landmarks That Will Make You Say "I'm Home"
After a long trip away, there are a few landmarks on the SouthCoast that may perk you up with anticipation of almost being home. It's that excited feeling of, "I'm almost there." Here are a few SouthCoast places that act as beacons for local travelers.
More From WFHN-FM/FUN 107