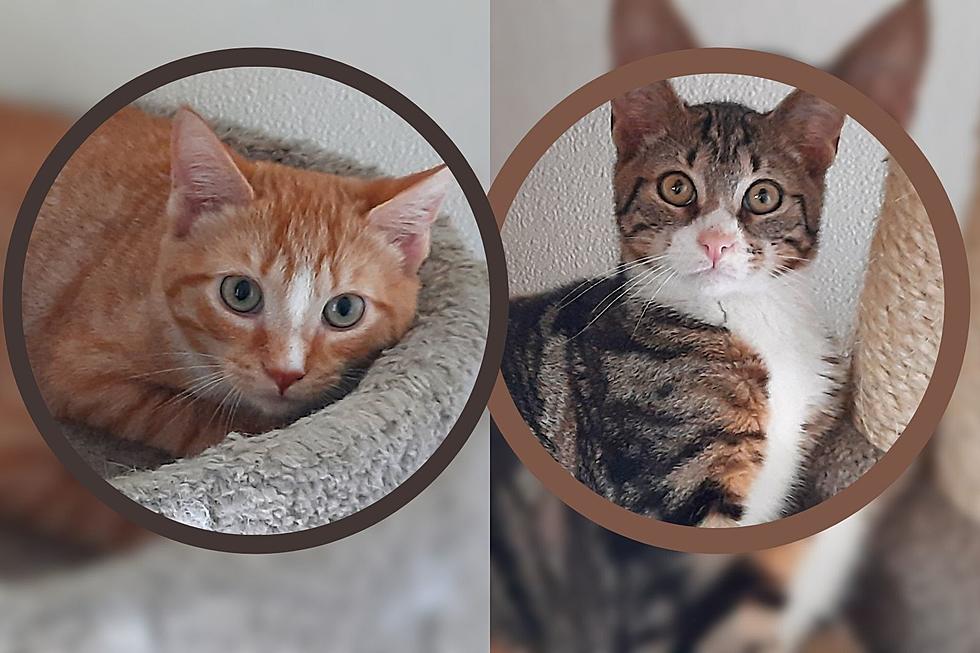 Fairhaven Best Friends Hope to Find the Same Forever Home [WET NOSE WEDNESDAY]
Courtesy of Fairhaven Animal Shelter
On Wednesdays, it's all about the animals.
Fun 107 is proud to give animals that are up for adoption the center stage every week in hopes of finding their forever homes. Thanks to several animal shelters on the SouthCoast, we continue to connect four-legged friends to loving families, and the success stories continue to pile up. Hopefully, this pair of cute cats will be the next success to come out of Wet Nose Wednesday.
Meet Cooper and Garth. Cooper with his tiger stripes and Garth with his orange stripes are a pair of inseparable male felines that are currently living at the Fairhaven Animal Shelter in Fairhaven. They are six months old and full of energy. They will be a little shy when you first meet them, but they are just trying to figure you out, and once they do, they will look to you for endless cuddles.
Cooper and Garth are a package deal. All they know is each other and they have formed a bond that can't be broken. The only way to keep them happy and healthy is by keeping them together.
Cooper and Garth are neutered and up to date on all their shots. The only thing left to do is find them a forever home filled with cat lovers.
Want to meet these two best friends? Follow the Fairhaven Animal Shelter on Facebook and schedule a play date today.
Fairhaven Animal Shelter
200 Bridge Street, Fairhaven, MA 02719
508-979-4028
Why do cats have whiskers? Why do they meow? Why do they nap so much? And answers to 47 other kitty questions:
Why do they meow? Why do they nap so much? Why do they have whiskers? Cats, and their undeniably adorable babies known as kittens, are mysterious creatures. Their larger relatives, after all, are some of the most mystical and lethal animals on the planet. Many questions related to domestic felines, however, have perfectly logical answers. Here's a look at some of the most common questions related to kittens and cats, and the answers cat lovers are looking for.
More From WFHN-FM/FUN 107