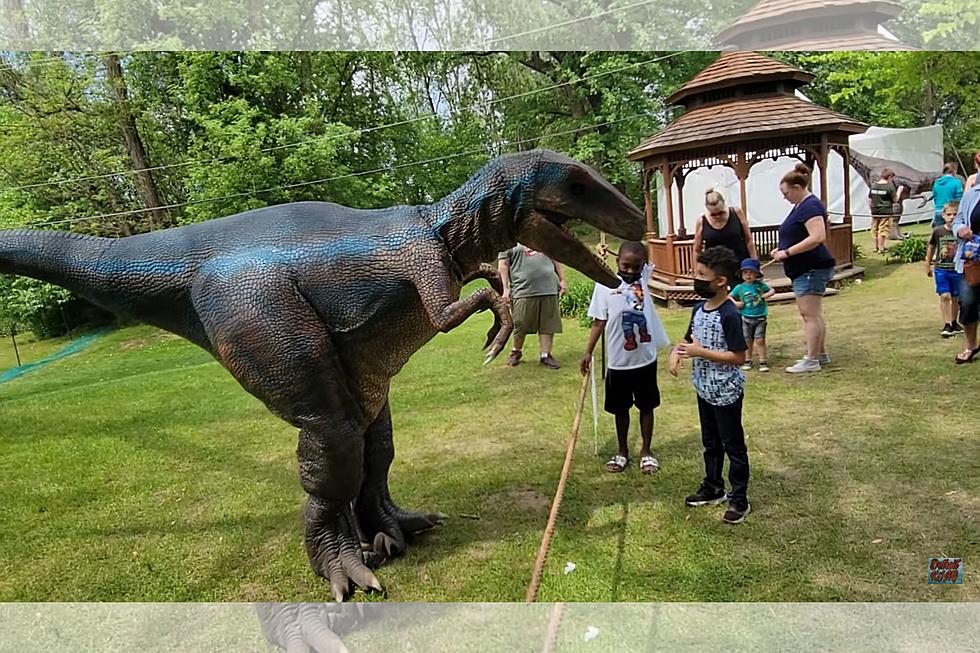 Get Up Close to Massive, Life-Size Dinos in Providence This Fall
@The Detroit King via Youtube
Have you heard? Dinosaurs are making a comeback, and they're making a stop in New England this fall.
Earlier this summer, the drive-thru dinosaur attraction, Jurassic Quest, returned to Gillette Stadium for a fun-packed afternoon of dinosaur adventure for the kiddos. Now, another group of age-old creatures is making its way to the greater SouthCoast area.
Dino Stroll, the ultimate walk-through experience that's bound to be equal-parts incredible and awe-inspiring, is making a stop at the Rhode Island Convention Center in Providence this October with a whole weekend of opportunities to get up close and personal with these giant creatures.
Dino Stroll features up to 75 life-like and life-size dinosaurs, from T-Rexes, Velociraptors and Stegosauri. Some can even stand as tall as 25 feet and span as long as 60 feet! If you've ever wondered what it was like to roam among dinos during the Mesozoic Era, this is your chance to see them in as close to full, living action as possible, as the animatronic dinosaurs move their heads, necks, tails and wings, blink their eyes, open and close their mouths, come to life with synchronized sounds, and so much more.
The event is coming to Providence October 16 and 17 with ticketed entry times starting between 10 a.m. and 5 p.m. on Saturday and 10 a.m. and 4 p.m. on Sunday. Tickets are available online and cost $19.99 per person aged 2 years and older.
Take a look at this past Dino Stroll event and check out what you might be able to expect at the upcoming Dino Stroll weekend in Providence.
Can't get enough dinosaurs? New England's largest splash pad is just a short drive from the SouthCoast and is all about the dinos.
Massachusetts Wildlife You Can Legally Take Home as Pets
Massachusetts has such diverse wildlife, but also strict limitations on what you can bring home and cuddle. In fact, there are only certain reptiles and amphibians you can keep as pets (so no raccoons, squirrels, bunnies, etc.) and you are only allowed two of each. The state also
says
"you cannot sell, barter, or exchange them." Also, keep in mind, these are wildlife, so it's probably best to just leave them be and maybe visit a reptile shop instead to get your next pet.
11 Activities in Maine Your Kids Will Actually Want to Do This Summer
Kids enjoy a lot of things but for summertime fun, it all comes down to 5 groups; amusement/water parks, animals, sports, learning, and the beautiful outdoors. If you're looking for some serious family fun this summer, start checking these off your bucket list.
Jaw-Dropping Zipline Course Is Just One Reason You'll Want to Visit This NH Adventure Park
More From WFHN-FM/FUN 107