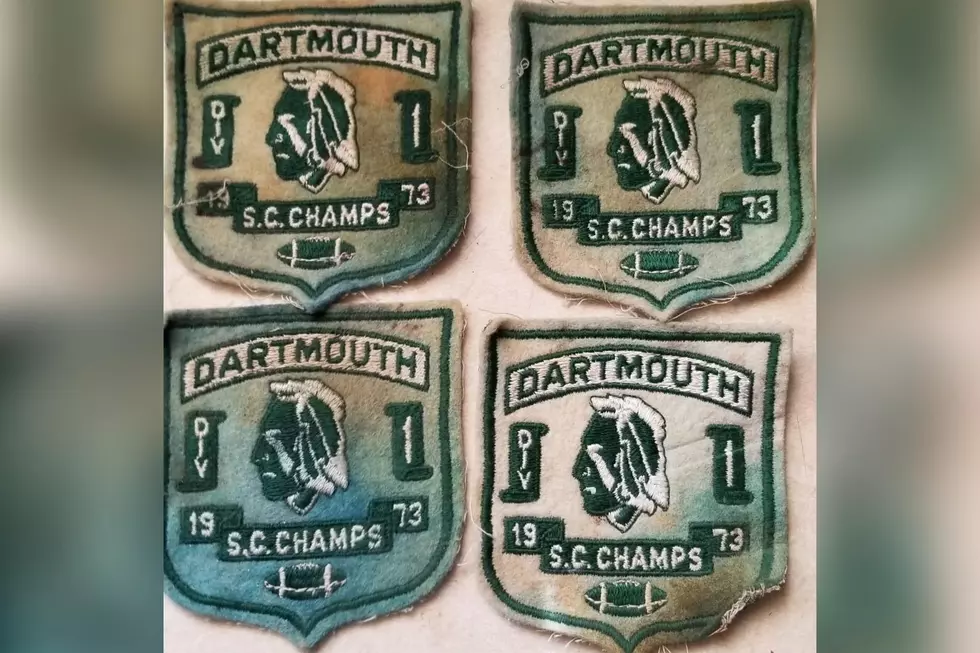 Clyde Andrews' Original Dartmouth Indian Design Patches Found
Contributed Photo
Defend Dartmouth, which led the successful drive to keep the Dartmouth Indian logo and name for the town's school sports teams, has a new challenge.
The group wants to have four original Indian logos designed in 1973 by Clyde Andrews permanently displayed at Dartmouth High School.
Andrews, a member of the Wampanoag Tribe of Gay Head (Aquinnah), is a member of the Dartmouth High School Sports Hall of Fame. Andrews drew the original image of the Indian in 1973 and an iteration of the logo in 1974, the year he graduated from Dartmouth High School.
The 1974 version of the logo is still in use today.
The Dartmouth School Committee voted 3-1 to keep the logo and Indian name on Monday night. One committee member abstained from voting.
Andrews said he is "appreciative" of the School Committee's vote to affirm the Indian logo.
"This means that the town will continue to honor the image that has been a part of our community for decades," he said.
Andrews said the vote "will make sure we continue to use the image in a proper, respectful, and proudful way."
Andrews would like to see the original logo patches displayed at Dartmouth Town Hall "so residents can see the history of the Indian image origins."
Andrews' nephew Jaccob Ventura said it took family members three years to locate the original logo patches thought to be lost. The four original logo patches resurfaced following a flood last winter at the Dartmouth home of Clyde Andrews' mother.
Dartmouth's History Trail Display Inside the Town Hall
Located inside Dartmouth Town Hall is an interactive display that traces the town's history, with everything from its Wampanoag roots to colonial and Quaker settlements to Round Hill's legacy and the magic of Lincoln Park. Take a look at some of the features of this invaluable resource.
More From WFHN-FM/FUN 107