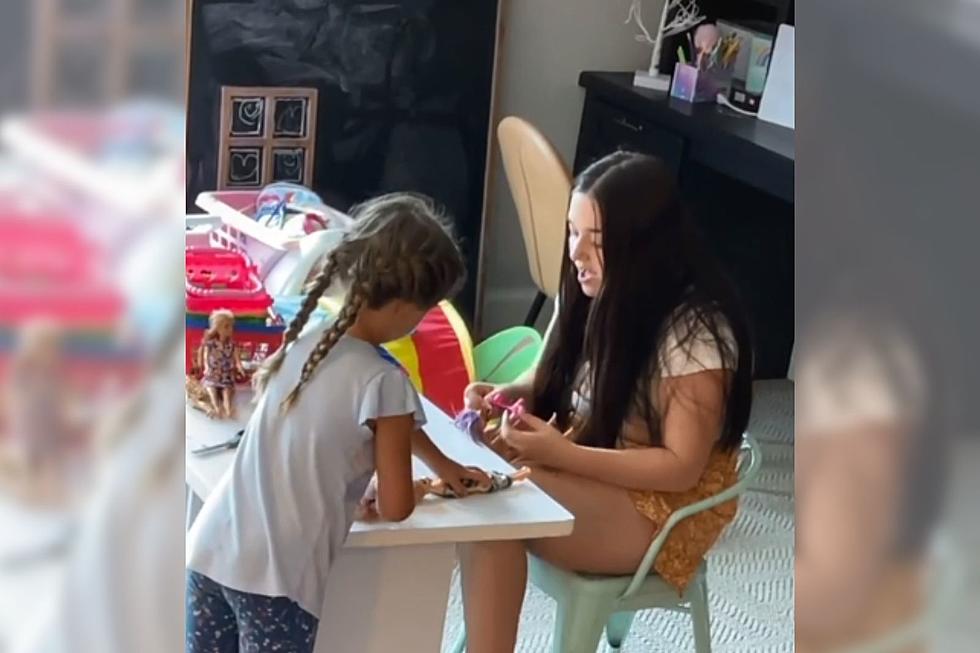 Berkley Babysitter Caught Singing 'Little Mermaid' Song Goes Viral
Courtesy nickiunplugged/TikTok
Imagine being secretly recorded while singing along to a song from The Little Mermaid and then going viral over it? Well that's exactly what happened to Delaney Wilson.
Born and raised in the small town of Berkley, Wilson is known as "The Singing Babysitter" on TikTok with a whopping 210,000 followers and just about one million likes. Music is not only her passion, but with a voice like hers and a platform like TikTok, I can certainly see Wilson going places within the industry. In fact, it's already starting to happen.
One day, while Wilson was babysitting a young girl named Layla, the mom, Nicki Maher, decided to go stealth mode and capture Wilson's beautiful voice as she was singing to her daughter.
"We had been singing and playing Barbie and she conveniently likes mermaids, so I started singing The Little Mermaid, 'Part of Your World,'" Wilson explained.
Wilson credits her love for music to her father, who has been a musician his entire life. When Wilson's brother was born, he had CHD (coronary heart disease) and her father wrote an album about it. She decided to dive into music herself when she realized her father was using music to heal.
Overall, it's been a very positive experience for Wilson that brought upon a lot of support from the 15 million views the viral video brought in. Her advice for anyone struggling with self-confidence is to look for the good in every situation, because in time, it will all get better.
"I've had a rough past where i lost my confidence a few months ago, so I feel better than ever just hearing so many people saying they appreciate me and want to hear more," Wilson said. "My confidence issues affected my music and it took a bit to realize my own self love, but it eventually came."
Now, her viral video has led to opportunities on a larger stage, with an appearance on CBS's Greatest #AtHome Videos this Friday, and a tryout for American Idol as well.
When Wilson is not being secretly recorded for all the right reasons, she enjoys soul and jazz music and when it comes to Disney songs, her favorite to perform are songs from Beauty and the Beast.
Just singing for fun rather in front of a phone or an audience was an eyeopener for Wilson. She saw herself in her own element from a different perspective.
Moving forward, Wilson continues to share her voice on her TikTok and social media platforms in hopes that one day her music goals will be met at her own expectations without the pressure of being someone she's not.
LOOK: Oldest Disneyland Rides From 1955 to Today
Stacker
, set out to compile a definitive list of every Disneyland attraction you can enjoy today and ranked them by their age. Using real-time data from
Touring Plans
, Disney archives, and historical news releases and reviews, our list starts with exciting recent park additions and stretches back to the oldest opening-day classics. This list focuses on the original Disneyland Park, so you will not see any rides from its neighboring California Adventure located just across the promenade. Read on to discover the oldest Disneyland rides you can still ride today.
10 Disney Movies That Deserve Their Own Rides
Here are 10 Disney movies that we think would make particularly great theme park rides, whether it be a dark ride, flume ride, or rollercoaster.
More From WFHN-FM/FUN 107