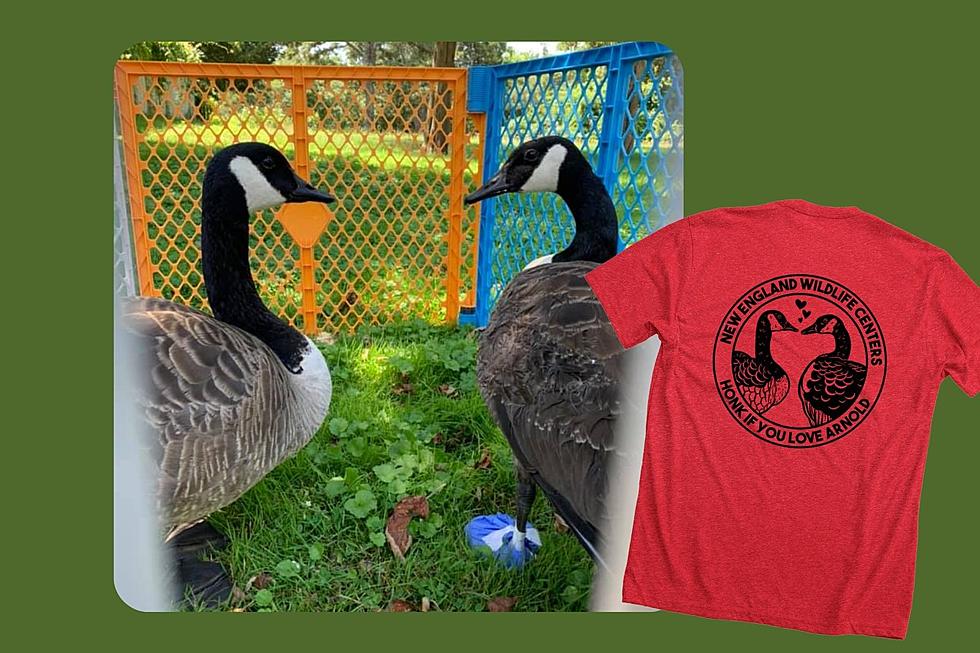 Barnstable Love Birds That Went Viral Now the Face of Limited Edition T-Shirt
Cape Wildlife Center/Facebook
The world swooned over the love story between two Barnstable geese that showed humans what unconditional love looks like. Now, Arnold and Amelia hope to help raise money for the Cape Wildlife Center by being the face of a brand-new, limited-edition t-shirt.
Zak Mertz, Director of the New England Wildlife Center Cape Cod Branch, was overwhelmed by the incredible response to the story of an injured Canada goose and his mate refusing to leave his side.
In case you missed it, these two geese have resided in the pond next to Cape Wildlife Center in Barnstable for years. The staff named the love birds Arnold and Amelia, and one day, a staff member noticed Arnold was in distress.
While the staff worked tirelessly on Arnold's fractured foot, his mate Amelia was persistent at the front door, anxiously waiting for her loved one to come out of surgery. For the past several weeks, Amelia has sat by Arnold's side as he finishes his treatment next to the front door.
Cape Wildlife Center is a part of the New England wildlife centers, with hospitals in Weymouth and Cape Cod. The facility has sold shirts in the past to raise proceeds for their mission in helping wildlife and to provide education to students of all ages, and Mertz saw a perfect opportunity for his next design.
"We figured we would try Arnold and Amelia because they got so much attention," Mertz said, "And it's a cool way to commemorate their story." He shared the design to the center's Facebook page.
Mertz was happy to announce that Arnold's rehabilitation has gone swimmingly, and he should be returning to the pond with Amelia is the next few days.
"They are probably ready to go on vacation away from us," Mertz joked.
Love heals all wounds, and the love between these two birds certainly aided in Arnold's recovery. Hopefully their love story can help the wildlife center raise enough proceeds to keep helping other wildlife animals in need.
The 100 Best Places to Live in the Midwest
More From WFHN-FM/FUN 107