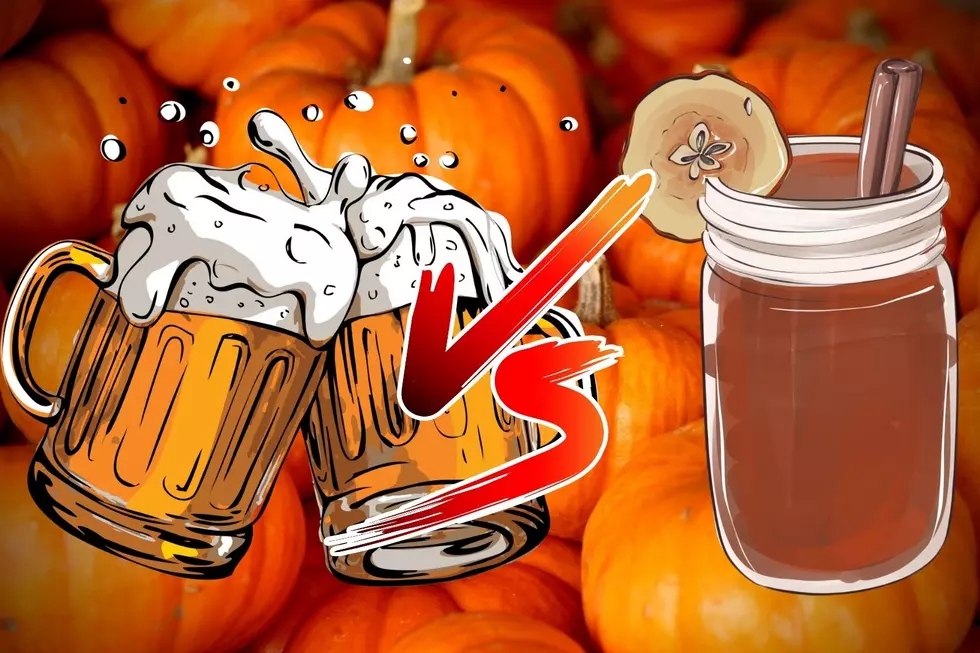 50 Southcoast Adults Voted on the Great Pumpkin Beer Vs. Pumpkin Cider Debate
Canva
It's the great pumpkin debate that's sweeping the SouthCoast: pumpkin beer vs. pumpkin cider.
In all honesty, it wasn't until a few years ago that I started enjoying pumpkin anything. Now that fall has arrived, New Englanders are celebrating the crisp autumn season with all the basic trends. From Ugg boots to apple picking, and football to harvest festivals, this truly is a magical time of year that's not too hot and not too cold -- the perfect in-between.
This is also the time of year when pumpkin beers and ciders are customary on every tap on the SouthCoast.
Although I enjoy both, I'd rather sip on a beer than a cider.
I took to social media where curiosity made me ask:
"What would you rather sip on?"
The responses began pouring in (pun intended).
Out of 50 people on the SouthCoast, pumpkin cider received 17 votes while pumpkin beer got a 20 votes. The remaining 13 votes were for neither, followed by "pumpkin is gross" or "I hate pumpkin anything."
Although more people prefer pumpkin beer, pumpkin cider is a close runner-up. Like most categories these days, the crowd is divided.
It's safe to say that no matter what team you are on, beer or cider, almost everyone enjoys that caramel rim sprinkled with cinnamon and sugar. It's like a dessert in beverage form.
Drink responsibly, my friends!
The Ultimate A-Z Apple Picking Guide for Massachusetts and Rhode Island
Apple picking is classic fall family fun and there are lots of farms to visit across Massachusetts and Rhode Island. So whether you want a road trip or to just stay close to home, here are all the apple orchards you can pick from this season. Just click on each one to find out more.
The Ultimate Fall Calendar: What To Do & Where To Go on The SouthCoast This Season
Don't miss out on some fall fun this season. Whether you are looking for family-friendly events or down-right scary ones, this Fall calendar has you covered.
15 Ways To Use Pumpkins
Some of these are very creative and would sure to be a hit at your Halloween party. Others are just festive ways to amp up your decorating. A few are even really healthy options for eating, and even for your skin.
More From WFHN-FM/FUN 107