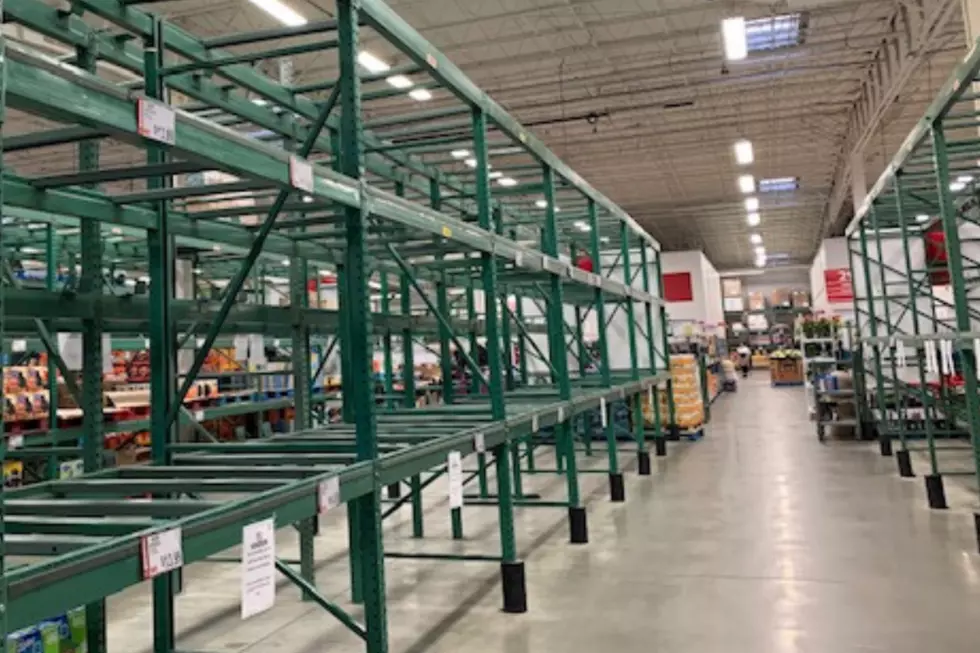 Which SouthCoast Store Has the Barest Shelves of Them All?
Christine Fox/Townsquare Media
Just a week ago, these store shelves were fully stocked. Today they're bare.
The COVID-19 coronavirus epidemic is really doing a number on all of us right now and it's only been roughly a week so far since everything changed.
Last Friday, I headed out to BJ's in Dartmouth to stock up on everything I thought my family would need to get through the next several weeks of this pandemic nightmare. Mostly the basics like toilet paper, tissues, basic groceries and several gallons of milk – the things that are absolute essentials with two teenage boys at home.
As I pulled into the parking lot around 11:30 a.m., it was pretty busy, busier than normal for a Friday morning. Once I was able to secure a shopping cart (they were scarce) and got into the store, I realized what I was getting myself into.
I started down the first aisle towards all of the paper goods on my right. That's when I noticed the massive line of people with their carts which stretched all the way down to the very back of the store – you know, where the water bottle aisle is. As I pushed my cart toward the paper goods, I overheard a woman who was standing in the checkout line at about the halfway mark say to another person, "It's not too bad, I've been in line for 40 minutes so far." I was like, what? Forty minutes in line is unacceptable to me, there's no way. I had a million things to do that day so there was no way I could have waited in line that long, so I left.
Fast forward to last night, Monday the 16th. My husband and I head to BJ's thinking maybe things have calmed down and the store would be less busy. Well, it was less busy but as you can see, the shelves were bare. I'm not blaming the store because on a normal day in our normal lives, this would never happen. I love BJ's. I can't wait for this pandemic to pass so we can get back to our typical days and lives.
Stay healthy and be safe.
Enter your number to get our free mobile app
More From WFHN-FM/FUN 107