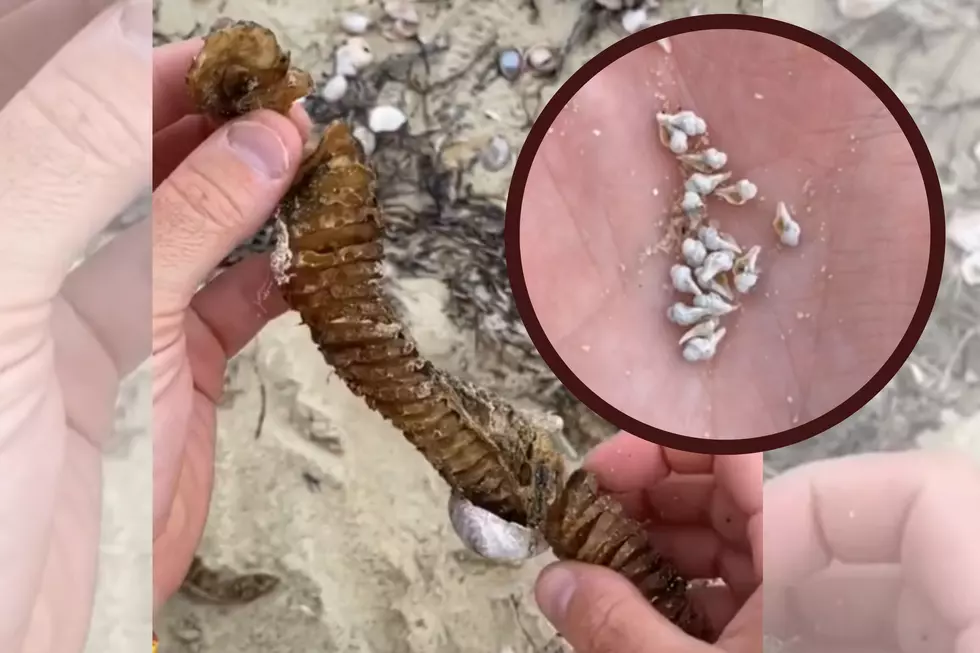 How to Find These Tiny Shells While Beachcombing This Summer
@capeclasp via TikTok
If you've been to a beach anywhere along the SouthCoast, chances are, you've probably passed by a whelk egg casing at one point or another. They're typically light-colored, paper-like and spiraled, and although they may look a little funky, they actually contain some beautiful tiny treasures.
@capeclasp, a TikTok account dedicated to showcasing marine life, many times right here in Massachusetts, shared a video highlighting these whelk egg casings and why you should keep an eye out for them the next time you're out beachcombing on the SouthCoast.
Apparently, these casings have discs, each one containing a bunch of adorable tiny shells about the size of sesame seeds that will, over the course of many years, grow into the larger whelk shells we all know and love. Hold up.... Who knew shells grew?!
According to the Buzzards Bay Coalition, whelks lay their funky-looking casings during the winter "and will bury one end in sand or mud to prevent them from washing ashore." The casing's discs then typically hatch not long after, so they can be most commonly found during winter and spring and along beaches after a storm.
Although beachcombing is a year-round activity for folks here on the SouthCoast, summer is a great time to enjoy the warmer weather and look for hidden treasures along the area's numerous beaches. For the best combing experience, you'll want to go when the tide is at its lowest or on its way out, and don't forget a bag to keep all your treasures in!
Check out some of our favorite SouthCoast spots for beachcombing here.
Harsh Realities About New England Beaches
Everyone loves a day at the beach and on the SouthCoast, the waterfront is everywhere. But the sand and sun people usually picture in their heads is not always the reality in New England.
Add These Activities to Your SouthCoast Summer Bucket List
There are so many great ways to get out and enjoy the beauty of the Bay State. Here are some local favorites that Kari is adding to her bucket list for her very first summer on the SouthCoast.
Seven SouthCoast Spots for a Cold One
The SouthCoast has lots of great spots to stop in for an ice-cold beer, but Gazelle has compiled a list of his top seven places to grab a brew.
More From WFHN-FM/FUN 107