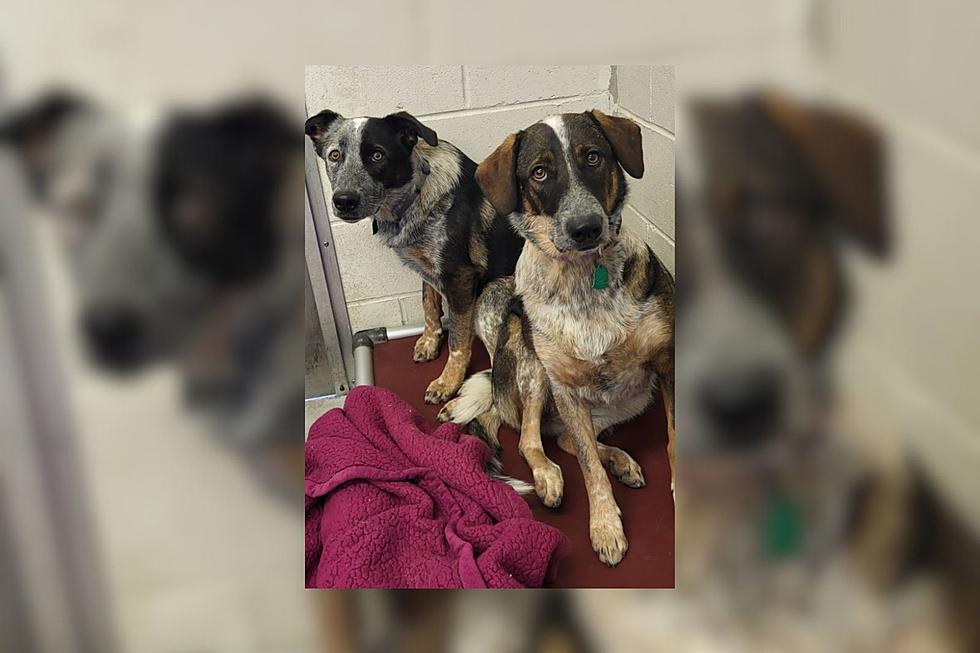 Fairhaven Dogs Attached at the Hip Hope to Find Forever Home Together [WET NOSE WEDNESDAY]
Fairhaven Animal Shelter
Happy Wet Nose Wednesday! This week is a double-whammy.
Hundreds of animals on the SouthCoast are living in shelters, and while it's a great temporary situation, every animal deserves to know what it feels like to have a forever home.
Thanks to the help of local shelters, we share the stories of these loving animals every Wednesday. We usually give the spotlight to one lucky animal, but this week, we make an exception for a brother/sister duo that aims to be a package deal.
Meet Shane and Willow. They are 16-month-old Australian cattle dog mixes, and these two are attached at the hip. They reside at Fairhaven Animal Shelter, and the shelter says Shane and Willow must be adopted together. These two have leaned on each other for their entire lives, and it's only right to keep them together forever.
While two dogs at once sounds like a lot, here is the good news. Both Shane and Willow are incredibly friendly. They love other dogs and they are non-reactive to cats.
Shane and Willow will bring pure happiness to any family that will give them a chance.
Shane is neutered, Willow is spayed and both are vaccinated. All there is left to do is find them the perfect place to call home.
Do Shane and Willow sound like a good fit for you and your family? Contact Forever Paws Animal Shelter, like the shelter on Facebook and schedule a play date.
These two besties cannot wait to meet you.
Fairhaven Animal Shelter
200 Bridge Street, Fairhaven, MA 02719
(508) 979-4028
If SouthCoast Dogs Had a Dating App, It Would Look Something Like This
August 26 is International Dog Day, and it got me thinking. What if there was a way for dogs to connect with other dogs in the area to make new friends? Or maybe even find love? Twenty-six dogs living on the SouthCoast sent me their profile picture and bio. Let's see the eligible pups.
Check It Out: Dogs Attend 'Photo Day' to Raise Funds for Local Animal Shelter
Anne Soares created "Home for Paws Pet Photo Day" to raise money for the Humane Society and Shelter SouthCoast, and the cuteness of these dog portraits did not disappoint.
More From WFHN-FM/FUN 107