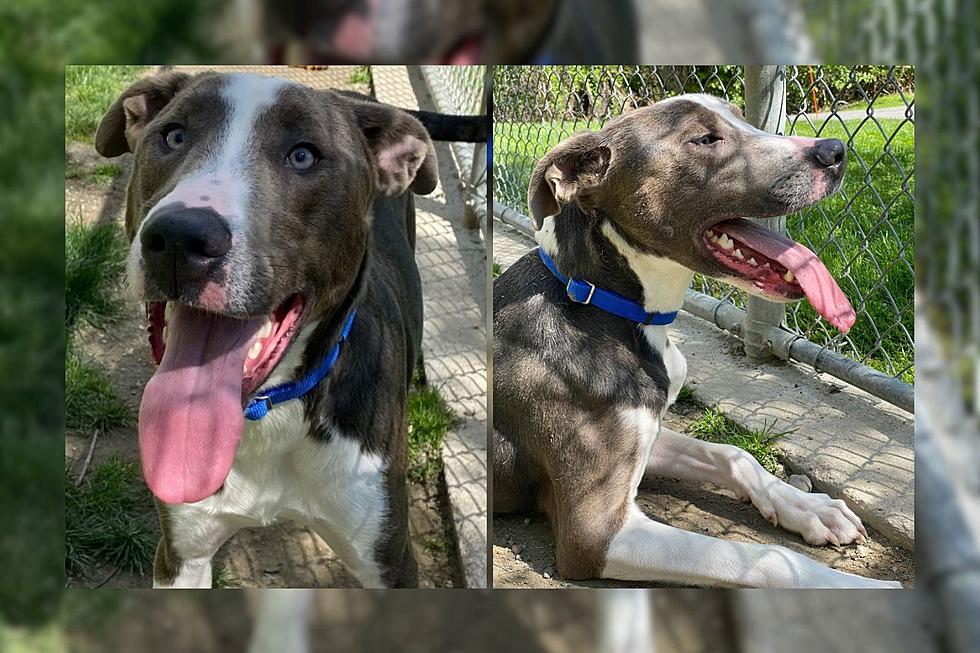 Fall in Love With the Big Personality of This Fall River Greyhound Mix [WET NOSE WEDNESDAY]
Forever Paws Animal Shelter
Happy Wet Nose Wednesday!
It's the best day of the week on Fun 107 because we get to talk about some special animals. There are hundreds of animals on the SouthCoast that are under the care of loving shelters, but the goal is always to find these beautiful animals their perfect forever homes.
With the help of local shelters, we get a chance to share their stories, in hopes of catching the eyes of the right family. This week, the spotlight goes to a big dog in Fall River that is filled with love and energy.
Meet Tzar, believed to be a greyhound/great dane mix, residing at Forever Paws Animal Shelter. He has long legs, a beautiful coat and an adorable face.
Tzar is 4 years old and he isloaded with lots of life and energy.
"He's incredibly intelligent," the shelter said. "Training him shouldn't take very long at all."
He loves playing with other dogs and has been known to get the zoomies, so a best pal would be ideal.
Tzar is awesome with other dogs and cats, though he's a little hesitant with the latter.
"We're pretty confident that he was smacked once or twice by a cat and hasn't gotten over it," the shelter said.
Tzar was a stray when he got to the shelter, so his history is unknown. For that reason, the shelter does not recommend young children in his future home.
"He has shown no aggressive tendencies but we have no way of testing him with children and we're not sure if he grew up around them or not, so no small kids."
Tzar is extremely shy at first, but with some confidence-building, stability and training, he'll be able to shake the habit. Patience and kindness will go a long, long way with him.
When he gets comfortable, his bouncy and silly personality really shines. He loves to play fetch, bouncing along with a ball, and carrying plush toys around in his mouth.
This guy is about 70 pounds so someone who can handle his weight and strength is a must.
Does Tzar sound like a good fit for you and your family? Contact Forever Paws online, fill out the registration form and schedule a play date asap.
Tzar cannot wait to meet you.
Forever Paws Animal Shelter
300 Lynwood St., Fall River, MA 02721
(508) 677-9154
These SouthCoast Dogs Really Know How to Beat the Heat
Temperatures soared across the SouthCoast but these dogs found plenty of ways to stay cool.
Check It Out: Dogs Attend 'Photo Day' to Raise Funds for Local Animal Shelter
Anne Soares created "Home for Paws Pet Photo Day" to raise money for the Humane Society and Shelter SouthCoast, and the cuteness of these dog portraits did not disappoint.
More From WFHN-FM/FUN 107