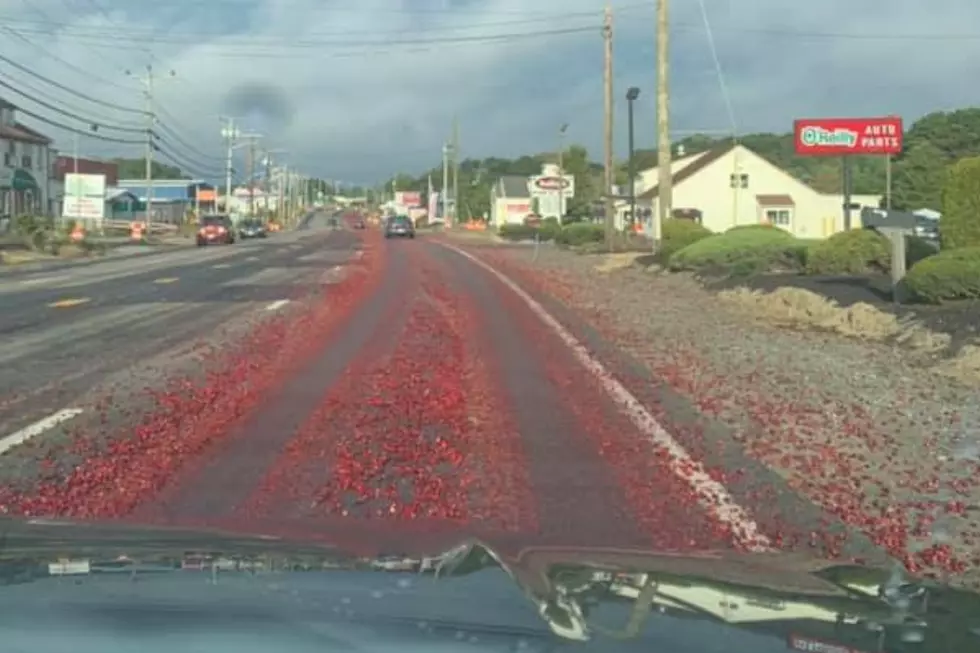 Wareham's Cranberry Highway Takes On a Whole New Meaning
Courtesy Charles Person
Enter your number to get our free mobile app
WAREHAM — Have we got a juicy story for you.
The Cranberry Highway lived up to its name this morning, as a large amount of Wareham's No. 1 agricultural product covered a portion of its busiest road.
Shortly before 8:30 a.m. on Friday, Wareham resident Charles Person posted photos to the "Onset, Massachusetts" Facebook group with the caption "So is this why they call it Cranberry Highway?"
In the photos, streaks of cranberries can be seen running down Cranberry Highway, also known as Route 28, in front of the Harbor Freight and O'Reilly Auto Parts stores.
Ironically, the photo was snapped right in the road in front of where the former Ocean Spray factory stood until the building burned down in a 2010 fire.
According to Person's post, the berries began falling from the back of a cranberry truck and continued until the driver pulled into the Burger King parking lot, which is nearly three-quarters of a mile from where Person's photos were taken.
"We've only lived here for one year so my wife and I thought the cranberries on the highway was like the Blessing of the Fleet, some sort of annual ritual," Person said.
Wareham has long been known for its cranberry bogs, and in the 1800s, iron ore found deposited in the bogs also gave birth to the town's soon-bustling iron mill industries.
A spokesperson said MassDOT Highway Division District 5 cleared the cranberries off the roadway and then lightly sanded the area. It took about two hours for the cleanup, with Wareham Police on-site to assist with traffic.
The Oldest House in Wareham Is For Sale, Take a Peek Inside This 1683 Treasure
More From WFHN-FM/FUN 107