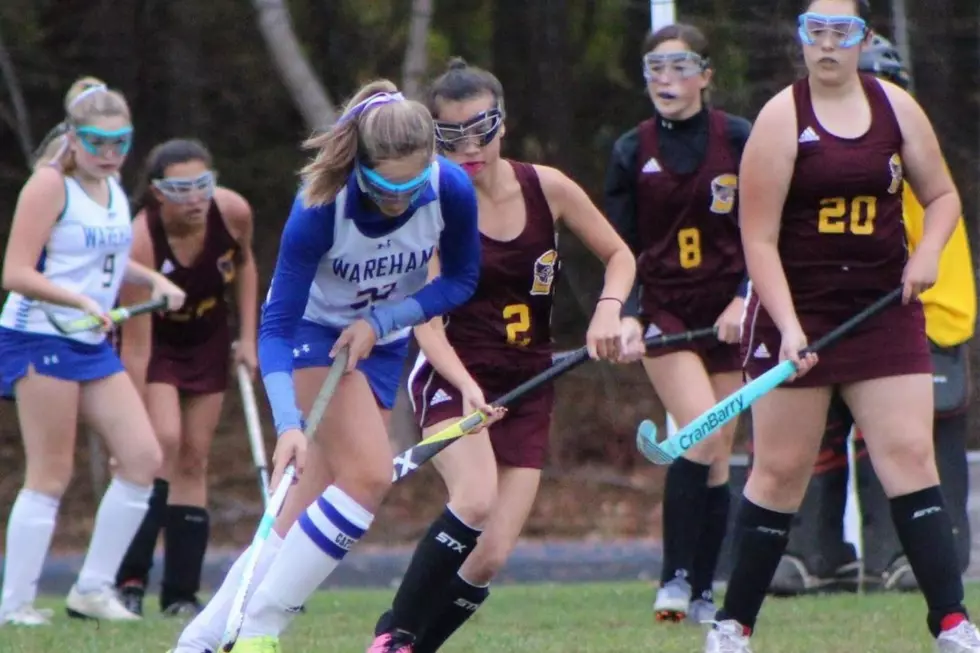 Wareham's Grace Brogioli Wins Prestigious Scholar-Athlete Award
Photo courtesy of Trica Brogioli
Speak with Wareham High School senior Grace Brogioli for five seconds, and you know you are speaking with a special kid. Not only has Brogioli enjoyed success on the athletic fields on Viking Drive, more importantly, she has excelled inside the classrooms there.
Brogioli has been selected as one of just two student-athletes in the Commonwealth of Massachusetts to receive the 2021 National Interscholastic Athletic Administrators Association Scholar/Essay Scholarship.
The second-year captain of Wareham's field hockey team, Brogioli told Fun 107 about how she remembered joining the team as an eighth-grader. She said she was so nervous to be playing with girls that were seniors on the team, but they went out of their way to make her feel comfortable. Now that Brogioli is a senior, she said she wanted to make sure to create that same environment for her younger sister and the other eighth graders on this year's team.
Is Brogioli a dedicated student? Let's put it this way: she has never missed a day of high school to date. She is ranked eighth in her class with a 98.5 percent average, is a Wareham High School Gold Scholar Award winner, a winner of the Wareham High School Dean of Students Award for Exemplary Spirit, Unassuming Leadership and Ardent Commitment to the School Community, and has numerous awards for academic awards in recognition of outstanding achievement.
This is just a modest list of her academic achievements, edited for brevity.
On the field, Brogioli has won the SCC championship twice, a Coaches Award along with others including spring track (five years), winning an SCC championship and a Coaches Award; winter track (three years), winning an SCC All-Star Team Honorable Mention and a Coaches Award; and girls' basketball, being JV captain (two years).
Brogioli has been Class President since freshman year, Student Council President for her senior year, Student Council Treasurer for her junior year, Student Council Representative for her freshman and sophomore years, National Honor Society from sophomore to senior year, National Junior Honor Society for freshman year, and lastly Student Advisory Council from sophomore to senior year.
All of these attributes contributed to Brogioli's achievement of winning the 2021 National Interscholastic Athletic Administrators Association Scholar/Essay Scholarship, which is only given to two students in the state.
"I was really shocked when I heard the news that I won the award...you had to have certain criteria," Brogioli said. She said she was thinking "maybe I'll get it, maybe I won't" after filling out the application form.
"Grace is a motivated student who demonstrates a strong work ethic in and out of school," Wareham High School Athletic Director Ed Rodrigues said. "She has stood out as a talented athlete, a caring leader, and a role model. In the classroom and in the community, Grace Brogioli is even more impressive."
Brogioli will now compete in a regional competition to earn a chance at national recognition.
LOOK: The most popular biblical baby names
More From WFHN-FM/FUN 107