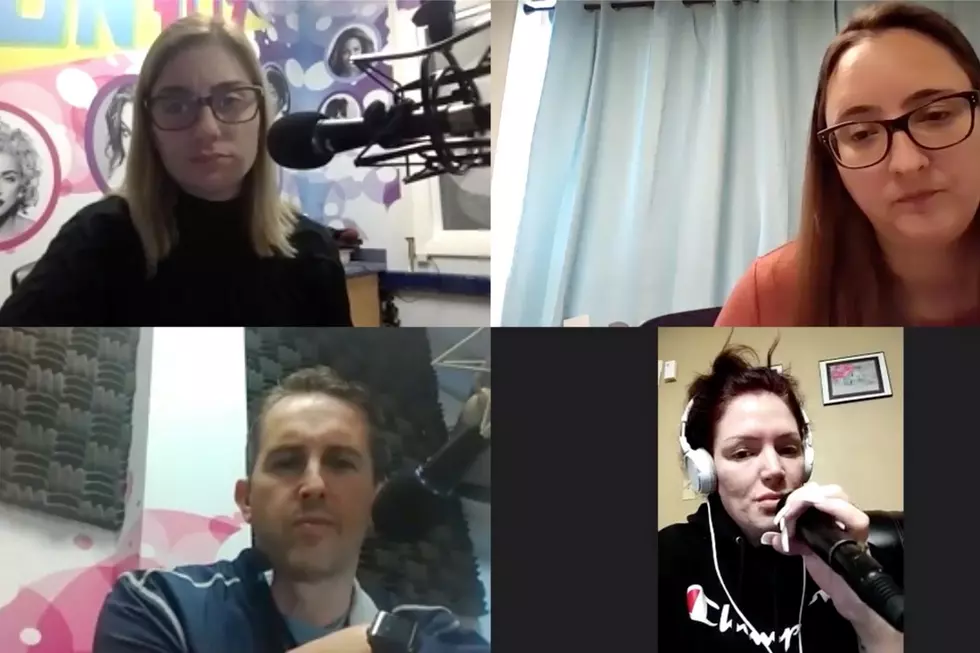 Wareham Family of Nine Has Prayers Answered [HOLIDAY WISH]
Zoom
This week, Fun 107 is working with the United Way of Greater New Bedford to bring some holiday cheer to families in need. This year marks the sixth year of Holiday Wish Week, and our goal is to ease the struggle of some SouthCoast families this Christmas season.
The Thomases are no strangers to struggle. Jennylyn and Tim are the parents of seven children ranging from two to 12 years old. They are currently living in a small Wareham apartment and struggling to pay rent, nearing homelessness.
Getting a job is on the shoulders of Jennylyn, as Tim has severe back pain, causing him to lose feeling in his hands and legs, making it impossible for him to work. Jennylyn was set to go to school to become a substance abuse counselor, but that plan fell through due to the pandemic. They are entirely reliant on unemployment checks, which will run out any day. They are also grappling with medical bills between Tim's cortisone shots, their oldest child's ADHD and bipolar disorder, and their second and third oldest children also having ADHD. In addition to ADHD, their second oldest has cerebral palsy.
In a normal year, taking care of seven children is a lot to handle, but since the pandemic and their job losses, Jennylynn and Tim have fallen behind on rent, heating, and electric bills in their rented apartment that is too small for the family, leaving some left without a bed at night.
Thankfully, there were a lot of people on the SouthCoast who had room in their hearts for the Thomas family after hearing their story on Michael and Maddie this morning.
IZ Schwartz donated $500 via phone call after hearing the family's story on the air.
Araujo Brothers Plumbing and Heating stayed true to their promise on Monday about donating to each family, and gave another $500 to the Thomas family.
José Matos from Advanced Financial Group donated $500 more over the phone.
Paul Flanagan from Aaron Pools and Spas called the studio and donated a generous $2,000.
Sonic of Somerset donated $1,000 with a Seize the Deal opportunity, where the sales from each gift certificate will go straight to the Thomas family. Keep an eye out for this sweet deal next week.
Lynn Simmonello, an owner of a local McDonald's, paid the Thomas family's electric and gas bill of $1,000.
Then, Knuckleheads joined in on the giving and will be donating $500, as well as participating in Seize the Deal, donating all gift card sales to the family. Be sure to check seizethedeal.com next week.
Dave Vermette from Vermette Development is a veteran for Holiday Wish each year, and this year, he gave $1,000 per family per day, paid the rent of  $1,200 for the Thomas family this month, and paid $1,000 for gas and electricity, for a grand total of $7,200.
"And the week's not over," he concluded.
All of these donations are making a huge impact on Jennylynn, Tim, and their seven children. They will be able to sleep better at night knowing that their bills will be paid on time and their Christmas will be filled with happiness.
If you want to participate in Holiday Wish week here at Fun 107, there's still time. Here's how to help:
Text to Donate: Text WISHES to 313131. You will be sent a United Way e-link that allows you to make a donation via credit card to this family when you select the day and date of which family you wish to help from the drop-down menu.
By Check: Make checks payable to the United Way of Greater New Bedford and in the memo line, write HOLIDAY WISH and the day and date of the family you wish to help. Checks can be mailed to United Way of Greater New Bedford, 128 Union Street, Suite 105, New Bedford, MA 02740.
Donate by Credit Card: You can make a secure donation to the United Way via credit card HERE. Select the day and date of the family you wish to help from the "Please Select a Family" drop-down menu.
All of our families are pre-selected through the United Way of Greater New Bedford. If you are in need of assistance, please contact the United Way directly.
Enter your number to get our free mobile app
More From WFHN-FM/FUN 107